Ski map artist James Niehues visits Salt Lake City
Hand-painted ski map illustration has a narrow lineage that still triumphs over its digital competition. The majority of ski maps in North America are attributable to one artist, James Niehues, despite his career taking off at the same time computer-rendered maps were starting to compete in the 1980s and 1990s. Similar to a style popularized by famous Austrian cartographer Heinrich Berann and brought to the U.S. ski map industry by artists and predecessors Hal Shelton and Bill Brown, Niehues blends the science of cartography and art of scenery painting. Like a highly discerning fish eye, he enlarges important elements from an overhead perspective, putting the whole mountain into 2D space, and artfully distorts the horizon lines to appear from a straight-on, more scenic view. Niehues has mastered this niche, as Bob Ross would say, one "happy tree" at a time. At the age of 73, and over 260 maps later, he just came out with a coffee table book, The Man Behind the Maps.
A recent cold November evening at Fisher Brewing Co., Niehues was visiting from Colorado for a book-signing. Salt Lake City was the first stop on his tour. Much to his surprise, people came out in droves. Around 200 fans stood in line to meet Niehues.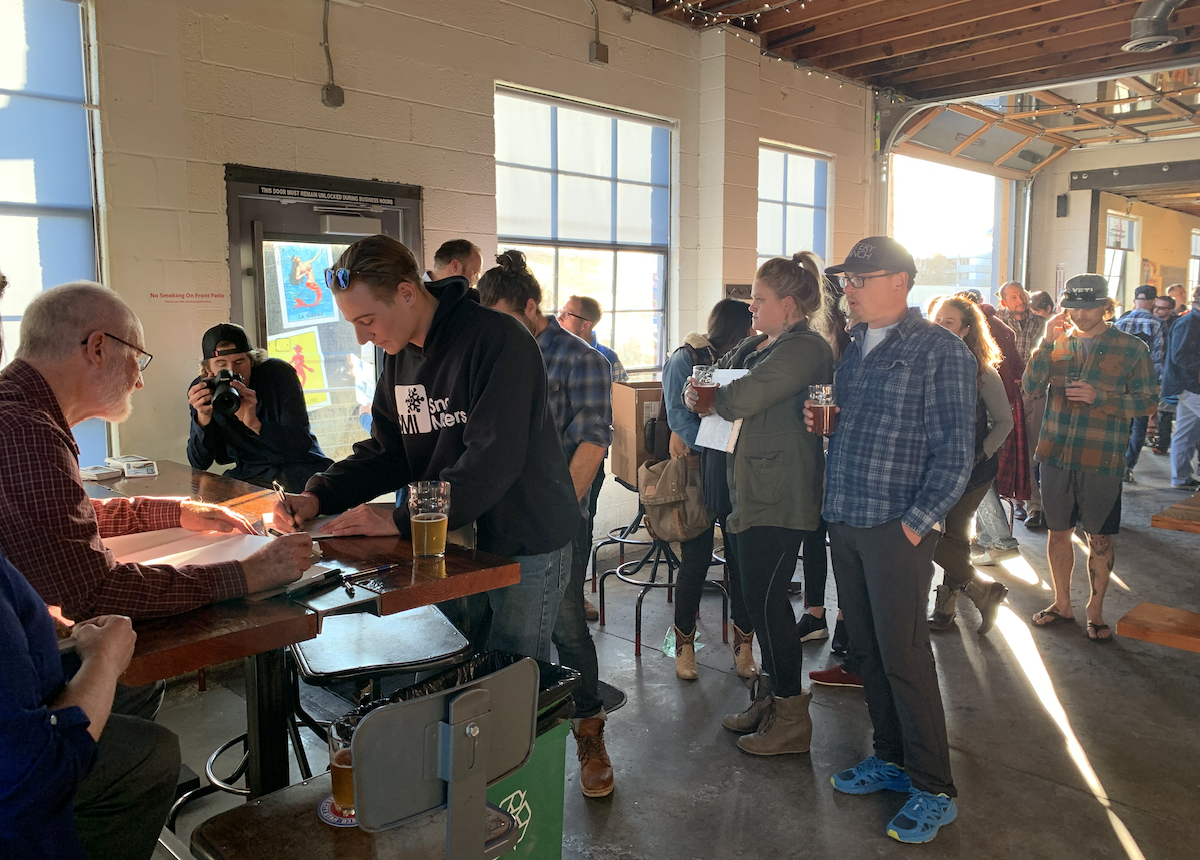 "This will be the book," said "Instagram @SLCSki"-bum Dimitri Littig, eyeing the book that sold like hotcakes that night. Long before the event was over, Niehues had sold out of all 50 copies they had at hand. His wildly successful Kickstarter campaign had recently set a new record in the Art & Illustration category, making about $590,000 from 5,156 backers.
Niehues was bewildered at the attendance. "The fans are just so into it—into the trail maps, into my work. I just never realized that would be the case," Niehues told me in an interview later. He admits he was not a big skier when he was younger, but as an artist, he admired the work of American ski map artists Shelton and Brown. In the early 1980s, around the age of 40, Niehues had left his position as partner graphic designer at an ad agency in Colorado, and was looking for more steady work with his freelance art. His timing for bringing his portfolio to Brown couldn't have been more perfect; Brown was looking to pass the torch. Thus began his adventure of painting ski maps in North America, South America, Australia, New Zealand, and even at a resort in Serbia.
His wife, Dora, who has been instrumental in Niehues' trail map career, reminisced to me about sending out postcards to ski resorts back in the early days, asking for work. She did all the billing and marketing so Niehues could focus on the painting. She also helped Niehues stay good-humored. She'd watch him paint and tease him by saying, "You missed a shadow over there."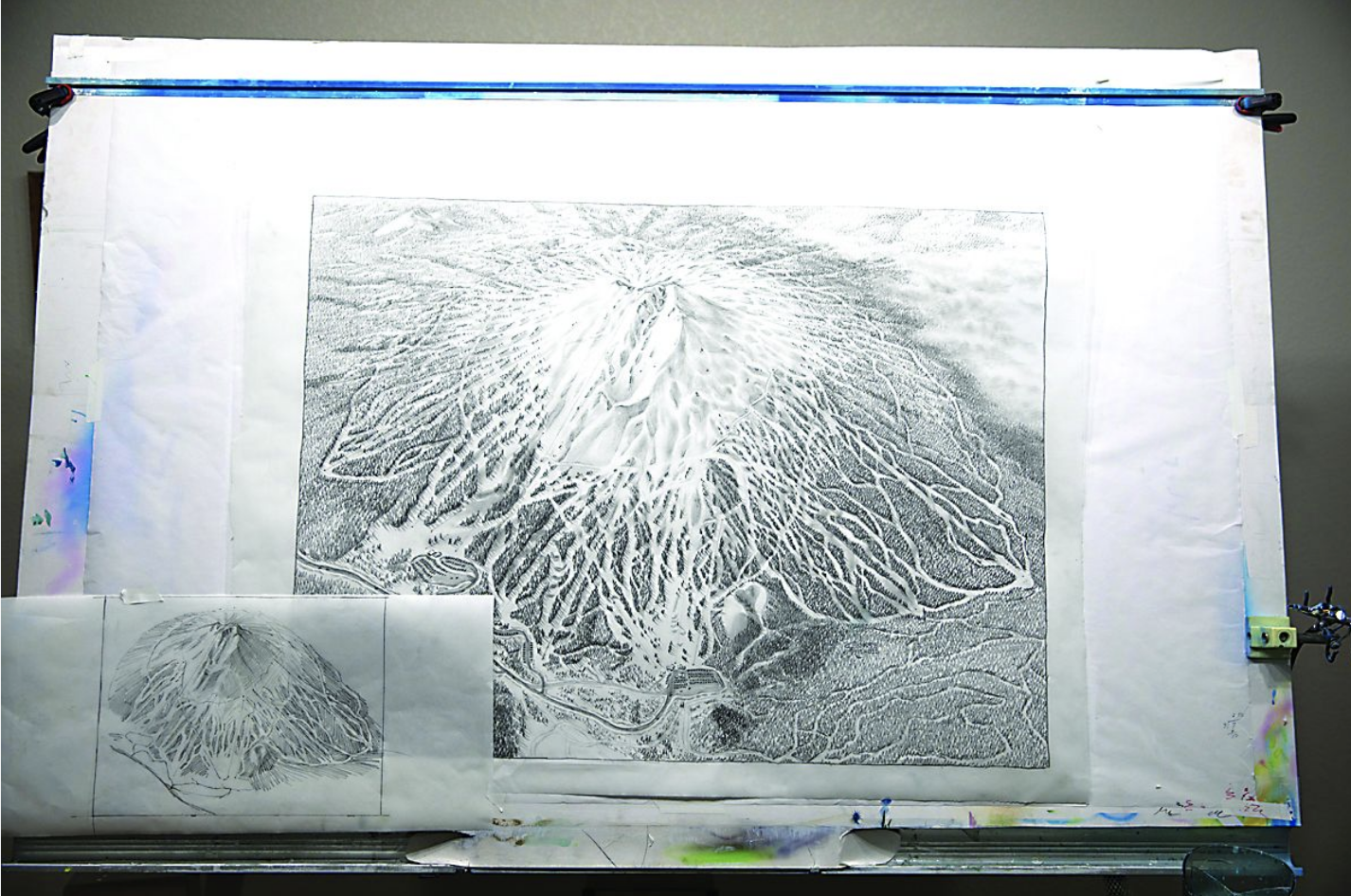 The process of producing a single map for a resort could sometimes take years, said Niehues, but if they got right to it, the fastest a map could be produced would be about two months.
He starts by looking at photographs or Google Earth, sometimes taking aerial photographs himself from a tiny airplane, and uses those for the initial sketches, which he sends to the resort for approval. This approval process may take months, especially if there are setbacks or budget cuts. Once the sketch is approved, however, it will take him about three weeks to paint the sketch onto the 40"x30" artboard.
Unlike Shelton and Brown, who would sometimes block in whole areas of trees with sponges, Niehues paints each one. During the mid 1990s, when there were thousands of trees to be painted, he experimented with a bouncy-baby-seat-turned-arm-sling to hold his arm up during this process of painstakingly painting each tree.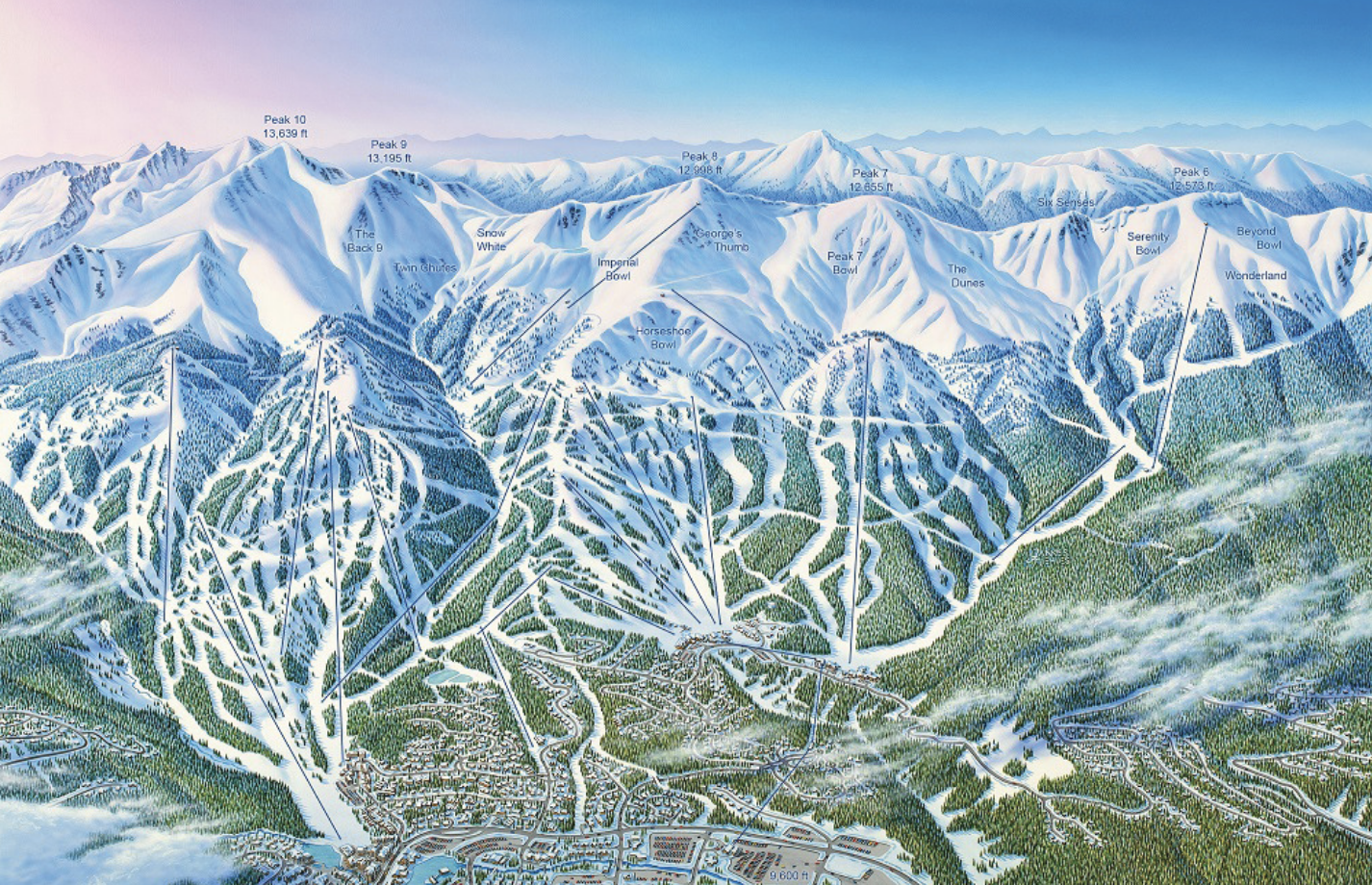 When asked if there was another artist banging down his door, ready to bear the torch of ski map illustration, he said yes, of course. An illustrator from Montana, Rad Smith (radsmithillustration.com), came to him in 2015. "He's got a different style, as he should. He knows his computers, but he couldn't quite get the detail he wanted on the computer and GIS, so he's been working with me on how to do it by hand," Niehues said.
James' biggest fear in doing book signings, his wife told me, was that he'd be standing around twiddling his thumbs.
Quite the contrary. "The dude's a legend!" Dave Amirault tells me, who's been working in the ski industry for over 20 years now, most recently as the marketing director of Snowbird. Snowbird still uses the map that Niehues first painted for them in the '80s.
While so much of ski resort marketing has changed, as it now relies on digital databases and targeting, the map art largely stays the same, an incredibly important backdrop to all of their marketing efforts. They prefer the hand-painted style to the digital.
Niehues' style, now "heritage," is familiar to many skiers, says Amirault. "It might be a new place you're going to, but if Jim did the map, it just feels like home."
The Man Behind the Maps, by James Niehues. Publisher: Open Road Ski Co. $90, hardback. www.JamesNiehues.com