All invited to attend 11am Saturday march, starting at West High
In the wake of the massacre of 17 students in the Parkland, Florida school shooting on February 14, 13 students from Skyline, West, Woods Cross, Brighton, Highland and other high schools in Utah, and one college student have united to plan a March For Our Lives in Salt Lake City. The march will take place on March 24, from 11am to 1pm, starting from West High School and proceeding to the Utah State Capitol. The expected turn out is around 5,000.
Inspired by the action from the students of Parkland's Marjory Stoneman Douglas High School, the student organizers for March For Our Lives SLC are focused on raising their voices regarding gun control, and moving towards action that will allow for them to feel safe in schools. "The chance to do this in Utah is inspiring," organizer Abena Bakenra told CATALYST late Wednesday, "We're often told we don't have a voice. We are excited to be using our voices in a way that hasn't been heard before. This movement is allowing the younger generation to take charge."
Bakenra, a senior at West High School's International Baccalaureate program, says she has always been active in the debate around gun reform, but this movement has increased the recognition and support around her efforts with this issue. Her job, specifically, was in outreach to other school board members from within SLC and outside SLC school districts to get them involved in the march.
March For Our Lives SLC's objective is to encourage parents and voters to support candidates who will work toward safer gun legislation. The group calls for a three-pronged legislative solution, as stated on their website, MarchForOurLivesSLC.com, demanding that military assault-style weapons be kept out of the hands of civilians, that background checks be expanded to close the gun-show loophole, and that waiting periods be implemented between the purchase and pick-up of a gun.
Despite the outpouring of support and positive encouragement, there have been a handful of negative comments and threats to the group. The group has been working with the authorities who are carefully monitoring the situation. A volunteer safety team trained in de-escalation as well as the ACLU legal observers will be present at the march on Saturday.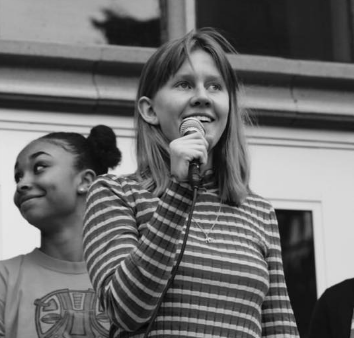 "We're trying to remain focused. This is something we're dedicated to, and we're not going to allow anyone to deter us. This is a march that anyone can come to, whether you're red or blue," says Bakenra.
March For Our Lives SLC is one of 837 events worldwide planned for March 24, 2018. The March For Our Lives website reads, "Every kid in this country now goes to school wondering if this day might be their last. We live in fear. It doesn't have to be this way. Change is coming. And it starts now, inspired by and led by the kids who are our hope for the future. Their young voices will be heard. Stand with us on March 24. Refuse to allow one more needless death. MARCH FOR OUR LIVES!"
More information: