A philosophical play on modern Mormon polygamy.
Plan-B Theatre Company's 2014/15 season of new plays by Utah playwrights concludes with the world premiere of Pilot Program by Melissa Leilani Larson, a play she calls "a supposition." Toward the end of 2012, she asked herself what one thing would make her consider leaving the LDS Church. Her answer was the restoration of polygamy. So she wrote a play about it.
From playwright Melissa Leilani Larson:
Writing is a selfish act.
I'm a writer; I'm a selfish person. I write for myself—to be moved and edified in the creative process. Naturally, I hope that I can lead an audience to a similar experience, but the genesis of a play usually comes out of a question I'm pondering. I write stories that, in the telling, change and inspire me.
The idea for Pilot Program has been percolating for several years. I remember having dinner with a friend back in 2008 and casually bringing up the idea: What if the LDS Church were to bring polygamy back into practice? It sounds crazy enough on a global level. But how would it work on a micro level? How do two people successfully add a third to their love story? Or do they even get that far?
My friend was not impressed. He thought I was being liberal and subversive. That I wanted to be edgy and controversial. Asking questions, even within Mormonism, is not subversive. Asking questions is the beginning of everything. But I didn't know how to crack the story open, so it stayed on the back burner.
In 2013, I was invited to attend The Lab at Plan-B. I was in awe of the playwrights gathered there and the raw, new work being read. Then there was a day when Producing Director Jerry Rapier said to me, "You know, you're going to have to bring in a play."
I may have been a little dumbfounded when he said it. Couldn't I just go on being a fly on the wall? But The Lab is for writers, and I call myself one. I was expected to play, and I wanted to prove myself. Plan-B is not the place for an Austen adaptation, so I'd have to bring something new.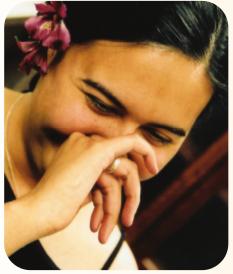 The polygamy idea resurfaced. I wondered about how Abigail and Jacob, happily married, could justify bringing a second wife into the mix. I thought about myself, a single Mormon woman in her 30s, and how I would react to a proposal from a married man. It was easy to say "No." In this fictional scenario, I decided to explore what would happen if I in fact said "Yes." I became Heather, Abigail's former student and Jacob's second wife.
I wrote in pieces that summer and fall, bits of scenes and quick exchanges. At first I thought about how I would react and speak in a given situation. But then the characters began to take shape, and they answered for themselves. Abigail took over. It was her story, and I let her tell it. We were friends at dinner, talking, when she decided to confide in me.
In December 2013, my chronic bronchitis flared up. I lost my voice and coughed for weeks. All I wanted to do was sleep. But I had a deadline: My first draft was due in advance of my Lab reading. I thought about leaving Pilot Program behind in favor of another piece. Oddly enough, my bronchitis didn't let me be sidetracked by nerves or philosophical arguments. Worktime was precious. I took the scenes I had drafted and stitched them together. I filled holes and cut stray lines. I reordered and revised. The first draft came very quickly and before Christmas I had a play. Despite the fog of DayQuil, I recognized three characters sitting in the front of my mind: Abigail, Jacob and Heather. Three very real people I had pulled into this crazy experiment along with me. It was as if they had been there to begin with.
Maybe they had.
Pilot Program by Melissa Leilani Larson receives its world premiere April 9-19 at Plan-B Theatre Com­pany. Tickets and more information available at planbtheatre.org.