Amidst the rush of Salt Lake's 6 o'clock traffic, and KRCL's advocacy hour radio-active, another type of community action was held at the Downtown Public Library: More than 100 residents of the Salt Lake Valley gathered in the Library's atrium to "die." For 15 minutes, that is.
By Claire Brown & Sophie Silverstone
On Wednesday, January 17, attendees of all ages participated in an Air Quality Die-in Flash Mob, to raise awareness of the deadly air quality in Salt Lake City, and promote Utah's 5th Annual Clean Air Solutions Fair events, to take place on Friday and Saturday, January 19 and 20 at Trolley Square. People wore gas masks or surgical masks and held various signs with facts about the health effects of SLC's poor air quality while lying lifeless on the first floor of the Library's lobby. One sign read, "The average air pollution along the Wasatch Front increases lung cancer risk by 14-25%. (Dr. Brian Moench, President of Utah Physicians for a Healthy Environment)"
A die-in is a form of peaceful protest used by groups such as antiwar, human rights and environmental activists, who simulate dying in a public space for a short amount of time to draw awareness to a given issue. The most recent die-in of national note was in 2014, to protest police brutality after a fatal shooting in Ferguson, Missouri.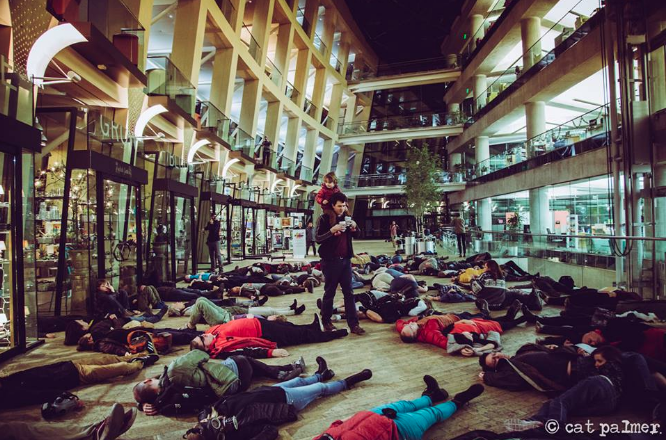 This was the first air quality die-in of its kind in Salt Lake City. Three different media projects utilized this gathering as a means to spread awareness on a broader scale, and incorporating the arts in order to raise awareness around the Wasatch Front's air quality that often ranks the worst in the United States.
In action at the event was photographer Cat Palmer, one Salt Lake City mover and shaker who is known for her spunky and often off-the-cuff photography ~ most recently  her protest of Trump's Utah visit in December, when she organized friends and volunteers to lay on the Utah State Capitol lawn, spelling out "Go Home Trump" with their bodies–a Facebook post that made its way all the way to popular Brazilian news site Journalistas Livre.
A group of students including Nicholas Michael Carpenter, a recent graduate of USU and a motion graphic designer at KSL, and Kinzie Hamilton, a BYU student and videographer, shot parts of a documentary on the state of Utah's air quality. "SLC, Logan and Utah Valley's pollution problems are complex, and the goal of this documentary is to identify key players on either side of the issue, and provide viewers with a current and updated perspective of the true problems at hand," writes Carpenter. "When (the air is) bad here, it causes a lot of problems especially for marginalized groups. I think it's something that we should be talking about more and I wish we could do more to change. Helping with the documentary is my way of doing what I know how to hopefully be one of the ripples," says Hamilton.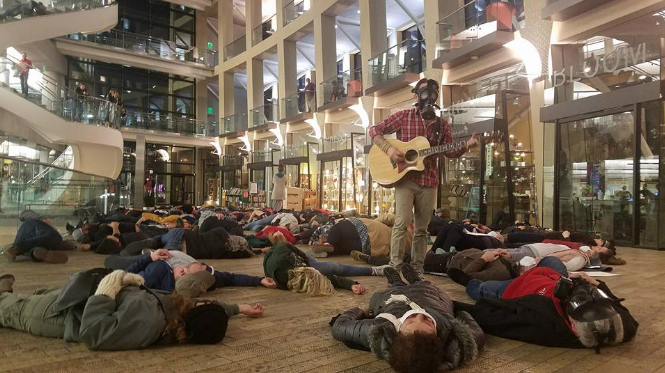 Additionally, local musician and co-founder of the SLC Air Protectors, Michael Cundick, shot footage for an upcoming music video about transitioning from fossil fuels called "Keep it in the Ground." Cundick and his wife Maomi have been a part of the Clean Air Fair organizing team since its inception.
The Clean Air Fair started  in 2013 out of an "idea silo" put on by a Utah nonprofit, Revolution United. The first Clean Air Fair was organized and executed in the space of 20 days, headed up by local product designer of Klugonyx, David Brooks. When Revolution United disbanded late December, 2016, CATALYST Magazine assumed the chief organizational role of the fair. Brooks organized the die-in this year both as a way for the community to interact with a cause that was close to home, and as a form of guerrilla marketing for the fair. "It's a really effective way to get the word out there, as well as creating content to be spread virally," says Brooks who still plays a core role in the Clean Air Solutions Fair.
More about the Clean Air Solutions Fair:
This year, the fair has expanded to a ticketed Friday evening presentation, silent auction and dance party, called the Clean Air Affair: PechaKucha Night. The main event, the Clean Air Solutions Fair on Saturday, is free and open to the public. The evening presentation will feature 11 speakers on clean air and related topics in a fast-paced PechaKucha presentation style, "20×20," where speakers are allowed 20 slides, and talk on average for 20 seconds per slide, lasting just under 7 minutes per presentation. Some speakers include Yoram Bauman (Stand-Up Economist), Alyssa Kay (on Green Careers), and Ashley Miller of Breathe Utah. PechaKucha Night is an internationally known format created by architects in Japan for streamlining presentations. The Salt Lake City branch is one of 1,000+ cities worldwide who hold periodic PechaKucha Nights.
Following the presentation and silent auction, DJ illoom, the founder of monthly bass music night at Urban Lounge, Dubwise, will spin the night into a groovy dance party. A Hot Toddy bar will be serving Kiitos beer, wine, Porter's Fire cinnamon whiskey, and Porter's Apple whiskey. Mamachari Kombucha and water from Water & Wellness will be available.
The fair itself  11am-4pm on Saturday, Jan. 20, features 60 interactive booths, skill sharing workshops & demonstrations, entertainment, a Native American Opening Ceremony by PANDOS, a "Breathing Space," a "cleaner car" show, readings from Torrey House Press and more.
Friday, Jan. 19: 7pm  – midnight
Tickets: $10/$16 adv/doors. All Ages.
Saturday, Jan. 20: 11am – 4pm
Free
Trolley: 600 S. 700 E