I am here at the Utah State Capitol, the day before Valentine's Day, for a cause named One Billion Rising— a mass action movement founded by Vagina Monologues author and activist Eve Ensler in 2012, sparked by the UN statistic that one in three women on the planet, roughly one billion, will be beaten or raped in her lifetime. The annual gathering celebrates women and raises awareness on the state of women today.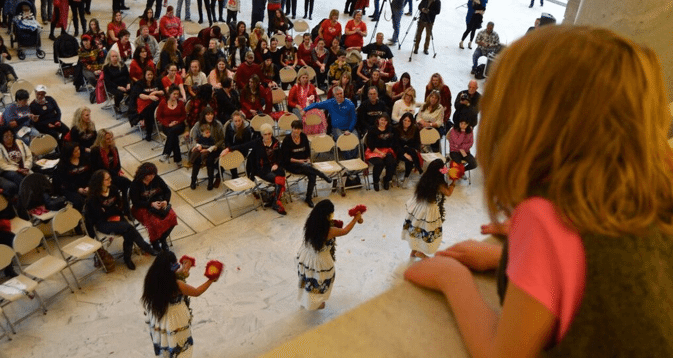 It's a global gathering, and Salt Lake's involvement is orchestrated by SHEROES is a Utah-based group devoted to supporting women through creating a safe space to share stories, specifically those related to domestic abuse, sex trafficking and women veterans.
Celeste Gleave, the "commander" of the organization, took the stage with her high black boots wrapped with red ribbon. "I envisioned being a part of an army, an army of women and men who collectively lock arms and pool our resources and be the change," Gleave said, "be a part of the answer. To grow a movement. We ARE a movement. We want to build a safe place for women to tell their stories, to feel empowered and to find strength through others who've lived their own authentic lives."
Gleave paused throughout her speech for the audience's yells and large bouts of applause. Women in the crowd raised their arms in unison and joined together embracing.
"I am here to give you the State of the Women Address: You see, darkness cannot be changed until light is brought into it. We have to know what women are facing worldwide and in Utah, so that we can be the change that we wish to see in the world," Gleave said.
The SHEROES came together as one to embrace the community and make sure that no woman ever has to feel alone through a time of need. The organization also presented and spotlighted its first-ever Diamond scholarship to a domestic violence survivor. The scholarship goes to covering costs such as bills for counseling and therapy, medical bills and aid for transitioning after the experience. The SHEROES leaders embraced the recipient and vowed to be her family and her support.
Then women, men and children took to the dance floor. First was a presentation of traditional Polynesian cultural dancing. The dancers moved with vigor, effortlessly aligned.
Dancing may seem like a silly thing to be doing when trying to address topics as dark as abuse and violence, but it wasn't. It was courageous to dance at this time. Dancing is powerful. I was mesmerized by the movements. Mothers danced with their young daughters, danced for them. With darkness, there is light and SHEROES had found the light in the darkness, by dancing. Dancing women swirled around me, with red and pink fabric.
It was beautiful. Yet I stood there thinking; here I am again celebrating women, with strong-willed, loving individuals of all ages; which I love. I love seeing women rise together. Yet, we are not here just to celebrate, we are never here just to celebrate. Celebration is hardly ever the cause for a group of women to gather at the Capitol.
I've been here before: a few months ago with Planned Parenthood, calling for reproductive rights for all women. Roe v. Wade was over 40 years ago and the majority of Americans support the right to a safe, legal abortion; yet legislators keep interfering with women's healthcare rights, including even access to contraception. I was here last summer with a group raising awareness regarding sex trafficking. And on this day, we were here again: to empower women, to support and love those who have seen some of life's greater challenges.
"As victors and as SHEROES we have to educate other women to break the silence, break cycles and create a new story of a SHERO," said Tracy Jensen, another leader in the organization.
From Planned Parenthood pink to SHEROES red, women are demanding change, all while raising each other up with love and compassion. Tears and warm hugs balance with provocative, intelligently moving speeches.
We rally. We argue. We fight. For what? For more rallying, more heated conversations? More debating? I get exhausted sometimes. That's when it's time to dance.
Photography by Rachel Robertson