The second annual Grid Zine Festival was held at Publik Space on Saturday April 14th. Over 70 vendors from all over Utah and the United States showed up to put their zines on display and hopefully make some money in this less-than-lucrative profession. Being that it was my first time checking out the zine world, as a traditional print media journalist who generally does stuff like solitaire cash reviews, I had no idea what to expect. The energy of the room was surprisingly intense. Publik Space filled quickly with a colorful and unique collective of Salt Lake City's creative youth and zine-fanatics.
Each table displayed collections of handmade published zines for sale as well as all the interesting paper textiles you could think of: fold-out games, postcards, trading cards, book marks and even some print newspaper and books. Attention, patience and persistence are important qualities to hold on to when soaking in all the content at each table. Among the most memorable exhibitors were Cali Bee & Moose 'n Bootz, a zine-maker from Moab who is very involved in Moab Pride as well as their "uke-puke music." They gave CATALYST a free CD – we highly recommend checking out their queer-tastic tunes!
Another shining star was Brittany Long Olsen, a return missionary/ cartoon artist who published a graphic novel that illustrated each day of her year-and-a- half mission in Tokyo called Dendō. Her booth also vended a published children's book called D is for Dragon, handmade greeting cards and witty comic strip bookmarks she gave away for free.
The Boo Forever Collective made a zine we all need to buy: A Swimmer's Guide to Salt Lake City (currently sold out), an in-depth layout of every swimming hole in town from apartment pools to mountainside reservoirs. My friend also purchased from them a less colorful, more political-looking zine titled Decarcerating Utah. She was drawn to it for its moving collection of tales from local story-tellers regarding incarceration and its impacts on family, career and personal stability.
Creativity is a giant spectrum. The Grid Zine Fest proved that alternative publishing can go in any direction, from fun silly handmade joke books to highly curated, well-written political publications. The magic that can happen in the zine world is expanding at every moment thanks to the community's strong values of inclusivity, community and sharing.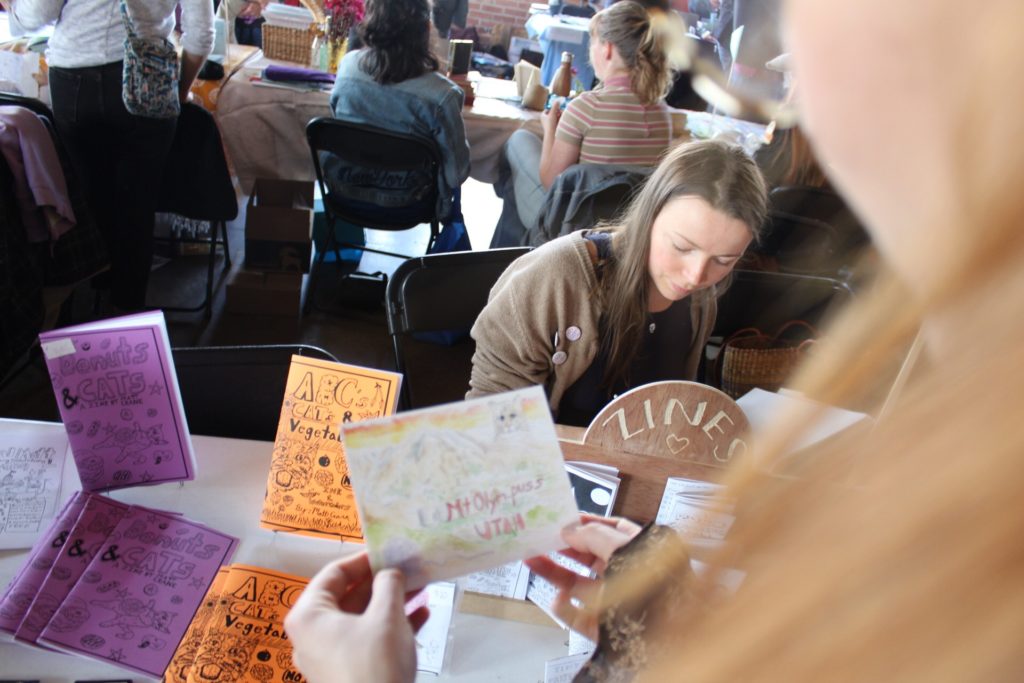 Photo Credits: Jane Lyon & Aja-Lynn Domingo
SaveSave