Utah, a model for bison restoration
Bison are nomadic and are going to go where they want to go. They are not easily contained with fences. – Bates & Hersey, 2016
Utah is a model for restoring wild bison to their ecological role, according to an article by scientists from the Utah Division of Wildlife Resources, which states that there are currently only six free-ranging wild bison herds in the U.S. and two of them are in Utah: the Henry Mountains herd, established in the 1940s and the Book Cliffs herd, established in 2008.
Even though bison are native to Utah, Utah's original herds were wiped out by the time Brigham Young's party arrived in 1847. The current herds were populated with bison transplanted from Yellowstone.
Utah's two bison herds are unique because they are genetically pure (not mixed with cattle genes) and disease-free; they are classified as wildlife and are managed by hunting.
In the Greater Yellowstone ecosystem, bison management outside of the National Park has been far less effective due to the fact that bison are classified as livestock, not wildlife. Every winter after the tourists are gone, hundreds of bison that cross the park boundary are shot by licensed hunters or trapped and slaughtered. Montana ranchers oppose establishing wild bison herds because they fear that their cattle would have to share forage on public lands grazing allotments.
Native American tribes would like to take Yellowstone bison in order to re-establish culturally important herds on Indian reservations, but have been unable to transport the bison because of overblown fears that the bison could transmit the disease brucellosis to domestic cattle. Colorado has a similar law that defines bison as domestic animals and is trying to stop Ute tribal bison from re-populating across state lines.
The American Bison was named the national mammal of the United states in 2016 and it is a potent symbol of ecological restoration since herds numbering over 30 million animals were nearly hunted to extinction in the 1800s as European settlers tried to destroy the plains Indian cultures that depended on bison.
Bates, Bill, and Kent Hersey. "Lessons Learned from Bison Restoration Efforts in Utah on Western Rangelands." Rangelands 38, no. 5 (2016): 256-265.; Buffalo Field Campaign: buffalofieldcampaign.org
Two resolutions against national monuments, and the aftermath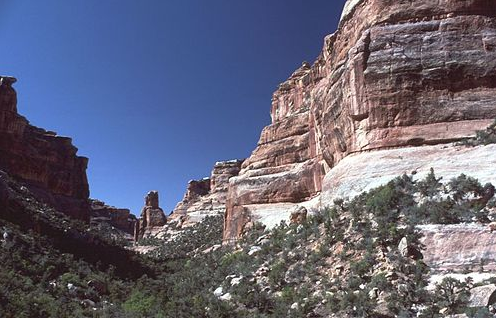 In February, Governor Gary Herbert signed two resolutions opposing Utah national monuments: HCR11, "Urging the President to Rescind the Bears Ears national Monument Designation," and "HCR 12, "Urging Federal Legislation to Reduce or Modify the Boundaries of the Grand Staircase-Escalante National Monument."
The two resolutions were improperly introduced in the House Rules Committee, apparently in order to avoid holding public hearings, and after Utah Governor Gary Herbert signed them the fallout was swift and severe.
The Outdoor Retailer trade show, which has held summer and winter shows in Salt Lake City for the past 20 years, decided to withdraw from Utah, citing a long and worsening history of anti-public land sentiment and action. In talks with the governor, representatives from the Outdoor Industry Association requested that Utah "embrace and support the outdoor recreation economy's role in the state by supporting public lands that provide the backbone of the industry's sales." Specifically, they asked the Governor to stop efforts to nullify the Antiquities Act, stop trying to rescind designation of national monuments, and stop efforts to transfer and sell public lands.
Soon after the State resolutions were signed, Garfield County tried to pass a similar resolution, but met objection from local business owners who said that the nearby national monument is good for business.
Secret water plans and other shenanigans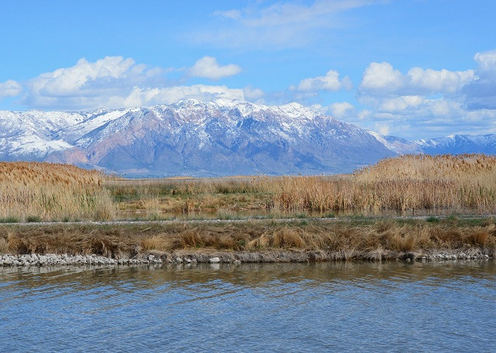 The Utah Rivers Council (URC) called fake news on an announcement from the Utah Division of Water Resources that the Bear River Project could be delayed due to slower than expected population growth.
A press release from URC noted that in fact, the Bear River Project will never be necessary, and yet the State is still collecting millions of dollars in sales taxes for the project and is still actively seeking permits.
URC suspects that the announcement was intended to minimize growing public pressure to stop the water project which would destroy Great Salt Lake wetlands and turn the dry lake bed into a toxic dust bowl à la Owens Lake in California.
The Water Strategy Advisory Team that is developing a 50-year water plan for Utah meets in secret with no opportunity for public input.  "They have spent at least $23 million on Bear River Development in the last 16 years, but they have only spent $4 million on water conservation," says UCE Executive Director Zach Frankel. "It's painfully obvious they're far more committed to wasting billions of tax dollars on the Bear River Water Grab rather than saving money and water via meaningful conservation efforts."
Utah rivers Council: utahrivers.org
U.S. Congress update
With a Republican president and Republicans in control of both the U.S. House and Senate, anti-environmental bills are popping up like whack-a-moles. Here are some that affect Utah:
Utah's Congressional delegation claims that they were promoting "local control" by voting for a resolution against the BLM Planning 2.0 Rule. However, the rule they opposed actually improved the public process for land management. BLM Rule 2.0 implemented landscape-level management, made planning more responsive to environmental, ecological, social and economic conditions, and emphasized decisions based on scientific data.
Representative Jason Chaffetz (R-UT-3) introduced a bill for "disposal of excess federal lands,"  which met with immediate, strong opposition from hunters and anglers. In the end Chaffetz withdrew the bill, posting a staged social media photo of himself dressed in camouflage and holding a hunting dog. Activism works!
Both of Utah's senators voted to confirm Scott Pruitt as head the Environmental Protection Agency (EPA). Pruitt has spent his legal career opposing protections for clean air and clean water. Utah law says that air quality laws can't be more stringent than federal regulations, so if federal laws are weakened, Utah's air quality problems will only get worse.
100% renewable energy for Moab
Last month the City Council of Moab, Utah passed a resolution committing to 100% renewable electricity by 2032. The city cited the threat of climate change to the booming recreation economy as a reason for the transition to clean energy, and regional haze from power plants ruins views in nearby National Parks. Salt Lake City and Park City have made similar pledges to shift to green energy sources.
2017 Conservation in the West poll
The 2017 Conservation in the West poll from Colorado College asked a surprising question:
Donald Trump has said that he will follow in the footsteps of President Theodore Roosevelt, the President who created the first national parks and national monuments. Trump says he opposes transferring those lands to state governments because "We have to be great stewards of this land." Having heard that, would you say you approve or disapprove of the President‐Elect's stated approach to federal management of national public lands?"
51% of Utah voters, and 63% overall said they approved. The annual poll asks voters from seven Mountain West states about public lands and environmental issues.
2017 Conservation in the West poll: coloradocollege.edu/stateoftherockies/conservationinthewest/