BLM headquarters moving to Colorado?
Interior Secretary David Bernhardt has requested over $20 million to relocate Bureau of Land Management (BLM) offices from Washington DC to Grand Junction, Colorado.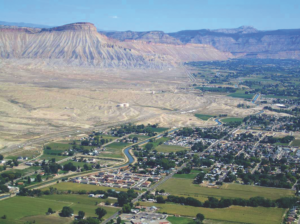 BLM is a federal agency under the Department of the Interior that manages 245 million acres of public lands, mostly in Western states. The 22.9 million acres of BLM land in Utah include some of the the wildest, most remote places in the state.
The Utah Wilderness Coalition formed in 1985 in direct response to a poorly executed wilderness inventory of BLM Lands. Since BLM tends to have fewer restrictions than other federal agencies, these are places where Utahns can go without needing to get a permit, pay an entrance fee or board the dog. BLM lands are also leased for grazing, mining and fossil fuel extraction leading to the old joke that the acronym stands for "Bureau of Livestock and Mining."
In 2012, the Utah Legislature put Utah at the center of a movement to privatize BLM lands by passing the Transfer of Public Lands Act. Under the influence of the ultra-conservative American Legislative Exchange Council (ALEC), privatization of public lands found its way into the 2016 Republican Party Platform.
Since then many Republican-sponsored public land bills have contained a hidden privatization agenda.
The idea of moving BLM managers west originated with Senator Cory Gardner (R-CO) who says the move is important so that "decision-makers can live amongst the people and land their rules and regulations affect."
In fact, BLM is already a highly decentralized agency with many regional field offices so that most BLM employees already live near the lands they manage. The main function of the Washington office is to facilitate interactions with legislators and other land management agencies.
It seems wise for environmentalists to assume that the move to Grand Junction is a cover for bad intentions. The move seems designed to get rid of employees from previous administrations who many not be willing or able to relocate.
Contrary to a multiple use philosophy, a signature policy of the Trump administration is "Energy Dominance." Under Trump an Obama-era rule known as BLM 2.0 designed to involve local communities in public lands planning was rescinded, and public comment periods have been shortened or eliminated.
When Trump cut down Bears Ears National Monument the word "local" was widely misused by anti-monument politicians to mean assigning power to county government while shutting out input from other stakeholders.
Grand Junction is a "drill baby drill" kind of place and no doubt Republicans think the move will put the agency under the thumb of oil and gas interests. However, it seems likely that anti-federalist Republicans have vastly overestimated citizen support for transfer of federal public lands in Western states and that the ideology of privatization may actually have less influence in places where citizens know exactly what they stand to lose.
Grand Junction was ground zero of the oil shale bust in the 1980s and rebounded due to retired people who want to live near public lands. It is within driving distance of both Salt Lake City and Denver where support for lands conservation is high, and where citizen conservation groups are active and effective.
So far, thanks to the tireless efforts of citizen activists, Utah's federal land grab has failed, and Utah's public lands are still in public hands. From that standpoint, moving BLM to Grand Junction may not be an entirely bad thing after all.
Climate change and cities
By 2050 the climate of Denver, Colorado will be as hot as Salt Lake City, Utah; Salt Lake City will be like Las Vegas, Nevada; Las Vegas will be like Phoenix, Arizona (a.k.a America's least sustainable city); Phoenix will be like Baghdad, Iraq where heat wave temperatures can climb to over 120 degrees Fahrenheit.
The comparison study was done by a team of researchers in order to help people envision the actual impacts of climate change on daily life.
Globally, heat waves are becoming more deadly, particularly in humid climates. Human survivability in heat waves is determined by a measure called "wet-bulb temperature" that describes the potential for evaporative cooling by sweating.
Understanding climate change from a global analysis of city analogues
No subsidies for uranium
The Trump administration has inadvertently halted uranium mining near Grand Canyon and within the Obama-era boundaries of Bears Ears National Monument by making it unprofitable.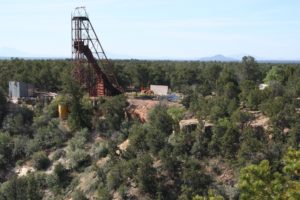 Trump had called for quotas on uranium imports which would have boosted the price of domestic uranium. However, in July Trump announced that he
will not impose tariffs after all.
When President Obama designated Bears Ears National Monument, the boundaries were drawn to exclude the White Mesa uranium mining district.
Nonetheless, journalists at the Washington Post discovered that uranium industry lobbyists met with Trump before the plan to shrink National Monuments was ever announced to the public. Co-chairs of the Utah Commission for the Stewardship of Public Lands submitted comments to the Bears Ears review complaining that "the Monument threatens the existence of the White Mesa mill," and urging Interior Secretary to rescind  the Monument so that San Juan County "can once again be the center of the nation's uranium industry."
In the future, high uranium prices could revive the threat. Rep. Raul Grijalva (D-Arizona) has sponsored a bill to permanently ban uranium mining in Arizona near the Grand Canyon.  Bears Ears is still vulnerable to the next uranium frenzy.
Arches is now officially a Dark Sky park
Arches National Park has been certified as an International Dark Sky Park by the International Dark Sky Association (IDSA). The certification recognizes voluntary efforts to preserve dark skies from artificial lights that confuse animals and blot out the stars.
The park has installed shielded light fixtures to minimize glare and blue light. Park rangers at Arches are planning to host a ceremony and star party on Sept. 21, 2019 at the newly completed Panorama Point stargazing area.
International Dark Sky Association
Where does Jordan River water come from?
Researchers at the University of Utah studied where water in the Jordan River comes from as a  step toward sustainable river management.
The Jordan River is on a state list of impaired waters under the Clean Water Act. The river originates at the outlet of Utah Lake and flows north through heavily urbanized areas before it drains into wetlands of the Great Salt Lake. On the way it picks up human runoff and effluent and natural water from tributaries and groundwater.
Water managers believe that one way to restore the river would be to keep more water in it, especially in the fall when low water levels cause concentration of pollutants.
Efforts to restore the river are documented on the website of the Jordan River Commission.
Cows are eating Pando
A new report from the Western Watershed Project says that cattle are eating Pando, an aspen clone in the Fishlake National Forest that is considered the world's largest living organism.
A 2018 study blamed mule deer because cattle only graze for two weeks. However, the new study says that during the period of intensive grazing the cows eat as much as mule deer eat in six months. The ability of cows to strip out large amounts of understory vegetation has recently been promoted by Utah politicians as a strategy to prevent wildfires.
Don't feed the bears
In July the Utah Division of Wildlife Resources reported an unusually high number of calls about bears, probably because Utah's growing population puts more people in wildlife habitat.
The Wild Aware website maintained by Hogle Zoo, Utah State University and Utah Division of Wildlife Resources has information about how to co-exist safely with big, fierce animals. Bears are attracted to trash, pet food, bird feeders, compost, fruit trees, beehives and barbeque grills. Campers should never keep food stored on picnic tables or inside tents. Backpackers can use a bear-resistant food jar. (Note: I carry a BearVault which did keep a bear from getting my food.)
Condor chick in Zion
A pair of endangered California condors nesting in Zion National Park have hatched a chick which has been entered in the official condor "studbook" as number 1000.
This is the third chick hatched by Condor 409 who was herself hatched at the San Diego Zoo and released into the wild as part of a captive breeding program. Sadly, her other chicks did not survive. Baby condors live with their parents for about a year, so condors only hatch an egg every two years or so.
California condors survived the Late Pleistocene extinction that wiped out Ice-Age megafauna. By the time Europeans arrived in Western North America, California Condors lived only in a narrow strip along the West Coast. They seem to have gotten a boost from the introduction of domestic cattle and sheep as a source of carrion, but declined due to lead poisoning from bullets left by hunters. Carrion-eaters like condors and vultures play an essential role in the ecosystem by cleaning up dead animals that can spread disease to human beings. Biologists have confirmed a California condor chick has hatched in this nest on the cliffs just north of Angels Landing; The National Park Service
Help study black rosy-finches
The Wild Utah Project is seeking citizen-science volunteers to study black rosy-finches this upcoming fall and winter. The finches live in rugged mountain landscapes and are one of the least studied birds in North America.
SLC mayoral candidates on bicycling
Cycling Utah sent a survey on bicycling transportation to candidates for Salt Lake City Mayor to ask questions about bicycles in the Salt Lake City Transportation Master Plan (last updated in 1996), as well as plans for cycling in relation to climate change, transportation, recreation, safety and infrastructure. The primary election takes place on August 13. The top two candidates for mayor will face off in the general election on November 5.