Environmental news updates
New Tracy Aviary Nature Center & Jordan River Park
Salt Lake County is planning a new Jordan River Park along the riparian corridor between highway 201 and 4500 South, envisioned as an urban natural area with a priority on preserving wildlife habitat. The new regional park consolidates existing parks connected by the Jordan River recreational trail and the Jordan River Water Trail.
Tracy Aviary is launching the project with a new Jordan River Nature Center at 1100 West 3300 South, scheduled to open with transitional facilities in Spring 2019.
Construction on permanent facilities will begin in 2020, including nature trails, a butterfly garden, canoe and bike rentals and a nature play area.
Meanwhile, the County is gathering public input for the Jordan River Park master plan.  Look for an ideas competition to be launched in early 2019.
Wildlife overpass opens on Parley's Summit
The new wildlife overpass is open over I-80 on Parley's Summit to help Wasatch Mountain critters safely cross six lanes of fast traffic (and to save drivers from dangerous animal collisions). Three miles of highway fencing on either side of the overpass help funnel animals over the bridge which has been strewn with rocks and logs in order to resemble to the surrounding landscape. The Utah Department of Transportation (UDOT) plans to install cameras in order to monitor how animals use their new bridge.
The wildlife bridge was built largely thanks to the nonprofit citizen group Save People, Save Wildlife which raised money and lobbied UDOT for a solution to excessive I-80 roadkill.
UDOT asks people to please stay off the overpass so as not to deter skittish animals from crossing.
Climate change in the Southwest
The Fourth National Climate Assessment Vol. II, released in November, includes a regional report on climate change impacts, risks and adaptation in the Southwest United States. The report states that:
Drought in the Colorado River basins has reduced water in both Lake Powell and Lake Mead, increasing the risk of water shortages.
Population growth in Utah is also stressing water supplies.
The area burned by wildfires between 1984 to 2015 was twice what would have burned without climate change, partly due to the death of conifers in beetle-infested forests.
Hotter, more frequent heat waves are leading to higher levels of ozone and particulate air pollution.
Hot temperatures are killing the cryptobiotic soils on the Colorado Plateau.
Warmer winters have increased the spread of insect and animal-borne diseases like West Nile Virus, plague, hantavirus and Valley fever. Invasive cheat-grass has reduced habitat for endangered sage-grouse.
4th National Climate Assessment, vol. II  Ch. 25. Southwest
Get involved here.
Bear River in trouble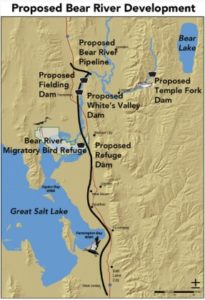 In December the Utah Board of Water Resources met in a closed-door meeting to approve $5 million for development of the Bear River. Diversion of Bear River water would be catastrophic to the declining Great Salt Lake ecosystem, drying up wetlands that support huge flocks of migratory birds. Scientists predict that an exposed lake bed would release toxic dust storms along the Wasatch Front.
Get involved: Utah Rivers Council; Friends of Great Salt Lake
Inland Port may restart Legacy Parkway fight
Fifteen years ago, Utah citizens fought hard to mitigate environmental impacts of building the Legacy Parkway which runs through Great Salt Lake wetlands. They succeeded in getting wetland conservation, a bike trail, reduced speed limits, a quiet road surface, and bans on large trucks and billboards. However, the Settlement Agreement will expire on Jan 1, 2020 unless the Utah Legislature votes to extend it.
Now the Inland Port Board, hastily formed during the 2018 General Session of the Utah Legislature, is trying to undo those victories, proposing to expand the highway as an access route for large-scale industrial development in the Northwest Quadrant of Salt Lake City.
Citizens at inland port meetings have raised environmental concerns over increased traffic, air quality, destruction of wetlands and storage of toxic materials.
In December, the Salt Lake City Council approved new rules for environmental planning at the Inland Port, but because of the way the law is written they cannot block the development.
Get involved: Community Coalition for Inland port Reform
Public lands drilling & greenhouse gas emissions
A new report from the U.S. Geological Survey (USGS) estimates that fossil fuels extracted from federal public land account for 23.7% of the nation's total CO2 emissions.
Public lands are both a source of CO2 emissions and a "carbon sink" where carbon is sequestered in soils, forests and grasslands. USGS estimates that carbon sequestration offsets about 15% of CO2 emissions from public lands fossil fuel extraction. Carbon capture is a critical component to reducing greenhouse gas, according to the recently released U.N. climate change report.
Federal Lands Greenhouse Gas Emissions
Activists protest BLM lease sale
In December, environmentalists and climate change activists gathered to protest a particularly objectionable Bureau of Land Management (BLM) oil & gas lease sale.
Under the Trump administration policy of "energy dominance," the U.S. Department of the Interior is fast-tracking oil and gas leasing on federal public lands using online auctions and new rules designed to eliminate environmental review and prevent public input.
The December 2018 lease sale was particularly bad news. Outgoing Interior Secretary Ryan Zinke reduced the public comment period from the usual 30 days to just 10 days. Many protested parcels were leased for development, including land within 10 miles of Arches and Canyonlands National Parks, land near Bears Ears and Hovenweep National Monuments, and parcels near the White River and the Green River in Labyrinth Canyon.
While BLM boasts about how much money the lease sale brought in, in fact there is already a glut of undeveloped leases in Utah and many parcels were sold much too cheaply. In 2018 alone, BLM leased more than 420,000 acres of Utah public lands for industrial development.  Although this development won't happen all at once, stockpiled oil and gas leases constitute a time bomb that could be ignited by high oil prices.
Groups protesting under-regulated leasing include Southern Utah Wilderness Alliance, Utah Chapter of the Sierra Club, Center for Biological Diversity and Wasatch Rising Tide.
Scandal-plagued Zinke calls it quits
Interior Secretary Ryan Zinke, formerly a congressman from Montana, has announced his resignation due to charges of corruption and misconduct.
Zinke will be remembered in Utah for his role in downsizing Bears Ears and Grand-Staircase Escalante and for fast-tracking oil and gas leasing in inappropriate places.
During his tenure, Zinke promoted off-shore drilling, engaged in science denial, let hunters write conservation policy and attacked the Endangered Species Act.
Stephen Bloch, Legal Director of the Southern Utah Wilderness Alliance, noted that Utah's federal public lands are unquestionably worse off because of Zinke and stated, "He will undoubtedly go down as one of the worst interior secretaries in living memory. Good riddance."
Stewart slips public lands attack into Farm Bill
Representative Chris Stewart (R-UT-2) slipped an attack on Utah public lands into the 2018 Farm Bill that passed in December. The misnamed "Sage-Grouse & Mule Deer Conservation and Restoration Act" actually caters to cattle ranchers who want to destroy piñon/juniper forests without going through an environmental review process.
Piñon/juniper forests are a native plant community that has been expanding in range. Stewart characterizes this as an "invasion."
So-called "vegetation improvement" projects are done by "chaining" (dragging a huge chain between two bulldozers to knock down trees) and re-seeding grass for cattle. The massive ecological damage can take decades to recover.
Forest removal actually can enhance sage-grouse habitat, but range ecologists recommend small-scale, patchy forest removal targeted to identified sites, not widespread deforestation.
BLM has proposed massive chaining projects on more than 110,000 acres within the original boundaries of Grand Staircase National Monument. In 2015, Stewart introduced a bill to prevent listing sage-grouse under the Endangered Species Act (it didn't pass).
Get involved: Center for Biological Diversity.
Alta Ski Area behaving badly
Alta Ski Area, long considered an industry leader for sustainability, has tarnished its image by obstructing Wasatch Mountains conservation planning.
At a December meeting, Alta opposed federal designation of a Central Wasatch Conservation and Recreation Area because it might prevent the resort from expanding its parking lots. Alta has also refused to cooperate with Wasatch Mountain planning that might prevent building new ski lifts in Grizzly Gulch and on Mount Baldy.
Get involved: Save Our Canyons.