After wrapping up production for last month's issue, I drove cross-country with my niece, CATALYST art director Polly Plummer Mottonen, and my two great nephews, Max (13) and Miles (15). It was the classic American roadtrip: miles of open space; Wyoming's Yellowstone National Park, all the more interesting for the narrative provided by Polly, a former geologist; Devils Tower, made famous by Close Encounters of a Third Kind, and far more magnificent than I'd imagined; Mount Rushmore in the dark, on Inde­pen­dence Eve, which stirred memories of my first visit as a young child, 19 years after its 1941 completion.
As I recall, we drove to the base of the mountain and squinted upward at the colossal heads. Nowadays, the site is supported by a huge outdoor arena, a plaza, and a parking lot so large you could be lost for a very long time. Of course, the country's population has almost doubled since then, and international tourism is up.
Back then, approaching from the east, South Dakota was the farthest west I would travel until I was in my 20s, and the Black Hills were awe-inspiring, but frankly I was most taken with the pink quartz I collected everywhere, eventually covering the floor of the back seat with. Also, through the nearby Badlands, I was on the lookout for the collie-sized eohippus, the prehistoric horse I'd read about in the How and Why Book of Horses; my mom, who knew how to pick her battles, promised that if I found one, I could bring it home. I
On this modern journey, at sunset on July 4th we reached our destination, just in time to watch fireworks over the Wolf River in Winneconne, Wisconsin.
For the next 10 days I lived with my nieces and nephews and their children, teens through 50s, at the sprawling country home the first generation had grown up in (now owned by niece Katie and her husband, Lucas Pottorf, former Salt Lakers), and visited their parents living a few miles down the road. We swam, canoed, watched fireflies and stars, ate, laughed, sat around reading books, played cards, played with the dogs, visited my 94-year-old Aunt Gertie, and took a lot of photos. It was good to get to spend time with these kids who, at least through recent years, I interact with mostly through Facebook. What loving, interesting human beings they have turned out to be.Thanks, sister Bonnie and brother-in-law Bob, for creating this awesome offspring.
I spent a few days in Madison, Wisconsin with my lifelong best friend Kate Edwards, now a Buddhist chaplain, and got to accompany her when she testified at the Capitol about abuse in state prisons regarding solitary confinement. We also toured our old college-days haunts, the few that remained—Paul's Bookstore, Nick's Bar & Grill, the Student Union's lakeside terrace.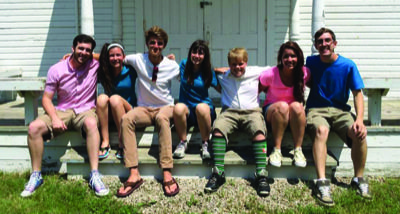 The drive home was uneventful save for the jenky hotel that left us laughing, but we were so grateful to get it, as it was the last place in town; rain, darkness and a semi collision that rerouted us through the Uintas, which were beautiful. It was a good end to a classic summer vacation.
* * *
Steve Jones, founder of Cosmic Aeroplane (see cover story last month), wanted me to let you know three things not mentioned in the story:
1. Artist Richard Taylor was responsible for the designs painted on the walls, ceilings and floor as depicted in the photos accompanying the story.
2. Peter Brandt painted the original sign at the 9th & 9th locations; he also played harp in the then-famous Smoke Blues Band.
3. The cover art has always been referred to as "Cosmic Lady."