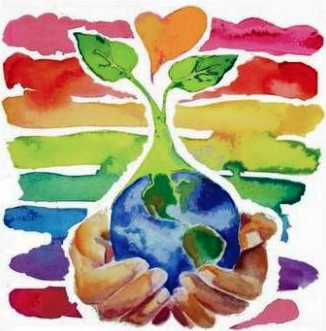 The first observance of Earth Day in 1970 is often regarded as the beginning of the mainstream environmental movement, in which citizens and lawmakers took up issues of clean air and water to improve the health of human and non-human communities. Inspired by the Vietnam War- era teach-ins for peace, Former Democratic Senator Gaylord Nelson and Republican Congressman Pete McCloskey co-chaired an initiative to organize a series of environmental teach-ins on April 22nd, 1970. With over 20 million participants nationwide participating in teach-ins, rallies, and grass-roots actions, the first Earth Day was lauded as a success. Later that year congress was able to pass the Clean Air Act, The Clean Water Act, the Endangered Species Act, and form the Environmental Protection Agency (EPA).
It is now estimated that one billion people celebrate Earth Day, which makes it the most widely-celebrated secular holiday in the world.
Earth Day Network has dedicated Earth Day 2018 to end plastic pollution. "From poisoning and injuring marine life to disrupting human hormones, from littering our beaches and landscapes to clogging our waste streams and landfills, the exponential growth of plastics is now threatening the survival of our planet. In response, Earth Day 2018 is dedicated to providing the information and inspiration needed to fundamentally change human attitude and behavior about plastics," reads their website.
Now, more than ever, it's vitally important to actively participate daily in improving the quality of our communities and the fight/innovation against anthropogenic climate change. If you're not already organizing a tech-in about environmental justice, or planning a direct action in Bears Ears, here are some ideas about how to celebrate Earth Day 2018:
April 14th:
Alta Earth Day @ Alta Ski Resort: Celebrate Earth Day at Alta by enjoying workshops, naturalist hikes, local vendors, and some Apres Earth Day refreshments.
Bennion Center Saturday Service Project @ The Bennion Center: Projects will focus on supporting environmental sustainability and awareness.
April 15th:
West Side Cell Meeting by the Air Protectors @ 2881 W 5700 S: The Air Protectors are organizing the Wasatch front by neighborhoods so we can build strong communities that work together for a healthy future.
April 16th:
SLC Permaculture Guild Potluck @ SLC Krishna Temple: Meeting every Monday, from 5:30 pm – 9 pm, at the Krishna Temple Food Forest, where we bring healthy vegetarian or vegan food to share, garden together, and listen to a presentation regarding a new permaculture related topic each week.
Bags To Beds Volunteer Event @ The Bennion Center: Plastic grocery bags are collected from the community and then cut and tied into plastic yarn (plarn). This yarn is then crocheted into mats that people can sleep on in the winter, to insulate themselves from the cold ground.
April 17th:
Disqualify Chase, Deny Wells & Pursue Public Bank @ Salt Lake City Council Chambers: If you are a SLC resident please call your council member asking they divest from JP Morgan Chase bank (where they currently bank) and deny Wells Fargo by disqualifying them from the City banking application and vote YES on a resolution to create an Ethical Banking Ordinance pursuing a public bank and recommendation for Fossil Fuel Divestment.
April 18th:
Declutter Drive @ the Ogden Restore: Donate items to our nonprofit thrift store and receive a $5 coupon to use before May 1st.
Spring Daffodils @ Red Butte Gardens
Recycle: Part Three of the #WASTEFREEWESTMINSTER Series @ Westminster College: learn about confusing recyclable/non-recyclable items, and creating a mosaic piece out of waste. Free dinner, recyclable crafts and fun!
April 19th:
U Recycle Day @ Rice Eccles Stadium Parking Lot: Bring your electronic waste, old personal documents, and hard-to-recycle items to U Recycle Day, an annual event for responsible recycling.
April 20th:
Coffee at the Preserve @ Swaner EcoCenter: This is a great opportunity to learn a bit about Swaner, clear your mind, mingle with peers, or even just take a quick break from a hectic day at work. Don't forget to bring your reusable mug!
Celebrating Edward Abbey and Charles Bowden @ Ken Sanders Rare Books: Celebrate the lives and work of two desert literary masters.
April 21st:
Cedar Mountain Wilderness Service Project @ Cedar Mointain Wilderness: Join SUWA's Field Volunteers for our 2018 Earth Day Service Project in the Cedar Mountain Wilderness. Spend your Earth Day working to protect the health of your public lands!
Earth Day Art Market @ Ember SLC: 10% of all proceeds will benefit Friends of Cedar Mesa's efforts to break ground on the Bears Ears Visit with Respect Education Center.
Ogden Nature Center Earth Day @ Ogden Nature Center: Fun and engaging activities, land art, food trucks, puppets, a water-wise perennial plant sale, live performances, green gurus, environmental experts, arts, crafts, and more. All ages are invited.
Earth Day! April 22nd:
Earth Day Spring Garden Tour @ Red Butte Garden
Earth Day @ Swaner EcoCenter: Join us for Earth Day 2018! We are partnering with local organizations to provide a day of family-friendly, fun-filled, Earth-loving activities!
Molly Jager is an intern with CATALYST Magazine, and a Environmental Sustainability Studies Major at the University of Utah.