Owner Rebecca Sheeran discusses creating a "tea mind."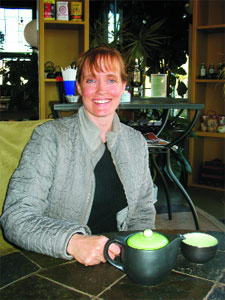 To know tea is to love tea. But there's so much to know, it could take lifetimes. There is even a saying among veteran tea farmers in Sri Lanka, "There are no tea masters." Luckily, one can still enjoy the medicinal and tasty beverage without knowing whether the winter was cold enough to produce sweet tea or mild enough to create a bountiful crop.
Pure enjoyment is what prompted 36-year-old Rebecca Sheeran to open her tea house, the Tea Grotto. For Sheeran, tea became a passion very quickly. "It kind of came into my life and took me over. I like to say tea did me." A massage therapist for over a decade, she developed her tea mania on a trip to Thailand, where she had been receiving reflexology treatments as research for opening a day spa. She heard that many spas were also offering tea, and as she sampled the specialties in Thailand, she knew she was hooked. Within a year, she had dashed the day spa dreams, and started a tea room. She then traveled to an Indian tea plantation to learn first-hand what it takes to grow exceptional tea, and she also studied with a tea teacher in Boulder, Colorado.
Now, almost three years later, Sheeran's Sugar House tea haven boasts a knowledgeable staff of five and some of the finest tea in the state. Exposed brick walls, high ceilings and a sleek tea bar give the shop a modern feel. Sheeran says her goal is to provide a place where customers can relax and unwind. "As Americans we're so busy, and we're always trying to slow down and find ways to be more conscious with ourselves, and tea fits in with that. Not to mention the health benefits. I think our culture is missing a lot of rituals, and maybe tea can be a part of a new ritual."
Creating a "tea mind" is Sheeran's main focus. "There are different ways to meditate," she explains. "You can focus on your breath, focus on a mantra, or do a mindful meditation where you focus on each little step in a process. Tea can be experienced as a mindful meditation- first focusing on the cup, and then washing the cup. And then focusing on the water, and then smelling the tea leaves, et cetera." She has created Tea Grotto tea ceremonies for groups of four to seven, which consist of a quick lesson about tea, then a tea steeping followed by a light meal, bento boxes, from Tsunami Restaurant. The purpose of the ceremony is to create purity, harmony, respect, and tranquility. Also offered are tea leaf readings (by appointment) and jazz music every other Monday night.
All in all, the Grotto offers over 100 high quality, loose-leaf teas, and Sheeran says those barely scratch the surface of what's available. She believes that the tea industry is going through a shift similar to what the coffee industry did with the Starbucks generation. "Years ago, all you could get was Seneca coffee from the grocery store until consumers learned about gourmet beans. That created a shift. And now people are starting to enjoy the flavor and complexities of good quality tea." Sheeran is almost obsessed with offering customers the best quality product- even takeout customers must wait 3-5 minutes for a steeped tea rather than using a tea bag. "Tea is more than just a beverage. There are a lot of sacred rituals and spirituality involved. It's one of the only beverages or substances that has both a relaxant and a stimulant in it," Sheeran says. "When I want to do something, I want to do it right, so I decided to make the best tea possible for every customer." When asked what her personal fave is, she replies, "I drink tea like I listen to music, it depends on where I'm at. Sometimes, I want something dark and heavy or other times, I want something light." As for her customers, Sheeran and her staff make time to find just the right tea for each person, often offering five or six suggestions, and letting the customer see and smell the leaves to decide. "So that they can take life sip by sip," she laughs.