Two of Salt Lake's most eclectic florists are generous with their advice.
Pamela Olson
Native Flower Company
Tell me about Native Flower Company.
Pamela Olson: The word "native" was inspired more by the aesthetic of the word. I wanted a rooted and local feeling. I carry native flowers and local flowers when I can get them, otherwise I outsource for exotic flowers.
What kind of native or local flora should we be looking for?
Finding local flowers is all about seasonality. Consider herbs like rosemary, mint or sage. For inspiration, think of Albion Basin above Alta with all those tiny daisies or delphiniums. If you plan ahead, you can grow your own flowers for your wedding. Montbretia grow great everywhere; so do zinnias, dahlias and cosmos. Grasses and wheat also look great in arrangements. And, believe it or not, roses do really well in Utah's climate.
What's the most "offbeat" arrangement you've created?
I've been using a lot of different textures and plants lately. Offbeat beauty can be found in sweet potato vines, olives and olive branches. I love adding herbs and pieces of aspen branch. Kumquats are the most offbeat thing I've used. They made for a very bohemian look.
What would you say to someone who's thinking of attempting their own flower arrangements?
Actually, we offer classes in DIY weddings, private and group. You can learn how to make bouquets, centerpieces, everything you'll need.
Native Flower Company, 801-364-4606
Dan Muir
Cactus & Tropicals
How did you started mixing crystals with floral arts?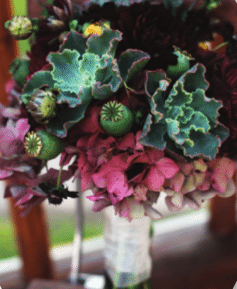 Dan Muir: I began experimenting with the combination a long time ago, back when I started my own business in Lincoln City, Oregon. People up there were more into the crystals, but for me it was about making stuff from the Earth. I had worked at Cactus & Tropicals before I moved and when I decided to come back, I kept making my creations.
What stones and flowers do you find to be the best for weddings or celebrations of love?
You can find all kinds of books that interpret the meaning of stones and flowers, but really, we all choose what we want them to mean. It's about the energy you put into the stone. I know that rose quartz is always a popular representation of love. Wire bouquets with calatheas and succulents and little lichens on it are the most popular with wedding crowds.
Do you believe that there is a sort of earthly power in your arrangements?
Yes, I do. I mean, there is something that happens when you are creating. The better your intentions, the more beautiful your creation. Nature is already the biggest art form. These plants have different textures and shapes that you can manipulate and use to make art that is out of the ordinary.
What would you say to someone who might try to make arrangements like yours at home?
First, definitely be your own artist! Your own creations are always better. If you haven't done this before, start with some practice pieces. Go out in the woods and collect stuff that you like right out in nature and play with incorporating them into your creation.
Cactus & Tropicals, 801.485.2542