Art in public spaces, or urban art, is the expansive genre of art that excludes no one: it is accessible to all, by design. Whether it is street art, dance, music or new media, urban art is a shared experience, regardless of economic or social status in a community. Utah Arts Alliance's festival, the Urban Arts Fest, is now in its eighth year celebrating this notion that artistic expression can be enjoyed and created by everyone, everywhere. Urban Arts Festival is the largest free art event in Utah, inviting 150 artists, musicians and performers to the Gallivan Center for the two-day festival.
Festival highlights include a wide range of locally made art, jewelry, photography, clothing and sculpture for sale, music and dance performances, digital graffiti projection art, Hard N' Paint Street Basketball league and slam-dunk contest, a Kid Zone, food trucks, live painting demonstrations from Utah's top mural and street artists, and a community wall that everyone can paint on. Local acts include SALT Contemporary Dance, Bboy Federation, Talia Keys and many more. Sunday will also feature City Weekly's Artist and Brewer Appreciation Party, as well as an Urban Fashion Show.
But perhaps the most enticing and iconic element this year will be hip-hop legend and visual artist, Chali 2na. Mostly commonly known as a co-founder of hip-hop group Jurassic 5 and Latin funk band, Ozomatli, 2na is also known for his street art style he cultivated from Chicago, where he was born, and in South Central Los Angeles, where he grew up. In addition to live painting on Sunday, his headlining music set will occur on Saturday night at 8pm, playing with his current band, The House of Vibe, with which he's been touring the world for about a decade.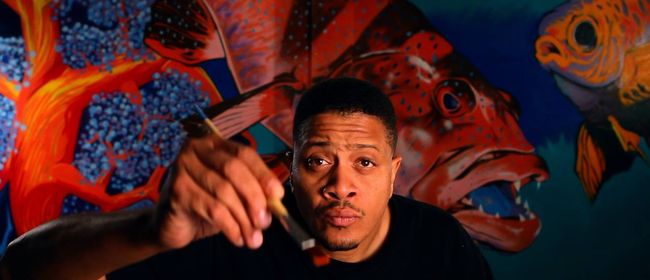 Chali 2na (born Charles Stewart) is known as the "Verbal Herman Munster" as referenced in the Jurassic 5 song, What's Golden. And yes, 2na does get his nickname from the Starkist tuna fish mascot. Far beyond his tuna fish graffiti-style logo (that he designed himself), he's branded and distinguished himself as a visionary in the hip-hop world with his deep baritone voice, his genre versatility and lyricism that veered outside the mainstream.
"Hip-hop that preached love and unity was a little rarer when J5 was crushing back in the 90s," says a local long-time fan of 2na's. "But what may impress me most is his able to connect with people and crowds on such a genuine level anywhere he goes. I'll never forget seeing him at Desert Rocks in Moab. He was able to resonate with everyone, and after seeing him 15 or more times in concert, he has never once just dipped out after a show. He is always down to mingle and connect with people, it's awesome."
2na, now at the age of 47, a pioneer of the hip-hop genre since the 90's, and since 2013, has been on his career-defining mission called Against the Current, a music and art project that combines a five-part series of EPs and a coffee table book. Against the Current, chronicles his creative progression through his various mediums: rapping, sketches, graffiti, photography and oil paintings. For 2na, his intrigue in art began at an early age.
"As far back as I can remember, my mom would sit us down with crayons, pencils, or pens and paper and have us draw something. This was an attempt to occupy our time but it sparked a small flame inside me," 2na writes in his book. "I credit my love and continuous practice of visual arts for being the one thing that taught me patience and an acute attention to detail."
The book portrays 2na's life in various snapshots: photos of 2na doing street art as a young man, performing at various venues, his old lyrics artfully penned on a piece of lined paper, the different logo designs he made for 2na, Jurassic 5, and–most telling of 2na's inner thought form and expression–his early sketches. He caricatures his friends and fellow bandmates, comical scenarios from his past, muscular lion characters with dread locked hair, a friendly T-Rex, and more.
Against the Current will be available for sale and a book signing at 2na's artist talk and photo opp on Saturday, 2-3pm. Tickets to 2na's talk are $5. Festival "I Heart Art" VIPs also enjoy reserved seating to the artist talk.
Art, in all its forms come together in one place this weekend, inviting us to enjoy free-form expression, and challenging what the conventions of our society consider art. Urban Arts Fest has received several awards including "Best New Festival in Utah" and "Best Indie Art Event in Utah." With local talent in addition to legendary expressionists, all are welcome to explore the young and vibrant community of artists that Urban Arts Fest fosters.