Highlights and updates from some CATALYST stories of 2018
Every year CATALYST brings you stories that are educational, local, playful, tasty. Last year, among many other stories, we wrote about hybrid buses joining the UTA fleet; about the vandalism and restoration of the 900 South Buddha shrine; about Slow Food culinary treasures and teaching our children to appreciate a broad palate; about permaculture and Women of Wisdom.
The interesting thing about print journalism is that it captures a story at a specific moment in time. You, Dear Reader, sit with these stories, learn and absorb, and then move on. But often that story is not over.  We invited our writers to  re-visit some of their stories from 2018.
Enjoy. (And if you appreciate the stories CATALYST brings you every month, consider supporting us with a donation.)
— Katherine Pioli, Associate Editor
January
EnviroNews columnist Amy Brunvand has lived in Salt Lake long enough to be something of an expert on staying healthy through the winter pollution. Last year she advised that before you plan your day, check the Air Quality Index: Air.utah.gov or AirNow.gov. If it's yellow or orange, take action:.
Ride the bus or take TRAX.
Wear an air pollution mask. Make sure yours is rated 95 or 99 and has a tight fit.
If you have to drive:
Don't warm up or idle your vehicle for more than 10 seconds. (City law limit is two minutes.)
Carpool or ask your employer if you can telecommute.
Avoid using drive-through windows.
Drive smoothly—slow down and no jackrabbit starts.
Maintain your engine and keep your tires properly inflated.
Warm Springs Park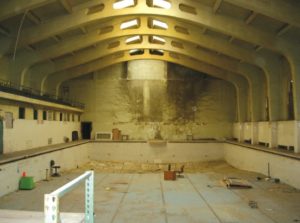 We've been giving lots of attention of late to the Warm Springs Park development  in Salt Lake, just west of the Capitol. Michael McLane wrote an indepth history from when Mormon settlers and native Indian tribes used the area's waters for healing purposes to their paving over with the expansion of the oil refineries. In a coinciding news brief we spoke with Sylvia Nibley about her community organization efforts to save the old Warm Springs building and revive the spring itself. That effort is finally making headway.
Last month Mayor Jackie Biskupski and members of her administration met with leaders of the Warm Springs Alliance, a nonprofit organization formed to protect and preserve the Warm Springs landmark site. The alliance presented a proposal created with extensive public input to restore the historic site by making it a community asset. The vision includes hot spring pools, a restaurant, and community space used in creative ways as a place where people from diverse communities can come together.
Alliance founder Sylvia Nibley reports that in this first meeting, Mayor Biskupski showed openness to the concept and has agreed to work on city funding of a thorough engineering study by June of 2019. Nibley says this is a vital next step to understanding the condition of the building so that accurate estimates for its restoration can be made. For more information visit: WarmSpringsAlliance.org/
Greener buses
When writer Faith Rudebusch interviewed Carl Arky, media relations specialist at Utah Transit Authority, about the UTA's transition to greener buses (Transit Dilemma), 30 of the 510 buses in the greater Salt Lake region were hybrid electric models and 47 were powered by natural gas. During 2018, Arky says, UTA added 24 hybrid buses to their fleet.
Five electric buses are scheduled to arrive between December 2018 and next month—two for the University of Utah and three for UTA routes. UTA will deploy the emissions-free buses in April, after testing them, training personnel, and completing an on-route charging system. UTA's plans to introduce the buses in 2018 were pushed back due to delays at the plant.
Keep an eye out for the new electric buses this year, and consider incorporating these non-polluting buses into your routine.
February
Valerie Litchfield gave readers a sneak peak into 2018's Chinese Year of the Earth Dog. Last year was, according to Litchfield's reading of Chinese astrology, a year to avoid jumping into big changes. Instead she recommended focusing on leaning in, listening and learning.
Thanks to the dog's intelligence, training and discipline, however, the Year of the Dog was a good time to make lifestyle changes (quit smoking, move your residence or start a new business venture). The Earth Dog year is also characterized as a time of idealism, social justice, innovation  and a time to address spiritual matters and find peaceful resolutions to conflict. Litchfield offered ideas and actions to revisit throughout the year.
Here are a few that could also bring you joy, fulfillment and peace during 2019, year of the pig.
Complete one task before taking on another.
Volunteer for humanitarian causes—opportunities abound.
Establish new traditions in your life or reconnect with old ones.
Adopt a rescue dog or donate your time or resources to a shelter.
Take a family vacation to a place in nature.
Read or reread classic books and poetry.
In A Stone's Throw
Alice Toler reported on the vandalism of Benjamin Dieterle's Buddha shrine on 900 South. At the time, Dieterle was raising money for a replacement.
Dieterle says last year 133 people donated a total of $3,700 to rebuild the statue. "My neighbors have expressed support and appreciation to have the shrine back."  The shrine receives offerings each week—mostly flowers, but also fruit, coins, rocks, beads and interesting oddities, including "a tiny tin box with a tiny pencil inside." One day Dieterle says a nine-year-old neighbor girl just sat with the Buddha for about 20 minutes. 'The irony of the vandalism was that the shrine then became a known landmark in the neighborhood."
Buddha on 9th ended the year raising $555 via a  GoFundMe campaign which was used to purchase small gifts for those who could use some holiday cheer, distributed at the Buddha.
Cleaner burning Tier 3 fuel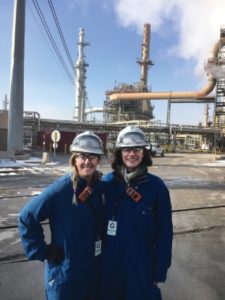 We heard, last year, some promises for cleaner burning Tier 3 fuel. Are we still on track for that? "Breathe" columnist  Ashley Miller (Refinery Row) says: yes! Significantly cleaner gasoline, Tier 3, is on track for making its way to many gas stations in Utah, thanks to the commitment of two of Utah's largest refineries. Last year, both Andeavor (now Marathon Petroleum) and Chevron broke ground on projects needed to begin producing the lower sulfur content gasoline.
To produce the cleaner fuel, Marathon invested in expanding its catalytic hydrogen treater, which removes sulfur from the gasoline feedstock the refinery processes. The "hydrotreater" needed to be larger to remove enough sulfur to meet the 10ppm Tier 3 standard. Expanding this hydrotreater will not result in more emissions coming from the refinery itself. The project is underway and on schedule for the company to begin producing and selling the lower sulfur fuel by the end of 2019. Chevron is also on schedule for tying in the new equipment installed to remove additional sulfur to meet the new standard.
Under federal law, smaller refineries, including Marathon and Chevron, as well as the other refineries located in Utah, could take advantage of an averaging system or credits to avoid producing the fuel locally. Both Marathon and Chevron felt that producing the cleaner fuel would have a positive impact on the local air shed, the community, and the people of Utah. In other words, these companies felt compelled to do the right thing for our state, especially when the right thing will result in such dramatic emissions reductions from the mobile sector.
So where can you buy the cleaner fuel once these refineries are producing it? Look to buy gas from retailers who purchase their supply from Marathon, Chevron, or Silver Eagle. This includes stations branded with Tesoro, Andeavor, Shell, ExxonMobil, Chevron, and some unbranded stations including Costco and Smith's.
March
Amy Irvine—mother, teacher, gun-owner—wrote A Defining Moment as a response to the gun violence that is so prevalent in our country. "In this era of white, homegrown terrorism, it's time to step into the fray—that messy, alchemical place where hard conversations happen and new levels of action are executed," she concluded. So, Dear Reader: what is that conversation looking like today? Are we still having it at all and where are we going with it next?
Cleaner switcher engines
Last year Representative Steve Handy (R-Layton) ran HB 211, which would have created an incentive-based approach to offer grant funding to Union Pacific to replace up to three freight switchers with newer models or repowered engines for trial. Ashley Miller says the bill did not pass last session, largely because many members of the legislature pointed out that Union Pacific nets a multi-billion dollar profit each year and taxpayers shouldn't have to foot the bill to get cleaner locomotives.
Perhaps an even bigger issue was brought to light for our lawmakers, thanks to this bill. Under the Clean Air Act, states are prohibited from imposing stricter emissions standards for locomotives than what is set by federal law.
This year, Representative Handy is bringing back the freight switcher bill to try again, but he is also bringing a separate resolution, calling on the EPA to set stricter emissions standards for locomotives. The resolution will serve as a message to the EPA that Utah's hands are tied when it comes to cleaning up a significant source of pollution coming from the rail yards. The current standard for these locomotives are roughly 85-90% cleaner than the Tier 0+ standard allowed under the Clean Air Act.
April
The Ark of Taste is Slow Food International's registry of hyper-local foods and food customs that have deep cultural significance for the people who use, grow, make and eat them. Last year Katherine Pioli wrote about some of the Ark foods. Since then, Slow Food has welcomed some new foods aboard, like gaetbangpung, a rare coastal plant found in only a few places in South Korea. Gaetbangpung is an important food staple in the fishing villages where it is grown. It has also been considered a potent medicine for centuries. Check out the Slow Food website for interesting recipes from around the world (using Ark ingredients) and for news about fair-food initiatives around the world. And visit the local chapter's site (SlowFoodUtah.org) for updates on local activities.
Learning to love real food
Speaking of food, Natasha Sajé, professor of English as Westminster, also wrote about the culinary experience in her April essay, Learning to Love Real Food. She shared the story of chaperoning a college trip to Europe and her surprise at her students' eating habits—they preferred fast food pizza and shunned the local feasts. She came away wondering whether we are doing enough to teach our young people food appreciation. So, Dear Reader: What have you and your kids been eating lately?
May
At CATALYST we like to think about our gardens. In May, Fritz Kollman, landscape gardener at Red Butte Garden and Arboretum, taught us how to create a good pollinator habitat. Here are a few of his suggestions:
Pollinators love globemallow, aster, hummingbird mint, milkweed, penstemon, lavender, butterfly bush, hyssop.
Ornamental grasses and shrubs in your landscape provide shelter for pollinators.
Leave your garden untrimmed for winter and early spring. This simple practice provides shelter to overwintering pollinators and their offspring.
Mulching is good, but leave some bare soil open in the garden, as it accommodates small ground-nesting pollinators.
Pollinators need fresh water—a birdbath or small pond is appreciated.
Breathe: What Lies Ahead
Everyone worries about Utah's winter air quality. Ashley Miller had the unfortunate task of alerting readers to the looming dangers in our summer air as well.
In an end-year update, Miller reports that the 2018 summer was particularly bad due to a combination of elevated ozone levels caused by high temperatures and intense sunlight, as well as unusually high levels of PM2.5. A wintertime woe, PM2.5 also typically spikes in July due to fireworks. But many days in August also saw elevated PM2.5 pollution due to wildfires within and outside the state. Wildfire smoke contains harmful particulate matter, as well as many of the precursor pollutants that lead to the formation of both ozone and PM2.5.
More exceedances and higher concentrations of ozone pollution plagued the valleys this summer. From June through September the ozone standard was exceeded 32 times in Salt Lake City—significantly higher than in  2016, when there were only 14 exceedances.
Increasing temperatures will continue to spell trouble for summer air quality for both ozone and PM2.5.
July
Last year was the fourth year of the Playground East Forest Garden, a permaculture project in Salt Lake City and the subject of James Loomis' gardening article (Garden Like a Boss: Keepin' It Wild). 2018 turned into a busy year for Playground East's volunteers. Project organizer Jim French writes:
"Hugelkultur mounds, which soak in irrigation water and prevent water from flooding the adjacent garden, play an integral role at the garden. We noticed that a few of the interior The mounds were not receiving enough irrigation water during our dry summers. Instead of continuing to observe plants failing on those mounds, we decided to remove two mounds and make a slight depression (called a swale) in their place. One of those swales is now home to a currant shrub and a growing patch of strawberries.
"The shift from annual plants to perennials continued in 2018. Perennials come back year after year, develop deep root systems and are able to withstand longer dry periods than annuals. As has been the custom at Playground East, the new perennial arrivals have been mostly castoffs. This year, we were given a multi-grafted Asian pear tree and a yummy sweet pie cherry tree—joining willow, seaberry, blackberry, raspberry, gooseberry, honeyberry, currant, aronia, and other delicious herbs and weeds.
"An important part of the Playground East Forest Garden is the comaraderie that it fosters. Over 60 people have participated in transforming this eighth of an acre in the Highland Park neighborhood. Join us!"  jimfrench74@gmail.com
August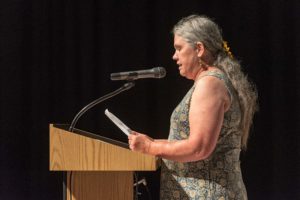 Amy Brunvand, whose reading list comes highly recommended, reviewed the book Radical Joy For Hard Times by Trebbe Johnson. She writes: "A clear-cut forest, a fracking drill pad or a neglected urban river sandwiched between busy roads: Johnson wants us to look at these wounded places with a clear, steady gaze and listen without judgment to hear what the place has to tell us." So, Dear Reader: Have you given special attention to some of the sad, grey places and found their hidden beauty?
Women of Wisdom
Kicking off our series Women of Wisdom (sponsored by the Women's Giving Circle) CATALYST staffer Sophie Silverstone interviewed Salt Lake County Sheriff Rosie Rivera.  Rivera talked about what it was like being a woman in a male-dominated profession, as Utah's first female sheriff and currently the only Latina sheriff in the country.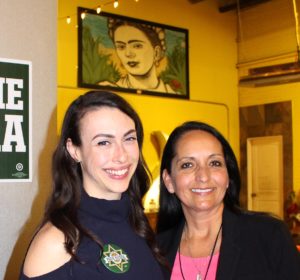 In November Rivera handily won her bid to continue in her position and she  remains at the helm of policing in the county.
September
Here-and-gone fashion trends are a terrible burden on our plant and its resources, as revealed to us by former CATALYST intern Taylor Hawk in her article,  From Fast Fashion to Conscious Consumption. She reminded us that each year Americans throw out 14 million tons of clothing; that it takes 20-200 years for a piece of polyester clothing to decompose; that 11% of all pesticides (including 14% of all insecticides)  are used on cotton crops. All this basically boils down to buying better (yes, often more expensive) clothes that you will want to wear for years, not just a season—and for taking good care of the clothes you already have. So, Dear Reader: Have you changed your clothing consumption habits this year?
October
Eat Local Week happens every fall in Salt Lake. It's a time to learn more about locally grown, raised and produced foods and commit to making them a part of your year-round diet. It's good for the planet (reducing your food's carbon footprint) and is better for the local economy (supporting local businesses and farmers). CATALYST published the 2018 Eat Local contest-winning recipe, along with the recipe author's ingredient sources. Check it out online: Savory Roasted Butternut Squash Pudding, submitted by Alexis: https://bit.ly/2Cyn5o0.
Winter gardens aren't requiring much of us, so garden guru James Loomis uses that time to reflect on the past season's plots and plan for  next year.
He suggests enlisting a blank book  as a garden journal. Record what you plant, when and where. Note on a calendar the dates you want to fertilize and transplant. Spend time in your garden, regardless of the season, and note what you see.
And if you've been putting off installing drip irrigation, start drawing up plans for a system now.
Environews every month
Every month Amy Brunvand digs deep into environmental issues, bringing us a succinct update on what's important, what's new and how we can get involved. Probably all of them deserve an update, but there's just not enough space. Here's what Amy found most important to review at the end of 2018:
In her book Hope in the Dark (2004) activist Rebecca Solnit wrote, "Most environmental victories look like nothing happened." Despite setbacks in 2018, there were also some things that didn't happen, and that was good:
Utah prairie dogs kept endangered species protection after the Supreme Court ruled that the Endangered Species Act applies to animals that don't cross state lines.
The Trump Administration failed to overturn the Methane Rule that controls oilfield greenhouse gas emissions.
A tribal lawsuit to restore the original boundaries of Bears Ears was not moved from Washington, D.C. to Utah, despite Trump ad­minis­­ tration efforts to find a judge who is friendly to downsizing.
Then-Interior Secretary Ryan Zinke did not succeed in raising the Zion National Park entry fee to $70 per vehicle.
The Utah Court of Appeals threw out a lawsuit against Rose Chilcoat, former director of Great Old Broads for Wilderness, who was falsely accused of trying to kill cows by closing a gate.
Yellowstone grizzly bears were not killed after a federal judge kept them on the Endangered Species list.
The Federal Energy Regulatory Commission did not grant a permit for the State of Utah to begin construction of the Lake Powell Pipeline.
Radically anti-environmental state representative Mike Noel (R-Kanab) will not be returning to the Utah Legislature since he did not run for office.
The State of Utah cannot turn Utah's federal public lands into an off-road vehicle playground after losing a lawsuit to overturn travel limits on federal public lands.
When the new Democratic majority takes over leadership of the U.S. House on January 3, anti-environmental congressman Rob Bishop (R-UT-1) will no longer be chair of the House Natural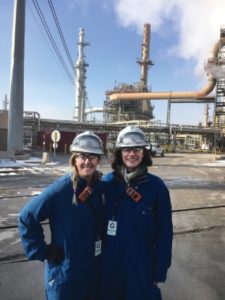 Resources Committee.
This story was organized by Katherine Pioli,CATALYST Magazine's assistant editor