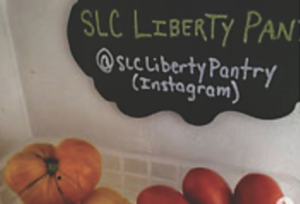 You've seen the little lending libraries. Hopefully you've stopped at a few to browse the books available for the taking. Maybe you've even helped yourself to one or two.
Couldn't this model be used to provide other things to our community? Meet the Little Free Pantry. This national movement encourages individuals to erect tiny food pantries in their neighborhood. These pantries could stock after-school snacks for neighborhood kids, keep a supply of those little things you might run over to ask a neighbor for (a tablespoon of cinnamon, a cup of sugar), or provide quick meals for a neighbor in need. These small pantries are not intended to fill the need for a larger community food bank, but to maybe fill in some gaps in the system.
The one registered Little Free Pantry in Salt Lake is always taking donations. Or you could put one up in your neighborhood. Blueprint designs, how to set one up and register it and other info.
If you would like to start contributing to the one Little Free Pantry in Salt Lake you will find it near Liberty Park, across the street from the tennis courts: 1052 S 500 E, Salt Lake City. The pantry can take non-perishable items (soup, pickles, pasta), as well as some perishable items (extra zucchini from the garden), and basic household needs (paper towels or toilet paper). If you want an idea of needed items or you would like to organize a mini-drive (with your workplace or church or other community group) and keep the pantry stocked for a week, find the Pantry's contact person through the Little Free Pantry map page.
—Katherine Pioli