With the exception of the Wasatch Front, where we get an average annual 16 inches of rainfall, Utah is a true desert with an annual average rainfall of 10 inches. This puts the state in a continual zero-sum tug-of-war with the powers of nature, more specifically the power of osmosis. The 1902 Reclamation Act guaranteed Utah farmers cheap, subsidized water, no matter what the cost to the American taxpayer. Those costs are high and going up. Alfalfa, the state's traditional crop of choice, is a stark example. An acre of alfalfa needs somewhere between slightly less than three acre-feet of water per crop (with an average three crops per year) to over six acre-feet, depending on what irrigation system is used. The cost of this water to the American taxpayer is greater than the return to Utah farmers.
Part of the irony is that in a state where free-market capitalism is much in favor, large government water subsidies to farmers have always been eagerly accepted.
As it is practiced today, agriculture contributes a mere 1% to Utah's economy.
Alfalfa can make a farmer $500 or so per acre on a good year. Without heavy subsidies, the state's alfalfa industry would experience a rapid collapse simply because it would be more cost-effective to import it than to grow it. One possible answer to this untenable situation is to find a smarter way to farm.
Next door, the state of Colorado may have come up with a solution: wine grapes.
Forget alfalfa; grow wine grapes!
Colorado estimates each acre of wine grapes has a synergistic effect on the state's hospitality industry of about $175,000 per year and, seren­dipitously in this arid region, mature wine grapes require only about 20% as much water as alfalfa.
When vineyards are planted and the grapes are made into wine, people start coming from the urban areas to rural destinations where they spend a few days and leave behind a lot of money.
Compared with pretty much anything that can be legally grown, this is a mind-boggling amount. The general pattern is quite predictable: After the vineyards come the wine makers then the chefs who establish a variety of eateries. The best of them create food designed to match the local wines. To city dwellers in the surrounding areas and tourists, this is an irresistible combination that leads to increased visitors with an unusually high rate of return. Next is the need for hotel accommodations, bed and breakfasts, motels and campsites. The locals are hired to work in the various businesses. Young people who never thought it possible to make a career in their hometown find a variety of new career paths available to them.
Outdated whines
On the one hand, in fiscal year 2007 Utah sent over $42 million outside the state to buy wine from producers around the world. On the other hand the state, until 2007, levied a 53% tax on all Utah wine production. Wine producers around the world pay an average of less than 10% to cover approximately the same taxes worldwide. This tax made it virtually impossible, before the new tax changes, for Utah's producers to compete on the world market. The state's rationalization for this breach of free-market principle was that the tax on producers goes directly into the state's education system, which, they claimed, justified such an repressive tax. If raising money for Utah's school system is so important the wine industry will be able to make a vastly greater contribution to the state coffers if the industry is reasonably taxed and allowed to grow.
A common fear among Utah legislators was that increased wine production in the state would en­courage people to drink more but further research showed that drinking patterns are quite stable. Any adult in the state who wants to buy wine or spirits has easy access to liquor stores throughout the state. Allowing more wine production to take place here will not alter its availability, only the amount of money that will remain in the state. It will also bring millions of dollars into depressed rural economies around the State and in my opinion help usher in a new culinary era.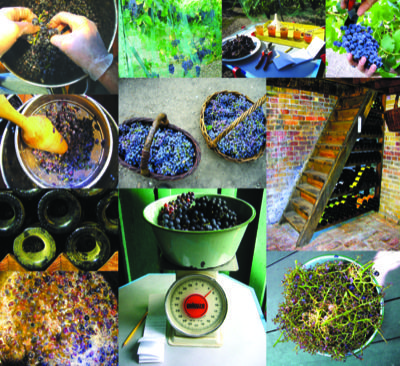 How Utah's food culture devolved, and is reviving
It has been difficult to arrive at a definition of what Utah food really is. Unlike most of the great culinary traditions around the world, Utah's lack of a wine industry emasculated what was once a vigorous food tradition, based on the many ethnic influences of the thousands of the mostly European converts brought into the Mormon Church in its early years. It was during those years that a wine industry flourished in the state. As the church leaders aged and became more socially conservative, winemaking was outlawed in Utah. The inevitable result was a slow but steady decline in the evolution of what was becoming a unique food tradition. Nothing stimulates the appetite and enjoyment of food like the inclusion of wine at the table and on the other hand nothing kills a wine-based food tradition faster that outlawing wine.
There are no wines that match food better than the ones grown in the area where food is produced and prepared. Think of the great culinary traditions of Europe: From Alsace to the slopes of Mount Etna in Sicily there are hundreds of local wines linked to local food traditions. The key to understanding why local wines work best with local food is to understand that they evolved together over time. The wine makers adjust their techniques to achieve a wine that works with the local food and vice versa. As the years pass, the two achieve a harmony that is unique to a region.
In Alsace the most famous and successful marriage of food and wine is between what they consider to be their best wine made from one of the six noble grape varieties that flourish in that region. Riesling and the heavily German-influenced foods of the same region: including a variety of smoky meats, sauerkraut and sausages. This is only one ex­ample of many brilliantly successful combinations. Because of their lengthy coevolution they are, some would say, a match made in heaven.
Another equally famous food and wine region is Burgundy. Burgun­dian food would have little meaning without its local wine: from the dry Chablis to the rich sensuous Romanée Conti. Burgundy is one of the greatest wine regions in the world. It is an ancient province and its food reflects the same sophistica­tion and depth that its wines do and together they have conquered the respect of the world.
Many books have been filled with the legendary combinations of local foods and their wines. This is the foundation of a tradition that the state of Utah can look forward to as it begins the exciting process of exploring a new wine region.
I can think of few things in the world of food more exciting. And with the old tax structure lifted I think a new age of wine and local food is about to begin.
From Kenvin: An Artist's Kitchen, reprinted with permission of Gibbs Smith.