Meet Amour Spreads—the jam and jelly enterprise of the Francis family.
—by Adele Flail
The story of Amour Spreads, a recent recipient of Slow Food Utah's micro-grant program, is one of providence; listening to John Francis, who owns the operation with wife Casee, you could easily conclude that the universe decided that the Salt Lake Valley really, really needed more local purveyors of fine jams. (Perhaps the universe has a sweet tooth?)
Two years ago, on an anniversary trip to a cabin in Idaho, the couple stumbled, literally, on to a patch of thimbleberries and spent their planned hike collecting the pleasant surprise. A hasty Internet search yielded their first jam recipes.
Back home in Utah, the couple work together on the business founded by Casee in 2004: Lady of the Rake Fine Gardening. Grown by word of mouth (the company boasts no need for a website), Casee and a small team design and maintain gardens for residential clients, and back in 2010, the couple received—again, a quite literal—windfall after several clients charged the gardeners to do something with the overabundance of fruit from trees meant to be more ornamental than operational.
That "something" turned out to be more jam. Using traditional European recipes that rely on simple ingredients, the Francises experimented with different combinations of fruit and herb, such as lavender and pear, making over 400 jars of jam in the process. Fans of local restaurant Pago (pagoslc.com), the couple dropped off a few of these jars of as a thank-you for chef Michael Richey… only to find upon returning for dinner one evening, that the chef had been serving the jams on PAGO's cheese plate to a clutch of customers that included a buyer from Whole Foods, who in turn wanted to know the name of the jam company.
Faced with sudden acclaim, the couple chose the name Amour Spreads—reflecting both the company's anniversary origin, as well as the fact that positive actions tend to ripple outward and to return to the initiator. They began to get serious, launching as a bonafide business in November 2011. By Christmas, many of the flavors created for their first official batch were sold out.
The grant from Slow Food Utah, received earlier this year, allowed them to purchase supplies for expanding their operation—including setting up a booth at the Farmer's Market, as well as copper jam pans for use with the simple, traditional recipes the couple favors.
Heartened by the enthusiastic response, John Francis is looking forward to doubling production this season—but he states firmly that he plans to remain focused on small batches that must be crafted rather than manufactured. "We don't want to be Smuckers," says Francis.
Commercial makers add stiffeners, preservatives, and other additives, including high-fructose corn syrup, to standardize the cooking process as well as extend shelf life; Amour's way is to focus on batches of only 15-20 jars at a time. Preparation requires some ingredients that are in short supply for many: old-fashioned attention and time, as well as organic fruit, organic cane sugar, and organic lemon juice, with as much of the fruit and herb ingredients as possible sourced locally, from local or regional establishments such as Traces, S & R Fruits and Grant Family Farms.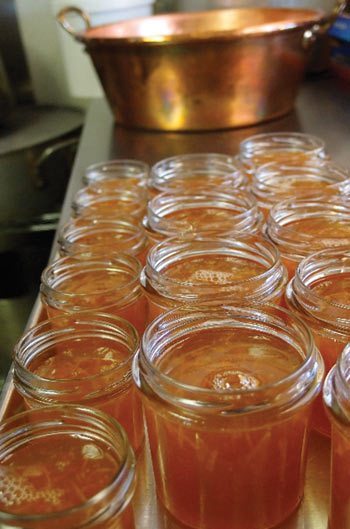 In addition to their commitment to slow food, John and Casee work to conduct their business in other ways that yield net gains for the community. Amour accepts returns of the glass jars, sterilizing and reusing them in the next batch. (Tulie [tuliebakery.com], a local bakery that uses the products in some of their confections, cycles glassware this way.) Part of each sale is donated to three charities chosen by the Francises for their alignment with the couple's own goal of "spreading love." This year, the Francises chose to work with Ronald McDonald House (rmhc.org), Local First Utah (localfirst.org), and Equality Utah (equalityutah.org)—no coincidence between the company's chosen name and that last. In the future, John Francis mentions that he hopes to come full circle and work with Slow Food Utah itself in the future.
You can catch John and Casee Francis at the Downtown Farmer's Market on alternating Saturdays, starting August 11 and 25; at the Wheeler Farms Market on August 12 and 25. A list of local purveyors is available on their website: amourspreads.com.
This story is part of an ongoing series highlighting recipients of Slow Food Utah's micro-grant program. Check back next month for another installment.
Regular readers of CATALYST are aware of the myriad benefits of eating locally, but if you haven't been sure where to start beyond attending your weekly farmer's market, we've got you covered: For the next year, in partnership with Slow Food Utah, CATALYST will be bringing you info about local resources for eating well. Slow Food Utah is a chapter of the national Slow Food USA organization, itself part of a global grassroots movement that aims at providing food that is, in all ways, better—for the people eating it, for the people growing it, and for the land base it comes from. Thanks to a micro-grant program sponsored by Slow Food Utah, locally focused projects that increase biodiversity, provide access to more healthful food, or contribute to our community's knowledge base are springing up on farms, community gardens, and backyards all across Utah. Whether you're looking to connect with local farmers, or are considering your own farming project, CATALYST will be bringing you profiles of the recent recipients of Slow Food Utah's micro-grant program to help map out the local farming landscape.