Bridget Stuchly has left her position as Salt Lake City Department of Sustainability's program manager, and now lives in Spain. Supreet Gill, the former Program Manager of the Salt Lake County Urban Farming and Open Space Program, has been hired to take over Bridget's position.
Stuchly began in the department as an intern and, 11 years later, leaves behind an exemplary legacy. She is responsible for  creating Salt Lake City's first local food program and starting the Food Policy Task Force in 2009. She established the Green City Growers Program, the Salt Lake City FruitShare Program and the Food Recovery Program and Urban Greens Mobile Market—efforts to reduce food waste and get healthy, locally grown food to people in need. Stuchly was 2018's Slow Food Utah Snail Awards recipient for embodying the organization's mission: to  inspire individuals and communities to change the world through food that is good, clean and fair for all.
Debbie Lyons, the department's Deputy Director of Sustainability, says she is sad to see Stuchly go, both as a coworker and as a friend, but that she and the rest of the department are delighted to welcome Ms. Gill into the fold.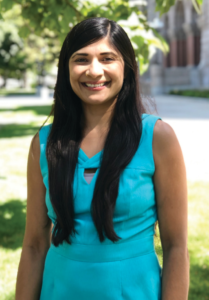 Gill already has a great running start, having "engaged in food systems on all levels as a farmer, program manager for a refugee agriculture project, coordinator of urban farming and farm to school programs, and nutrition educator." She also served on Salt Lake City's Food Policy Task Force (now Food Policy Council)  and "worked on numerous projects focusing on public lands management and community food systems."
Asked how she was feeling about the transition, Gill she said she is very excited to join the team. "They do great work. I know I will learn a lot and get to work on some amazing projects."
Gill plans to continue Stuchly's focus on communities with less access to resources, build on existing sustainable programs and develop new ones.