Sustainable transportation (comes with fishing pole).
Visit Salt Lake City's Bicycle Collective on any given day and one will be surrounded by people who share a common passion. A sense of purpose hangs in the air, as shop attendants and mechanics tend to benches being used by the general public, from couriers to hobbyists, commuters to mountain bikers. Anyone and everyone is welcome at the Collective. The only requirement is an honest desire to learn about bicycle mechanics, culture and sustainable transportation.
The purpose of the Bicycle Collective is to provide refurbished bicycles to those who need and want them, and to promote a lifestyle that is safer, healthier and cleaner than the car culture we have found ourselves trapped in.
In a city plagued with pollution and populated by many low-income individuals and families, the Collective is filling a large need, and is one of a kind in terms of scope when compared to other bike shops across the country. With employees who are dedicated to serving the community, and a board of directors who help the nonprofit stay afloat, the Bicycle Collective is a vital part of Salt Lake City.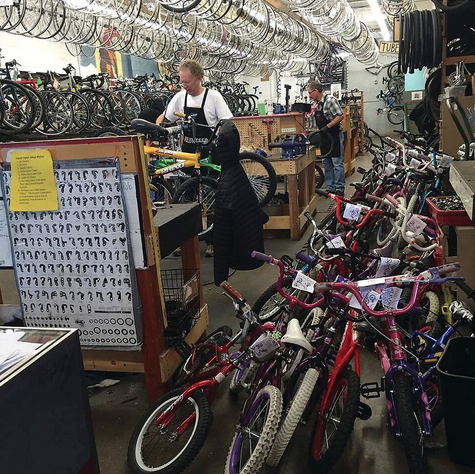 The Bicycle Collective has locations in Salt Lake, Provo, Ogden. and St. George. Each location acts as a DIY shop, where people have access to hardware and tools, as well as donation-based discount bicycle equipment. Friendly and enthusiastic staff members offer their help to the public throughout the day, answering questions and teaching people how to properly fix and maintain their bicycles. While other shops perform the work and charge for it, the bicycle collective operates under a "teach someone to fish" philosophy. They believe that proper education and basic bicycle mechanic skills can make a difference in someone's life. Each location also hosts bicycle-positive events, such as Bike Prom in Salt Lake City and Homecoming in Ogden.
Collective executive director Clint Watson has a passion for what the company does. "No one gets turned away for an inability to pay," he says. "We try to get a lot of people riding, we focus on believing the bicycle is a sustainable form of transportation. We want to empower people to ride." This statement rings true to virtually everything the Bicycle Collective does. Through the Goodwill Bike program, people who need bicycles are given one for free, a sustainable mode of transportation that could potentially change one's life.
According to Clint, "One hundred percent of our fundraising and grant money goes to programs." This means that anything the public donates goes directly into the hands of those who need it most. Along with the Goodwill Bike program and the open bike shop, the Bicycle Collective hosts a Bike Valet at many Utah events, where people can safely and securely park their bikes. The collective also brings bicycle repair classes to juvenile detention centers, offering two courses each year in state-run facilities. The juvenile program is meant to empower at-risk youth, giving them a bicycle mechanic certification that they can use to become employed at a shop when they are finished serving their sentences.
Owen Geary stands behind the counter at the Salt Lake collective smiling, tying on a greasy, well-worn apron as he prepares for his open shop shift. An avid cyclist and mechanic, Geary builds bikes for purchase or donation, teaches classes on a variety of subjects and helps run the shop's public hours. "At the core I feel good about working here because I get to help people," he says as he walks through the shop, organizing tools and preparing. "Open shop is one of the more challenging and rewarding things I do. It feels good seeing people come off the street, and helping them get their bike running."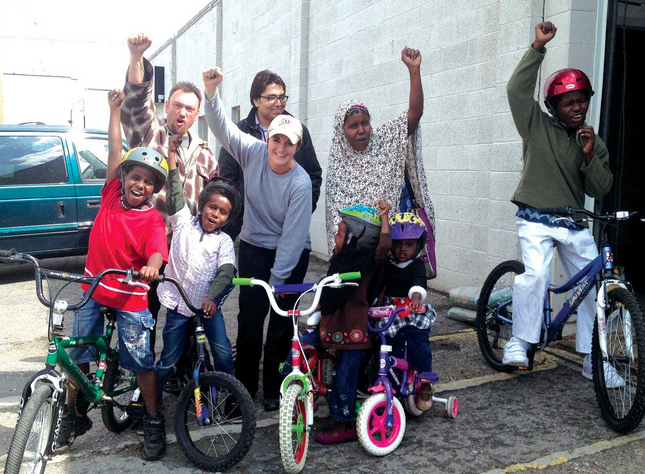 The shop opens, and quickly start coming in. Some drop off donations to be repurposed — tires, tubes, whole working bikes. Other people bring their bikes in hoping to fix simple issues. A tire needs to be patched, a brake pedal replaced. Geary helps guide each customer through the process. Others come in with larger projects, and are helped graciously and patiently by other shop attendants. It doesn't matter what the issue is, or what level of experience a person has. Everyone who comes through the doors of the Bicycle Collective gets the help they need, and the education that will make them more self-sufficient in the future. "Depending on what type of person I am working with, it can be a challenge. People have learning disabilities, which can make teaching them and communicating a little harder," Geary says. "But, at the end of it, you can get people back on the road, and they can have freedom of mobility. Ultimately for me that is pretty dang rewarding."
Like many community-based nonprofits, the Bicycle Collective has had its share of struggles. Funding, volunteer help and product availability have been an issue, causing the Collective to reinvent itself and switch up its leadership. Because it runs off of a "thrift shop" store model, the Bicycle Collective is only as strong as the donations it receives from the community.
Despite struggling from time to time, the Collective looks like it is in Utah to stay. The organization is currently looking for a new location in Salt Lake to purchase. From shopworkers to the board of directors, people at the Bicycle Collective believe in what they are doing. There exists a camaraderie within the store's community, and a dedication to making bicycles available to all. With every program, they spread their love of sustainable and healthy transportation, as well as the goodwill and grace that comes with helping those who need it. Across Utah, the Bicycle Collective is transforming lives, one flat tire and broken chain at a time.
Taylor Hartman studied journalism in NYC. He is a native of Denver.