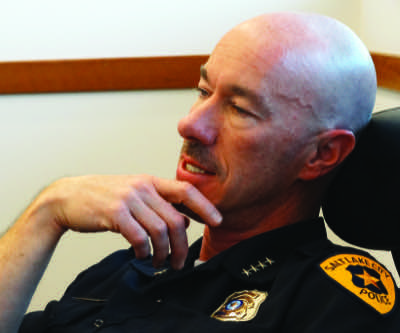 Editor's Note: Chris Burbank resigned from the Salt Lake City Police Department in 2015 and now works for the Center for Policing Equity in L.A., which is  building a process to hold police officers accountable. They're involved in a joint effort with the Yale Justice Collaboratory called Re-imagining Public Safety: Prevent Harm and Lead with the Truth.
Chris Burbank, a Salt Lake City native, was still a young recruit to the city's police force when on March 6, 1994 he responded with the city's SWAT team to an armed hostage situation at Salt Lake's downtown library. The stand-off with bomber Clifford Lynn Draper lasted more than six hours during which time Lt. Lloyd Prescott, who had managed to enter with the hostages, attempted to take control of the situation, finally disabling Draper and allowing the SWAT team to move in. In 2006, 12 years after participating in one of Salt Lake's most memorable and successful police interventions, Burbank became the city's 45th Chief of Police in charge of 450 sworn officers, 120 civilian employees and 150 community volunteers.
In the wake of recent tensions between communities and police caused by officer-caused fatalities—Salt Lake officers were involved in two fatal shootings last year—CATALYST met with Chief Burbank, now with 23 years of service under his belt. Burbank defends his officers' actions in the fatal encounters this year. We discussed how policing has changed, how our communities have changed and what can be done to increase trust and un­der­standing between communities and their police.
CATALYST: There currently exist some very polarized opinions about the root cause of what appears to be an increase of police-caused fatalities. Some point to an increasingly militarized police. Some say it's people's lack of respect for police authority. What changes have you seen in our community and our police force over the last 20 years?
CHIEF BURBANK: When I was hired on to the department, policing was a blue-collar profession. Being educated wasn't as valued as being able to step in and handle a situation. One or two "community officers" would represent the public face of the department, the "good" cops, while others had little public interaction outside of responding to incidents.
I had different standards for my officers. I personally interview recruits and if they don't have the attitude or personality, the integrity I'm looking for, I don't hire them. I want officers who are good at problem solving and who treat all people with dignity and respect.
Had you asked me this question before Ferguson, I would have said we as police across the country are getting better at deescalating situations and working with our communities. My department avoids responding with a big display of force. We do everything we can to deescalate a situation. That's what was missing in Ferguson and it's affecting the whole country. But deescalation is also a two-way street. It is a societal failure when we have to use force. Everyone is at fault – police and community.
I am trying to change the dynamic of Salt Lake's department, moving in the direction of crime prevention. Instead of writing tickets to the homeless, we are working with programs to get them off the street. We have a program at the Women's shelter [Family Justice Center where victims of domestic violence can obtain assistance from police with protective orders].
CATALYST: A Bay Area police chief has received some positive attention lately for instating reforms that have improved community/ police relations. He advocates among other things hiring for diversity, getting police out of their squad cars and working on foot, and engaging with community groups. In the wake of current events, what reforms are you considering?
CHIEF BURBANK: I have already instated a number of reforms that have changed how my police force conducts itself in the community. My officers no longer write jaywalking tickets. My officers can't ask a person's immigration status. I do not support stop-and-frisk policies. As for changes in the future, I am an advocate for body cameras.
I believe that racial bias does exist in our system. If it doesn't, then how can we explain higher incarceration rates of people of color? In 2010 I testified before Congress on the problem of profiling and made suggestions on how we could improve policing. Right now we are gathering data on officer interactions with public to see how and where we are engaged in profiling. We are looking at things like who we stop and whether the stops were successful. It's a start to addressing that problem.
CATALYST: Is there a typical recruit for the SLPD?
CHIEF BURBANK: You have to be 21 or older to apply. Our mean hiring age is probably 25, but I've hired people in their 50s.
We have an atypical recruiting process. After people pass a series of tests – fitness tests, drug screening, background and psychological tests – I invite each person in for an informal interview. I look for articulate individuals, people who can empathize. I send a number of potential officers away.
Our biggest challenge is hiring for diversity. Our district's largest minority population is latino, but with all the immigration rhetoric, it is difficult to recruit from that population. In light of changing demographics in our country, recruitment that reflects a community's makeup is going to be difficult [especially] with recent public/police clashes, but also increasingly important.
CATALYST: In your ideal world, what does the department's relationship with the community look like?
CHIEF BURBANK: We are at a point where we need to ask again what our community wants from police. What do we want security to look like as it pertains to rules and laws? Should we not be responding to calls that will put officers in stressful, dangerous situations that risk actions of force? Should we wait to respond after? Should we be doing traffic stops? We need to have that dialogue.
Katherine Pioli is CATALYST's staff writer