On the cover this month: Brad Overton
Artist's statement: An open letter to my city
Since I can remember, winter has always meant a condensation of life. The city cocoons itself into a celebratory bundle of winters past and those to come, as they must. Tradition and snow, snow as tradition…and light.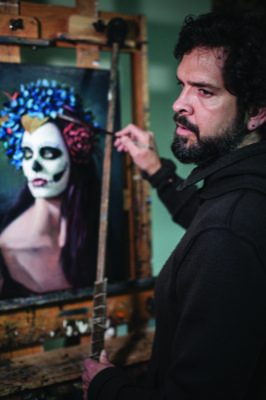 There is the cold light of stars we rarely navigate by (if we still know how), the diffused ghostly light of the snow-covered city, the annual and glorious lights on Temple Square, the light of a favorite bar, restaurant or coffee shop offering shelter, familiarity and elixir. There is always light in this city at wintertime and it keeps the valley from what indifferent and sacred nature would make of us if we could not prepare.
But we can prepare and we do. We are perhaps the most prepared city in the country. And, as some interpret statistics, we are also the most creative of the cities our size in the US. One upside of conservatism, from my perspective, is that it roots one in tradition. We have lots of that. We have a population in Salt Lake which values creative practice and accomplishment in the fine arts. We have galleries committed to good painting and sculpture; we are, in fact, home to the oldest commercial art gallery in the west! We have earnest and progressive dance companies, excellent theater, cinema and music. Some of the best artists I know are here or from here. We are known, nationally, for our painters. I'm proud to be one of them and to have been trained in a program at the University of Utah which offered traditional enough training that one couldn't help but learn the basics and was made to practice them and prove competence.
No matter where life takes me, I will be grateful to have learned my trade here and been supported enough by good patrons to put in long years of fulltime practice. I feel prepared, creatively, for anything.
Celebrate the winter and be open to wonder and light. The snow is coming (hopefully in abundance), and you live in the most creative mid-sized city in America!
—Brad Overton, artist
(represented by Phillips Gallery)