"Melissa, Goddess of the Bees."
—by Cat Hawkins
Cat Hawkins is an artist living near Winchester, in the south of England UK. Surrounded by ever changing countryside and coastlines, Cat finds herself immersed in and inspired by nature. The cover for this months magazine, Melissa – Goddess of the Bees, was created after many meetings with honey bees in the garden. Although British born, Cat has an Anglo-Indian heritage, and has long been inspired by the traditional arts of India such as mehndi and mandala making.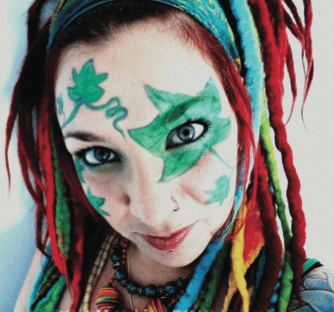 Following a shamanic path, Cat uses her art as a form of meditation and healing, and as a way to express visions and feelings. Cat specializes in drawings that are symbolic, colorful and illustrative, often being commissioned for tattoo designs. Her main passion is creating mandalas, drawn, painted or using found materials.
Cat grew up with a sense of other worlds and a deep connection to nature and the changing seasons. She is fascinated by symbols and their meanings, folklore, mythology, spirituality, tarot, astrology, sacred geometry and symmetry. These interests have always flowed through her art work, writing and teaching. Cat's art and photography has been featured on the cover of Indie Shaman magazine, along with an article on Shamanism and the Menstrual Cycle.
Cat also works closely with women's groups, helping others to develop their own connections and understandings of the divine feminine, and by creating original illustrated posters to aid learning.
Cat is currently studying Color Therapy and completing a Meditation Teacher Certificate. After qualifying as an Adult Education teacher in 2013, Cat is developing workshops to introduce meditation and mandala drawing to a wider audience, and hopes to encourage others to bring art and meditation into their lives. u
You can find more of Cat's art and mandalas at www.chaoticat.com.