Marisa Moran Jahn's MIRROR/MASK exhibit at the Utah Museum of Fine Arts
Three portraits greet you at the entrance of Utah Museum of Fine Arts' main exhibit hall, this autumn. But look closely and you will find that only one is staring back at you. Enclosed in a mirrored picture frame designed to reflect the viewer, Marisa Morán Jahn's photograph, Forest Prophet, forces us to contemplate ourselves as well as the art. The Forest Prophet isn't the only place in the museum where you might catch a glimpse of your own eyes. With the UMFA's newest exhibit, MIRROR | MASK, on display until December 9, your own reflection becomes a reccurring theme.
While the majority of Jahn's exhibit is found in the ACME Lab, additional work is interspersed among the museum's African, Egyptian and Contemporary galleries. The Driver, Jahn's photograph of a hooded and masked woman in a boat on Lake Victoria, is situated in the Egyptian Funerary section — adding a contemporary commentary on the common cultural theme of transition to the afterlife across water. Found in the ancient African art room alongside traditional masks is Jahn's The Transition, a 32-second looped video clip of a masked Ugandan man contemplating his image in the bathroom mirror as he cuts pieces of fabric "hair" off the mask.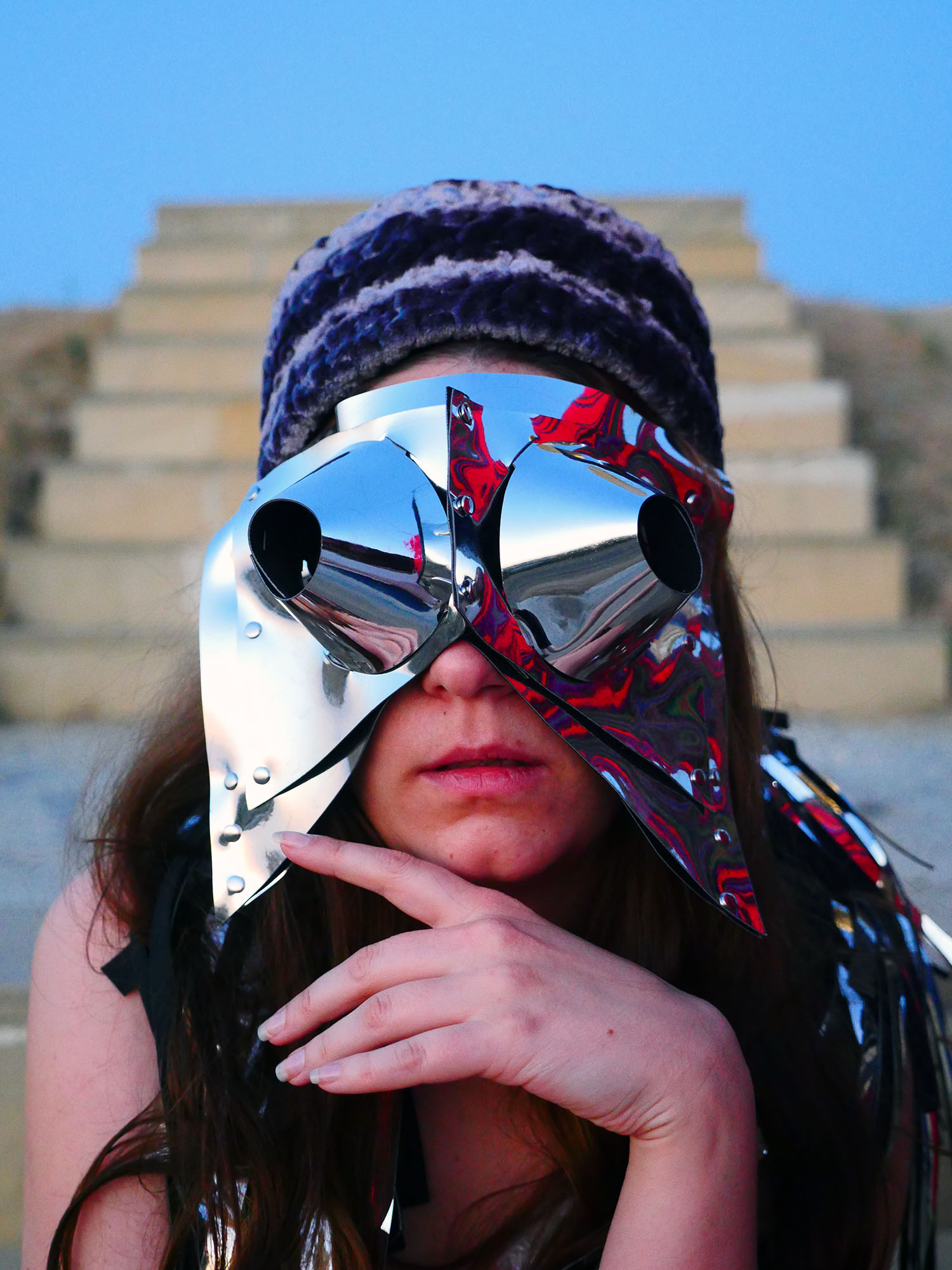 This juxtaposing of Jahn's work with the permanent collection "enhances the other art into understanding them better," says UMFA education curator Virginia Catherall, who worked closely with Jahn to bring the exhibit together. "One thing I especially liked about the pieces is how they make you think about the space they're in."
Jahn worked with many UMFA staff members, including Jorge Rojas, UMFA director of education and engagement, and Emily Izzo, ACME coordinator, when placing her work for the show. "I'm a compulsive collaborator," says Jahn, "and I like to figure out what are the strengths of people, and their talents, and how to plug them in. One of my jobs is creating a porous structure for other people to plug into. That for me is when it feels really alive. It feels organic."
Much of the inspiration for MIRROR | MASK has come from Jahn's globe-trotting projects in Uganda, Honduras and all over the United States. Though the literal mirrors and masks found in the UMFA exhibit came much later these projects started Jahn thinking about those things that we must hide from others and what we can show them. In places like Uganda and Honduras art often became a mirror allowing people to tell stories about unspoken and unspeakable things — stories that could potentially have been dangerous or scary to tell. Last summer Jahn collaborated on a project in Kampala, Uganda with a project called Video Slink Uganda. The project incorporated various artists from the African diaspora. In a region where media censorship is high, art is one of the only outlets for freedom of expression and free speech.
Another project took Marisa Morán Jahn to Honduras, in 2010, to work with the Bilblio Bandito program. Honduras has a literacy rate of just 80%. Through Biblio Bandito students were encouraged to feed the hungry "book thief" their own stories. Jahn was taken by how many of the young boys wrote stories with authoritarian male characters with machine guns, a reflection of the heavily militarized presence in Honduras. "People don't talk about the military presence," says Jahn. "You see it, but you don't talk about it."
The project that got Jahn to take off her mask was a travelogue project called CareForce One that she collaborated on in 2017. The project sought to bring awareness to caregivers in the U.S.. Along with her friend Anja and her three-year-old son Choco, took a road trip around the country documenting the lives of the the nation's often overlooked and underrepresented domestic workers. As Jahn spun the story of this adventure she became the creator and the subject and was forced to decide how she wanted to present herself to the camera.
Interested in the roles people wish to play, especially under the safety of a mask, Jahn created an area in the ACME room that allows visitors to put on some of the mirrored masks, take selfies and pose in front of a colorful backdrop. All are invited to share their photos and videos on social media with the hashtags #mirrormask #UMFA, "to make the party larger," says Jahn.
During her expeditions around the world for this exhibit and all of her projects, Marisa Morán  Jahn is constantly culture code switching from community to community, and trying to blend in. Over time, she says, she's become much more agile at adapting to different places. She's also propelled by curiosity and the everlasting question: What is does a reflection of the true self look like?
—
New York City-based artist and educator, Marisa Morán Jahn, of Ecuadorian and Chinese descent, is also a founder of the nonprofit organization, Studio REV-, which creates and collaborates on public art and media that impacts the lives of low-wage workers, immigrants, women and youth.
UMFA's Third Saturdays for Families Program October 20, 1-4pm. No charge. Explore the idea of reflection, self and the other: Participate in a mirrored mask-making activity.
Sophie Silverstone is an award-winning writer and a CATALYST staff member.