CATALYST @ The State Room, 11/30.
One year ago, CATALYST Magazine became a nonprofit un­der the name Common Good Press. (We know that some of you, because of our focus on local nonprofits, arts and movers-and-shakers, thought CATALYST already was a non-profit). Since 1982, CATALYST has been here for this community and now, more than ever, its continued existence is in your hands. We hope you pick up our free pages every month because, like us, you believe that small-shop, independent, local journalism (in print and on the web) is a powerful and important resource.
In celebration of our non-profit status, and to give our readers a fun way to contribute, CATALYST is throwing our first annual Winter Fundraiser for Common Good Press at The State Room, Thursday, November 30. Congregate in the name of the many good things we stand for—and at the same time enjoy music by Talia Keys, Green River Blues, Michelle Moonshine, Jane Lyon and performances by the aerial acrobats of Aeris Aerial and live painting by Cheryl Sandoval. Join us and ensure our ability to continue serving you as a change agent in our community for another 35 years.
Great items are coming in for the silent auction for all pocketbooks, including a $1,000 gift certificate to Boulder Mountain Guest Ranch. Stay tuned to the event page for updates!
Salt Lake and the Wasatch Front might be growing, but thankfully we've stuck with some of those old pioneer, small-town, barn-raising values that bring people together to lend a needed hand. Our talented local musicians are much in demand and many of them have come through for us during this first annual Winter Fundraiser. We'd like to let you know how much we appreciate their support.
In case you haven't heard of these talented performers, we'd like to take a moment to introduce them before the big night. Thanks to them, and thanks to all of you for coming out and supporting CATALYST.
Talia Keys
Talia Keys' music is a blend of soul, reggae and rock. Since being "discovered" while playing at the closing day festivities at Alta Ski Resort in 2014, and subsequently recording a television ad for Visit Salt Lake (a tourism promotion company in Salt Lake City), Talia, along with her band Talia Keys & The Love, has played gigs at the Building Man Festival, the Deer Valley Concert Series, Mystic Hot Springs Music Festival, Utah Pride Festival, Equality and the Utah Allies Dinner. They opened for Andrew Bird at the Twilight Concert Series.
"CATALYST saved my life," declared Talia when CATALYST interviewed her for this story. During a particularly rough time in her life, Talia found a therapist in CATALYST's Community Resource Directory, and through her therapist's encouragement started practicing Kundalini yoga. "When you look for a therapist online, you don't know that these people are going to be in the right space for you," says Talia. Connecting through the CATALYST community made her more comfortable reaching out to a therapist for help. "This is one of the main reasons I would do anything for CATALYST," says Talia.
While Talia is currently in the process of recording an album, We're Here, with her band, for this Winter Fundraiser Talia is bringing her solo work. Her one-woman show, which she calls Gemini Mind, relies on live sound recording and looping to create a groovy layered musical experience. Expect some funky, soulful, original sounds as she multitasks on the synths, drum machines, vocals and electric guitar.
Green River Blues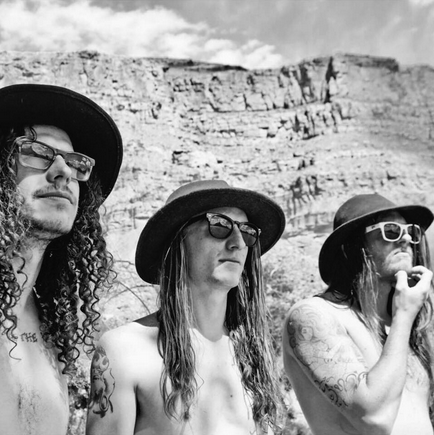 Richard Cory started Green River Blues (GRB) as a two-man acoustic project eight years ago. The name was a nod to Mississippi bluesman Charley Patton (1891-1934), widely considered the Father of the Delta Blues, but Cory admits that over the course of becoming a full, three-member band—Richard Cory on guitar/vocals, Lonnie Blanton on drums and Shawn Davis on bass—the group's sound has shifted to something decidedly more modern. These days, Green River Blues points to such rock and roll influences as Led Zeppelin, Jimi Hendrix, AC/DC, Jack White and The Black Keys.
The coming together of this new psych-rock music posse happened more or less by (happy) accident. While sharing practice space downtown, Richard and Lonnie began casually playing tunes together and eventually collaborated on an hour-long set of music. Once they decided they actually had something good on their hands they incorporated Shawn Davis, Lonnie's former band mate from Red Dog Revival, and before they knew it the group went from "let's hang out and play music" to "oops, we're booking shows."
This upcoming show will be a chance for GRB to reunite with some of their SLC music family. "We love sharing the stage with Talia. We love Michelle Moonshine," says Shawn.
Michelle Moonshine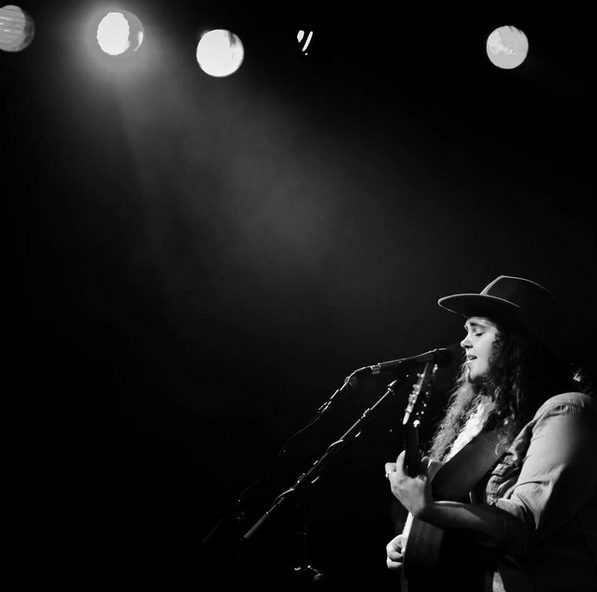 Michelle Moonshine, 25, has been in the Salt Lake music scene since she was 18 years old. As a young rising artist, she turned down a coveted spot on NBC's The Voice, in 2015, in favor of making a name for herself the old fashioned way: taking her songs on the road, playing in small bars and staying in cheap motels. This young guitar-wielding Americana musician, whose lush sound has been compared with Emmy Lou Harris, played her first show at The State Room alongside local blues man Tony Holiday (of Tony Holiday & The Velvetones).
This time, Michelle Moonshine will bring with her to The State Room her full band made up of John Davis (guitar/harmonica/vocals/lapsteel), Bronk Orion (upright bass), and Chad Biddle (electric guitar).
Now a full-time musician and single mom, working on her first full album, Michelle says, sounding much like her country music heroes of old, that even though her life isn't exactly as she envisioned she wouldn't change a thing. "If anything it's made me work a lot harder. It's put a fire under my bum," says Michelle.
A longtime CATALYST reader, since well before she started playing music on stages, Michelle Moonshine is excited to take a break from recording her first album to play a few tunes for the Winter Fundraiser this November.
Jane Lyon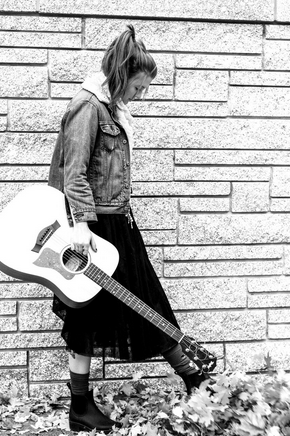 You could call this appearance at the Winter Fundraiser a comeback show for Jane Lyon, 23, a former intern for CATALYST magazine who now works on staff.
Not long ago, Jane was a pretty driven little 15-year-old, honing her music skills at the Music Garage (an after-school training program focusing on rock, blues and jazz) and booking solo gigs at the Sun and the Moon Café (now closed but once a favorite stop up Emigration Canyon). Jane fearlessly bared her artistic truth by singing about the unbearable emotions of adolescent heartbreak.
Just before leaving for college, Jane reached a high point in her short musical career, playing as a local opener for the Deer Valley Concert Series. Now Jane uses her folk-revival sound, with influences from Crosby Stills & Nash, James Taylor and Joni Mitchell, in songs that will certainly appeal to her new all-grown-up audience.
"Honestly I can't believe I'll be performing at The State Room with Talia Keys and Michelle Moonshine," says Jane. "If those kinds of people didn't exist in this town, I wouldn't be itching to get back on stage the way I am. I couldn't be more thrilled to support CATALYST in this way."
Aeris Aerial Arts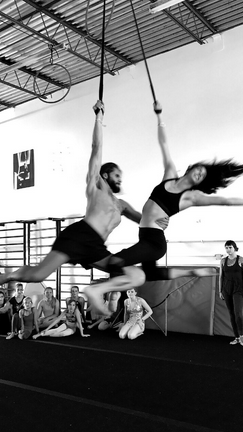 Performing artists Mark Webber, Chelsie Ross, Erickson Lyons and CATALYST's own Sophie Silverstone from Aeris Aerial Arts will performing aerial, interspersed throughout the night on aerial straps, duo straps, and lyra (hoop) to the music of Talia Keys, Michelle Moonshine and Green River Blues, adding a cirque element to the night.
GET YOUR TICKET NOW
CATALYST's Party for the Common Good! First annual Winter Fundraiser for Common Good Press (CATALYST) Thursday, November 30 The State Room, 638 S. State St. Purchase tickets: on the Facebook event page or from The State Room. TheStateRoom.com $45 (35 pre-sale, 25 for members) Entry fee includes food by Red Iguana. Two drink tickets for Squatters beer and Cru Kombucha. Fantastic silent auction!