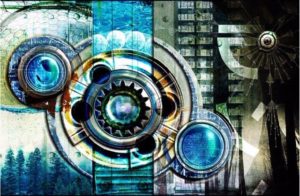 "There is perhaps no better demonstration of the folly of human conceits than this distant image of our tiny world. To me, it underscores our responsibility to deal more kindly with one another, and to preserve and cherish the pale blue dot, the only home we've ever known." – Carl Sagan
"Pale Blue Dot" presents work by local artists that showcase our beautiful home planet. The exhibit really jumps out at you—sometimes literally. Take "Breached Whale" by Julie-Fesko Penman, for example. Her 3-D sculpture protrudes from the wall, leaving an impression that the epoxy sea creature is actually breaching towards you.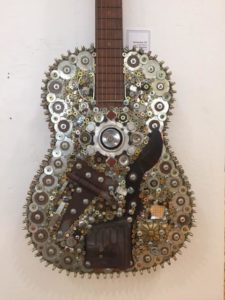 This is the fifth year Urban Arts Gallery has done an exhibit in honor of Earth Day. "The details change from year to year, of course," says Scott Tuckfield, manager of Urban Arts Gallery and "Pale Blue Dot" curator. "The last two years, it was titled "Upcycle" and focused more exclusively on work made from repurposed materials. When we moved into our new building last May, we suddenly had significantly more exhibit space to work with, and decided to expand the theme to include other media and approaches."
Acrylic on canvas, sculpted epoxy resin, mixed media, digital paintings and more line the walls of the gallery. It's clear the artists went into the project with the utmost creativity and passion they could muster. Pieces such as "Escaping the Net" and "Pollution = Kiss of Death" by Julie Fesko Penman and "These Were the Trees" by Emily Nicolosi are especially haunting as they mirror real life troubles.
"Pale Blue Dot" artists are Alice Bain Toler, Brian Hennesy, Brooke Neilsen, Cathy Cash, Chelsea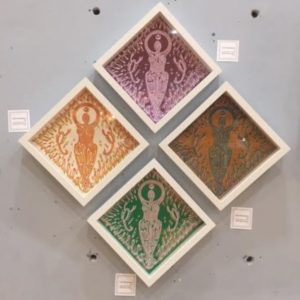 Ekberg, Christina Levi, Emily Nicolosi, Horacio Rodriguez, Jada K. Hughey, James Joel Holmes, John Larsen, Josie White, Julie Fesko-Penman, Justin Moore, Kurt Beswick, Paola F. Bidinelli Giusti, Sarah Larsen, Sarina Villareal, Steve Stones, Thomas Burdett, and Todd Powelson.
Their proposals for "Pale Blue Dot," received in the Fall, traversed "the theme of our connection to nature and the beauty of the planet," according to Tuckfield. Many of the proposals utilized found objects, natural elements and recycled items to create the incredible pieces.
"This year's tribute to Earth Day, then, was just a matter of grouping these artists together and letting their individual styles combine to form this collection," Tuckfield says. "It's a single message from a diversity of voices."
Commemorate Earth  by viewing "Pale Blue Dot" before it leaves the Urban Arts Gallery at the end of the month. "Pale Blue Dot" is open through April 28, with a gallery stroll reception on April 19 from 6-9 pm. Admittance to the exhibit is free.