Shane Stott and his Zen Float is a prime example of local innovation starting from a spirit of curiosity and learning. Stott built his first floatation tank in his own house using instructions he found online. After altering and perfecting his tank, Stott realized that his creation might interest others and Zen Float Com­pany was born.
The practice of flotation began in the 1950s as a form of therapy known as floatation-REST (restricted environmental stimulation technique), a method developed by inventor, author and physician John C. Lilly. The dark, soundproof tank he created while researching neurophysiology at the National Institute for Mental Health was designed to isolate subjects from sound or sight. The tanks, filled with highly saline, body-temperature water, allowed subjects to float effortlessly, removing the stimulation of touch and lessening the force of gravity. True to its name, Lilly's REST tank was found to create a profound sense of relaxation, especially useful for those with chronic pain and anxiety.
Stott stumbled upon floatation therapy while searching to cure his own anxiety. Highly distractable, he found meditation too difficult. Floatation provided the controlled environment he needed to find peace. But the price of his preferred therapy quickly became a burden. A single hour-long floatation at a Salt Lake Valley float center costs upwards of $80. This might be a bargain if you look at the price of the system, and factor in cost of the extra room you'd have to build onto your house to accommodate it. (Oasis Relaxation Systems sells their fiberglass Oasis Audio Model for $8,250. The purification system is an additional $2,000. Making Oasis look cheap is Float Lab Technologies, whose smallest chamber is $37,500.)
When Stott could not find an affordable alternative, he decided to make one.
"My father and grandfather are inventors; I guess it runs in family," says Stott who played around with various designs for years before settling on the current Zen Float tank made with specially designed waterproof canvas and a light stainless steel frame.
Stott's timely and creative innovation seems to have struck a nerve in the float community. Already, Zen Float's Kickstarter campaign has been an astounding success, exceeding his contribution goal within the first week and more than doubling his goal long before the end of the campaign.
The first Zen Float tanks will be available this August to Kickstarter contributors. After that, Stott says, customers will be able to purchase tanks ($2,000 each) online at ZenFloatCo.com.
Greenstar Bikes is another exciting development, this time in transportation and leisure, with a Utah connection—cofounder Jun Hu is a Utah resident, as is the company's designer and engineer. Green­star claims to be on track to bring not just another environmentally friendly bamboo bike design onto the cycling market but, more importantly, the first truly affordable bamboo bike.
Bamboo bikes have been hitting the streets for a couple of years now. A specialty niche, many of these new bamboo bike companies—Erba Bikes in Boston, Hero in Alabama, Panda Bikes in Fort Collins—are hand-making their cycles locally. The bikes aren't cheap, ranging from $650 to $3,000.
Greenstar's first bamboo bike is the EcoForce 1, a single-speed road bike with a reversible rear hub. The bamboo frame with recycled 6061 aluminum lugs weighs in at four pounds; the entire bicycle reaches 22 pounds. It will sell for under $450.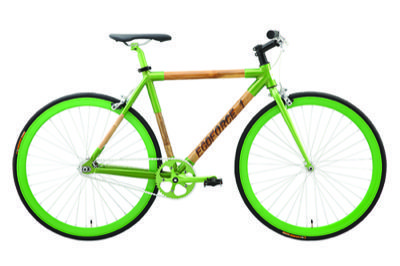 Typically, bike frames are made from aluminum, a strong, light-weight but resource-intensive material. Since bamboo is even lighter than aluminum and just as strong—in China they use bamboo in multi-story scaffolding—it has all the qualities to make it a good replacement for aluminum in bikes. Plus, as the world's fastest growing woody plant (bamboo is actually a giant grass), it is also an excellent renewable resource, taking as little as three years for some species to completely re-grow.
"We are making our bikes in China near the source of iron bamboo that the bikes are made from," says Jun Hu's Minneapolis-based business partner, Eric Hiller. "Our bikes are handmade by people who know how to work bamboo. The material is cut by hand by local farmers, cured and dried. Then local craftsmen make the bikes."
Greenstar bikes will be available only through retail stores. Check out their website for more information at Greenstarbikes.com.