A local guide to your favorite Easter meat
Ham is high on the list of favorites at our house. It is versatile. Leftovers are gifts. We use it for breakfast or as a sandwich for lunch. Eggs Benedict is nothing without ham. And you can cube leftover ham and add it to stir-fried rice for a rich and filling dinner.
For Easter brunch, we serve sliced ham warm or cold – along with a huge spread of sliced smoked salmon, capers, mustard, rolls and bread, fresh fruit, cheeses, green salad, tabbouleh or other grain and bubbly beverages.
But, back to the ham. On a whole pig, the ham is the top part of the rear leg (the front legs are called hocks). It can be cut from the bone or processed bone-in. If you are preparing it yourself, you should know that ham has a big "fat cap." Peel back the skin and trim the fat to your taste. Maybe leave at least a half-inch for moisture and flavor.
Cured pork meats contain more fat and less moisture than uncured meat. If you have an uncured ham, it is recommended to brine for one day. Salt is the main ingredient when curing. Salt has been used to inhibit microbial growth for thousands of years. It was especially important in the days before refrigeration. It works by creating such a concentration of dissolved ions outside of the bacteria and mold cells that water inside is drawn out across their membranes. The microbes dry up and either die or slow down drastically. Originally, meat was soaked in a strong brine solution or covered in salt. Today, salting is done for taste and less for preservation.
You don't necessarily have to brine your ham. I got an "uncured" smoked Mangalica ham and instead of brining, I browned it in a big Dutch oven, then slow roasted it on a rack over wine all afternoon at 275 degrees. At the end I glazed it with quince jelly. It was amazing.
Whether salted, cured, fresh, smoked, braised, dried or pickled in brine—good, clean and fair pork is delicious! Always slice ham as thinly as possible. Ham sliced thin has a much different, better taste than if sliced thick.
Local family farms
There are 6,939 farmers listed with the State of Utah Agricultural Department (including alfalfa farmers). Interesting to me, 2,470 are women and 4,469 are men.  Of these farms, 84% of farms are family owned.
Most of the following can be found each Saturday, 10am-2pm, at the Winter Market in downtown Salt Lake City's  Rio Grande Station.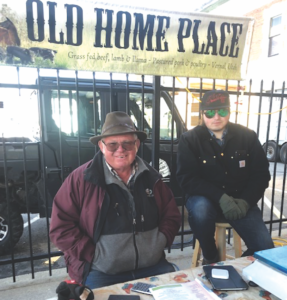 Old Home Place Heritage Farm in Vernal, Utah has been in the family for four generations. They raise Berkshire pigs. Also known as Kurobuta, these are a rare breed of pig that come from the English county of Berkshire. At the Old Home Place these guys are free range and are treated to certified non-GMO feed. Place orders through their website. They still have some three- to four-pound hams, as well as turkeys and lamb legs. www.oldhomeplaceutah.com
Clifford Family Farm, Provo, Utah, offers Mangalica (also called Mangalitsa), an old-world, Hungarian breed. It is known as the hairy pig with very tasty fat. It likes to forage and dig for grubs. They also raise Berkshire. Clifford Farm is sustained by many restaurants and sells through the farmers markets. If you order soon, Julie Clifford will make your Easter ham happen. Email: Cliffordfarm@aol.com
Christiansen Family Farm in Fairfield, Utah raises Berkshire pork in a sustainable setting and supplies many restaurants and individual customers. The Christiansens are proud of their pork. On their website they contend that "pork lard is lower in saturated fat than other animal fats (butter) and higher in heart healthy monounsaturated fats."  Order through the website or call. www.Christiansenfarm.com
Russell at Taylor Farm raises Mule Foot hogs (which are listed in Slow Food USA Ark of Taste) and Berkshires. They operate a certified organic farm—the only certified organic beef and pork farm in Utah. He likes these breeds because they do well in his pastures. The family has homesteaded in Emery County for over 100 years. At present Russell has no pork available. Think ahead and order for next fall!   www.taylormadebeef.com
Blue Tree Farms in Duchesne County is raising 100% grass fed beef, pork, lamb and poultry. They also raise Berkshire pork. Bjorn and Shanna Carlson in Bluebell, Utah have been there for 15 years. www.bluetreefarms.com
Local shops and specialty producers
Utah Natural Meat (7400 5600 W, West Jordan) has been a family-run business for five generations. Located in West Jordan, their storefront is open to the public and offers pastured pork and poultry raised in the Great Basin. Meat is aged, hand-cut and wrapped right at the farm with their in-house butcher. (They are also a great place to get your holiday turkey in November.) www.utahnaturalmeat.com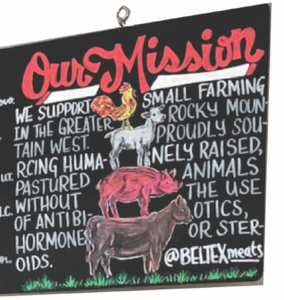 Many grocery stores sell organic ham and a few sell locally produced ham, as well.  Beltex Meat (511 East 900 South) is a small, sparkling butcher shop just north of Liberty Park. When in a pinch for time, I just buy the meat prepared by their excellent chefs. Take it home to heat and eat.  For Easter they are offering leg of lamb with balsamic vinegar, basil, garlic and honey, and also ham from an apple cider brine, smoked with maple mustard glaze. Wow. Pricing not available at the time of publishing. @BeltexMeats or www.beltexmeats.com
Creminelli Fine Meats (310 N. Wright Brothers Dr.) is a Salt Lake City success story.  Creminelli specializes in making Old World-style prosciutto and various hand-crafted salami from heritage pigs. Cristiano Creminelli came to Utah from Italy to make sausage because he found the climate here perfect and the quality of the meat well up to standard. Creminelli meats are sold pre-sliced and packaged at his storefront and in grocery stores locally and nationwide.
This Easter, buy from local farmers who use organic practices to raise pork. Supporting sustainable agriculture with your dollars is the best way to  keep Utah farmers in business, producing good, clean and fair food.
Jude Rubadue recently retired from her position as  chef at Alta's Watson Lodge. She is on the board of directors of Slow Food Utah.