KRCL's new DJs are old volunteers
by Barb Guy
COMMUNITY RADIO QUIZ
Question: KRCL's new weekday, daytime programming, hosted for the first time by paid DJs instead of volunteers, is . . .
Answer:
A. . . . a sign of the apocalypse that causes us to forego civility and leaves us railing hatefully until we're purple and spitting
B. . . . a reality that should be given a chance to thrill us in a new way, and an opportunity for us to practice personal diplomacy in difficult circumstances
C. . . .other
It's not my job to share my answer, just to introduce the three people who will be hosting KRCL week days from 6 to 6, and I'm happy to doit. But I will confess to a certain nervousness due to my closeness to the subject. I've worn a few hats at KRCL including on-air host, off-air volunteer, volunteer representative on the board of directors, and trainer of new volunteers. It's been 17 years since I was on the air as a host, and KRCL has changed a lot since then.
For many people, this new change brings much more drama than the others. Three KRCL volunteers have become staffers at KRCL, the first-ever paid programmers. They've navigated a traumatic transition, one that displaced at least 18 of their fellow volunteer program hosts. The change has brought these former volunteers into a world full of the angry purple people as well as people who are trying (or struggling) to keep open minds, trying to respect the reasons for the change, and trying to give peace a chance.
In that spirit, meet the "new" hosts.
Ebay Jamil Hamilton:
"Get up and mingle!"
When Ebay talks to me about KRCL, I notice his language is steeped in reconciliation. With 17 years at KRCL, Ebay is the most aware of what the change offers, but also what it has cost. He's a little weary of everyone harping on the fact that he arrived at the station as a 13-year-old kid with a "lifetime" of KRCL listening already under his belt, but it's true, and he's been a charming presence at the station ever since. His longevity brings both unique perspective and perceived responsibility. He peppers our conversation with positive phrases: "I'm trying to find a way to make this okay for everybody . . . This is happening, so let's just make the most of it . . . I'm going to make sure KRCL succeeds . . . I believe we are going to get there . . . I believe this will work . . . I can tell you it's going to be good."
As music director, Ebay is working to ensure listeners will continue to enjoy unparalleled music and expertise, but with a more constant change-up during weekdays. He feels that moving away from"block" programming offers a practical way to increase listenership, a key reason for the change. He says, "Instead of tuning out for two or four hours, you may only have to get past one song." That ability to build on listenership throughout the day rather than having people constantly tuning in and out should improve the health of the station. And it's an opportunity for listeners to broaden their passions.
He's 30 now, but he makes an analogy based on his own experience as a Utah high school student of color. "Going into a school lunchroom where they say that it's multicultural and diverse but everyone's still sitting at their tables [by racial and ethnic divisions]. . . I want you to get up and play with each other. Just get up and mingle! As long as people are open to giving us a try, I think it'll be fine."
He continues, "If you are going to listen to the radio, and you're checking out the other stations, chances are you'll find we're doing something cooler than most, even around the country. We are all people from here at KRCL. This isn't something from outside. I think most people's concerns are being answered in the programming."
Aware of how high the stakes are to get this right, Ebay says, "I just want KRCL to be here for another shy little 13-year-old like myself."
David Perschon:
"I'm honored to be here."
David may have the broadest musical knowledge of the three hosts. He moves happily between virtually all genres with educated ease. He says, "I grew up listening to KRCL and that's how I built my record collection back when I was 14 and starting to hear stuff on the station. So I've been listening since I was a kid."
While he began as a volunteer only two years ago, his musical depth, extensive personal music library, pleasant on-air style and willingness to fill in for folks quickly made him a perennial favorite at the station, with both volunteers and listeners.
I ask how he's dealt with some of the comments generated when the changes were announced. He says, "Once people give it a chance and see what it sounds like, they can draw some conclusions. But for people to be so negative right off the bat was surprising, especially coming from such a tight-knit community of people who are open-minded. A lot of feedback before it even happened was so hateful and very negative. It was surprising to see how vicious some people were."
"It's been a really difficult transition," he admits. "It's split the KRCL family in two. It's hard to see people lose their shows, people who have been around for years and years. Change is hard, but sometimes it's necessary. We'll see down the road if it was the right thing."
David has good wishes for the displaced volunteers, many of whom have found a new home at Utah Free Media, ufm.org, where they do their shows on the Internet. "I really hope the whole UFM thing goes off and people tune into that as well. I'm hoping it succeeds and they find a niche there and they have support. There are shows I miss and I can stream those shows. It's nice to have options, definitely."
As for his new gig, he says, "It's fun to come in and provide a soundtrack to people's mornings. I'm trying to do the best job possible and provide a really diverse mix of music. We don't have playlists; we aren't being told what to play. We're trying to create a consistent sound through drawing from albums we all agree upon, but we're playing what we want to. It's a blessing to be able to do that on a daily basis. It's a dream job in a lot of ways. I'm honored to be part of the community here, doing what I do. We're off to a good start."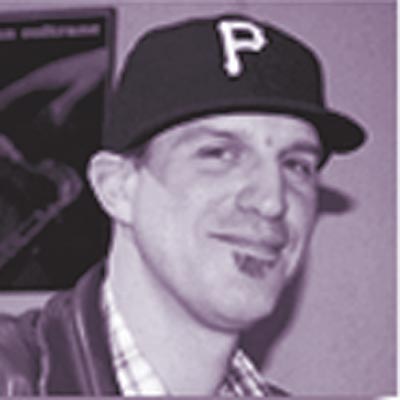 "Bad" Brad Wheeler:
"The steeper the hill, the more excited I am."
Brad is the most genre-specific of the three, giving him a tough learning curve. But he's a hard worker and he's up for the challenge.
Brad found the station at age 18, listening to KRCL'S Monday night blues shows. He discovered he had a gift for playing the harmonica. He says, "I would go to the Dead Goat Saloon, and I eventually got a job there. I would call [KRCL blues host] Truman every Monday night and tell him all the blues gigs that were going on in the state. Truman wanted to develop a feature called Blues News and he wanted me to be the blues newsman." He's been doing that for about 11 years, now.
Eventually, KRCL called him to DJ. "I thought, well, I just call Truman on the phone! I work on 25th Street in a bar. My language might not be appropriate! But I just started doing it."
He says, "The station is an incredible thing. It has helped influence me to the idea of being a part of my community. I had never experienced diversity like this until coming here."
What's this new situation like for him? "It's totally being out of my comfort zone. It's a huge responsibility-it's massive. But the steeper the hill, the more excited I am."
Reflecting on the change, he says, "My hope for the station is that we increase our ratings so we become compliant to maintain our Corporation for Public Broadcasting status.
"The way I kinda see it is KRCL was your friend who was out on an innertube at the beach and it was getting a little far out there and you could either, like, swim out and bring your friend back or you could just do nothing and watch your friend drift away. I would rather do whatever it takes, including put myself through all this… change, to keep KRCL around instead of watching it go."
Through the years Barb Guy has worn a few hats at KRCL including rabid all-genre listener, show host for 10 years, die-hard off-air volunteer, four-year volunteer representative on the board of directors, and trainer of new volunteers. She also did a gig as a DJ on commercial radio simultaneous to her time at KRCL.
Resources
KRCL: Tune in to 90.9 FM or visit KRCL.org for more information on the station, programming, podcasts and streaming.
Utah Free Media: Visit ufm.org to hear the DJs you miss and see how you can support this fledgling "alternative to the alternative," internet radio station..