I've never forgotten that we write out of our grief for what we're losing. We write out of our passion for what we love. We write out of our past and toward the future in the present. — Terry Tempest Williams
Great Old Broad strikes back
Environmental activist Rose Chilcoat has filed a lawsuit against San Juan County, Utah for violating her civil rights. The lawsuit describes falsified charges of trespassing on Utah state trust lands (managed by SITLA) and "attempted wanton destruction of livestock," apparently as vindictive retaliation for Chilcoat's environmental activism and political views.
It's the latest salvo in an ongoing tale that involves anti-federalist Nevada rancher Cliven Bundy and Phil Lyman, the former San Juan County commissioner and convicted lawbreaker who currently represents District 74 in the Utah Legislature.
In 2007, the Bureau of Land Management (BLM) closed an illegal off-road vehicle trail in Recapture Canyon near Blanding, Utah. The trail, which damaged a freshwater stream and cut through archeological sites, was reported by the activist group Great Old Broads for Wilderness (GOB) based in Durango, Colorado (Chilcoat was associate director of GOB and a founder of Friends of Cedar Mesa). The County requested for BLM to make the road official, which would have encouraged future off-road vandalism.  When the request was turned down, Recapture Canyon became a cause for anti-federalist militias who called the closure "government overreach."
In 2014, followers of Nevada rancher Cliven Bundy gathered in Blanding. Lyman was goaded by an angry crowd into leading a caravan of off-road vehicles into Recapture Canyon. Although Lyman stopped at the end of a legal road, the group rode further.
In 2015 Lyman was convicted of criminal conspiracy and ordered to pay $95,955 in restitution for damage caused by the ride.
Lyman has publicly blamed Chilcoat for his conviction. Chilcoat's lawsuit concludes, "It is a reasonable inference that he [San Juan County Attorney Kendall G. Laws] took the challenged actions in retaliation for Ms. Chilcoat's political and environmental advocacy, including Ms. Chilcoat's support for criminal charges against a friend of Laws, former County Commissioner Phillip Lyman."
Lyman has been paying his debt at a rate of $100/month, but recently a U.S. attorney has sought to raise his monthly payment to $500 due to a "heightened moral obligation" from his role in state government.
In response, Lyman fired off a 12-page rant accusing two U.S. attorneys of harassment and politically motivated malice.
It seems that harassing Chilcoat to stifle environmental activism is exactly what Lyman objects to when he thinks it is happening to himself.
Meanwhile, in April a federal judge threw out Cliven Bundy's lawsuit claiming that federal public lands within the boundaries of Nevada belong to the state of Nevada, calling his arguments "simply delusional."
Great Old Broads for Wilderness: GreatOldBroads.org (there are Utah Broad­band chapters in St. George, Moab and the Greater Wasatch). Friends of Cedar Mesa: FriendsOfCedarMesa.org
San Juan County withdraws Bears Ears objection
The three-member San Juan County Commission has voted to withdraw support for a 2017 Trump administration decision to shrink the size of Bears Ears National Monument.
The Commission shifted from Republican to Democratic after a judge ordered the County to re-draw gerrymandered districts that discriminated against Navajo voters.
At the 2019 Stegner Center Symposium, keynote speaker Sally Jewel, President Obama's Interior Secretary, said that she believes supports of Bears Ears National Monument will win in court.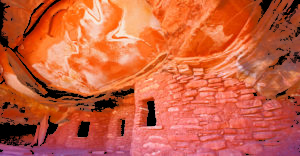 Condors nesting in Zion National Park
A pair of endangered California condors is incubating an egg in their nest on Minotaur Tower in Zion National Park. The chick is expected to hatch in early May.
Park biologists report that the mother is condor 409 and the father is condor 523, both captive bred (The U.S. Fish and Wildlife Service California Condor Recovery Program records and numbers condors in a "studbook").
The condor pair has been together for two years. Condor 409 had a previous mate that died from lead poisoning in 2016.
Since 1992, half of condor mortality has been from lead poisoning when they eat bullet fragments in animals killed by hunters.
In 2017, the Obama Admiration banned the use of lead ammunition and fishing tackle, but the ban was reversed by the Trump Administration due to pressure from the National Rifle Association (NRA).
NRA maintains a website devoted to science-denial regarding lead bullets, insisting that the carrion-eating condors are poisoned by lead in paint chips, mining waste and insecticides (things that condors don't eat).
Thanks to captive breeding  there were 290 free-flying condors by 2017 (up from 22 in the 1980s). The Peregrine Fund manages a captive breeding release site in northern Arizona near the Grand Canyon.
California Condor Recovery Program: fws.gov/cno/es/CalCondor/Condor.cfm. Peregrine Fund: peregrinefund.org
Colorado River Drought Contingency Plan
The U.S. Congress has passed a bipartisan Colorado River Drought Contingency Plan to keep water levels from declining to critically low levels in Lake Powell and Lake Mead, but that doesn't mean Utah plans to implement water conservation policies.
In the 19-year period from 2000 through 2018, the Colorado River Basin has experienced one of the driest periods in 1,200 years (though right now excellent snowpack means a good water year for Utah). At hearings on the Plan, Brenda Burman representing the U.S. Bureau of Recreation said that states in the Upper Basin "have not defined how water savings will be determined," or "how much water the States may be able to save."
Eric Millis, Colorado River Commissioner for Utah, testified that 22% of Utah's total water supply comes from the Colorado River and defended Utah's right to squander water since "involuntary curtailment is undesirable because it would require farmers and other water users to cut back or cut off use of their Colorado River water."
Utah is not currently using its full legal share of Colorado River water and along with other Upper Basin states is rushing to build water infrastructure like the Lake Powell Pipeline in order to keep water away from the Lower Basin.
Zach Frankel, executive director of Utah Rivers Council, says, "The Upper Basin is going to an all-you-can-eat buffet and the Lower Basin is going on a diet. It's cognitive dissonance."
Utah Rivers Council: utahrivers.org/
Chaining in Grand Staircase- Escalante
The Trump administration is threatening to use "chaining" to clearcut native pinyon-juniper forests in thousands of acres of Grand Staircase National Monument. Chaining involves dragging a huge chain between two bulldozers in order to knock down trees.
Supposedly, chaining improves grazing by clearing space for grass to grow, but the Wild Utah Project has analyzed scientific literature and found little evidence to show ecosystem or grazing benefits.
Nonetheless, Utah Congressman Chris Stewart (R-Ut-2) has boasted of eliminating environmental review of "vegetation management" (i.e. chaining) which he claims can restore habitat for sage-grouse and mule deer.
Southern Utah Wilderness Alliance: suwa.org/chaining-and-vegetation-removal/  A.J. Jones, ed. 2019. Do mechanical vegetation treatments of pinyon-juniper and sagebrush communities work?  A review of the literature. Special publication, Wild Utah Project. Salt Lake City, UT. bit.ly/2Ph7oq2
Jordan River Water Trail
In April, Salt Lake County Parks & Recreation hosted a series of open houses re. development of a Jordan River Water Trail. The project would create new boat access points and make existing boat access points safer and more functional for paddlers. Send comments to watertrail@slco.org/
Jordan River Water Trail: slco.org/parks-recreation/planning/projects/Jordan-River-Water-Trail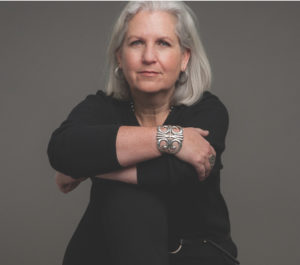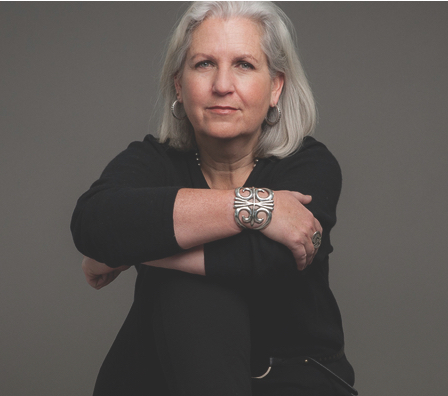 Terry Tempest Williams wins Robert Kirsch Award
Utah author Terry Tempest Williams has won the Los Angeles Times Robert Kirsch Award for lifetime achievement by a writer whose work focuses on the American West. The initial award in 1980 went to none other than Wallace Stegner.
Williams' Refuge: An Unnatural History of Family and Place (1991) has become a seminal work of American nature writing. Testimony: Writers of the West Speak on Behalf of Utah Wilderness (1996) compiled by Williams and Stephen Trimble was presented to every member of the U.S. Congress and became a model for how "love of place" can build political will for conservation.
Williams, who lives in Castle Valley, Utah,  is currently serving as a writer-in-residence at Harvard Divinity School. Her new book, Erosion: Essays of Undoing, is due for publication in October.
Overcrowding in the Cottonwood Canyons
"Recreation Challenges on Public lands" was the theme of the 24th annual Wallace Stegner Center Symposium held in March. Outdoor recreation constitutes two percent of the U.S. gross domestic product (GDP) and has become a primary use of public lands. However, increased visitation causes problems of overcrowding, user conflicts, soil erosion, water pollution and wildlife displace­ment.
Utah's Wasatch Mountains are experiencing the pains of population growth. Dave Whittekiend, supervisor of the Uinta-Wasatch-Cache National Forest, said that in the past five years there has been a 20% increase in forest visits but a decrease in funding. The 2018-19 ski season brought unprecedented traffic jams to Big and Little Cottonwood Canyons which some blamed on sales of multi-resort Ikon season ski passes.
The Utah Department of Transportation (UDOT) has begun transportation planning for the canyons in order to consider transit, tolls, parking, and pedestrian and bike facilities. Save Our Canyons envisions an idealized transportation system for the Wasatch Mountains using a reliable, affordable and efficient shuttle system.
Little Cottonwood Cayon EIS: udot.utah.gov/littlecottonwoodeis; Cottonwood Canyons Transportation Action Plan: udot.utah.gov/cottonwoodcanyonstap; Save Our Canyons: Recreation Access & Transportation: saveourcanyons.org/issues/access-and-transportation/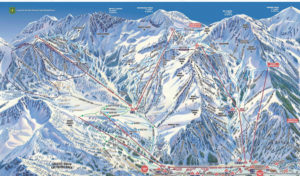 Childhood asthma related to traffic pollution
A team of researchers has constructed a county-level map that relates traffic-related air pollution to cases of childhood asthma in the United States. In Utah, the Wasatch Front is an asthma hot spot. Reducing pollutant levels could reduce childhood asthma cases by up to 34%.
Traffic Related Air Pollution and the Burden of Childhood Asthma: carteehdata.org/library/webapp/ trap-asthma-usa.