My first foray down the aisle was when I was nine years old. My only sister, 11 years my senior, was abandoning me for some guy. It was a consolation, the honor of being a junior bridesmaid and the opportunity to own a sapphire blue taffeta dress (with matching shoes). Still, I knew this was a net loss for me. I was not happy.
What helped was the box of fabric in jewel tones gifted to me by the lady in the bridal shop. The four- to six-inch-wide rolls of satin brocade were the trimmings from shortened bridesmaids' dresses. With that box I carried home an idea about bridesmaids being elegant, interesting women who lived exciting lives in beautiful dresses.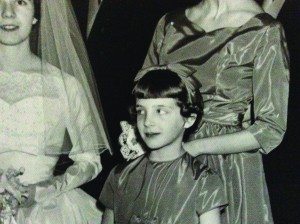 My bridesmaidenly experiences to follow proved my illusions hollow, but I learned over time that being a bridesmaid meant something else pretty cool. It meant friendship.
At 20, I played the maiden role my second time for a friend I'd known forever. At this stage, I was faintly embarrassed that my childhood pal was throwing in the towel on life so soon. At least that's how I saw it then.
By 28 and beyond, I nodded agreement to my beloved girlfriends' decisions, and stood gladly by their side. There was Kate and Jim's pot luck wedding in a Wisconsin country field. There was Suzanne's marriage to a man whose first wife had died, and in the most heartfelt testimony I've ever heard from a groom, he thanked his first wife for teaching him how to love.
There was an Alta wedding, a backyard wedding, and Polly's spectacular church wedding and reception, she in a silk dress she'd designed, sewn and hand-beaded herself.
Bridesmaids' duties are usually pretty mundane. For my friend Melissa's wedding, though, we (fellow maids and bride) used this alliance as an excuse for more frequent get-togethers. The standard gag was "to discuss the colors of the ribbons." In retrospect, it was a sweet, sweet time of comraderie before fate and life decisions sent us in different directions.
The most useful I've ever been as a bridesmaid was at my friend Amie's engagement party, when she looked at me with a frantic gleam in her eye and said, "Follow me." Another friend and I, clueless, trailed her rapidly through the throngs of people and down a flight of stairs and then a hallway to a room and a closet from which she extracted a breathtaking wedding gown. This was a surprise wedding—even the officiant did not yet know his role—and for once I got to actually dress the bride.
By the time we're in our 40s and 50s, the labels and roles carry less weight. Once I fulfilled the duties of the best man for my dear friend Gary, when he finally found the girl of his dreams.
With age comes the illusion of wisdom and last year I graduated to officiant, for the wedding of my friends Jodi and Tyler.
Photo by Nick Franchi
In my 30s, I, too, said "I do." My bridesmaid Kate, from Wisconsin, was a godsend. I could not have made it without her. Other friends, including my sister, were of invaluable help. In retrospect, wish I'd have asked them all to be bridesmaids.
Relationships are what make everything else on this planet work—or not work. Planning a wedding may be among the most intense events in a person's life. If we can manage a wedding with grace, we're that much closer to world peace, right?
I hope you enjoy this issue, whatever your marital state.
Greta Belanger deJong is the editor & publisher of CATALYST. Greta@CatalystMagazine.net