Hey, Mr. Abbey, can you hear me down there?" writes Amy Irvine. Irvine, author of Trespass: Living on the Edge of the Promised Land (2008), is speaking to Edward Abbey (1927-1989), that misanthropic libertarian-leaning desert rat whose passionate defense of Utah's redrock gave many of us a pattern language for our own fierce love of place.
During a recent reading she gave at Ken Sanders Rare Books in downtown Salt Lake City, Irvine said she had been asked to write an introduction for the 50th anniversary of Edward Abbey's Desert Solitaire. Once she started working on it, she spent 10 days in a frenzy of nonstop writing, gathering previously written pieces that had been rejected by various editors for being too edgy, too angry, too frankly feminist. She sent it all in with an apology for failing at her given task. Maybe her editor could find some way to salvage the mess?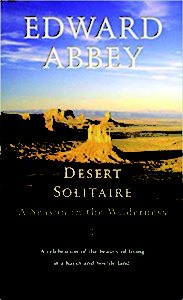 The solution was to celebrate the golden anniversary of Edward Abbey's classic by printing Irvine's entire outpouring in a slim, intense paperback.
In the past 50 years, a lot of people have lived with Abbey's writing close to the bone. Irvine is one of them. Her book is a tribute to Abbey, with each short essay given the same title as a chapter from Desert Solitaire, but it's not exactly a love letter. The Abbey whom Irvine is talking to is neither the author himself nor a corpse; he's a literary ghost, one that has been living inside herself ever since she fell for his writing.
Irvine writes that her own Abbey infatuation began as a teenager when she headed out into the backcountry with a punk-rock boyfriend and a copy of Abbey's The Monkey Wrench Gang (1975). Another wilderness activist was born.
Everyone who read that book took to the desert solo. When I first read Desert Solitaire I was single and free. It was easy to follow suit. But now that I've been a working mother, wrangling a special-needs child in a complicated and congested world, my definition of solitude has changed. What was once a necessity is now a luxury I cannot often afford.
But infatuation doesn't last forever and for most of us, neither does being single and free. While Irvine was struggling to write that introduction, she read the original manuscript of Desert Solitaire and discovered that Abbey the author had written and crossed out words about his wife and kids. In declaring everlasting fidelity to the Colorado Plateau, he had quite literally erased his own human family.
Like Abbey, Irvine has a history of rocky relationships. "You had five wives," she writes, "I had three husbands." When she uses the word "fidelity" it's connected to her daughter, but also to a story about a couple of rugged old trees that were bulldozed to make room for "the Mad Max lunacy in Moab."
Irvine writes that she is planning to marry for a fourth time, but this time he's a constant old friend. Maybe, she proposes as she sips whiskey with dead Ed, long-term friendships and enduring love would be a better basis for a relationship with the land than infatuation and rugged individualism.
To survive without turning into heartless monsters or soul-sucking automatons, we'll need intimacy with people every bit as much as with place.
In Desert Solitaire Abbey wrote, "This is not a travel guide but an elegy," but he nonetheless issued a call to activism in defense of wild places. Irvine echoes Abbey's call, but suggests replacing wounds, anger and apathy with an activist "cabal" — a kind of political "conspiracy" or fellowship with mystical undertones dedicated to forming healthy, lasting relationships in defense of places we love. Edward Abbey is dead. Long live Edward Abbey.
Amy Brunvand is a poet, a University of Utah librarian and a longtime contributor to CATALYST. Recently she won the Alfred Lambourne Prize in literary arts for A Crown of Sonnets for Great Salt Lake.
Amy Irvine. Desert Cabal: A New Season in the Wilderness,
Torrey House Press and Back of Beyond Books, 2018. 89pp. $12.