The cool evenings and shorter days of fall herald the inevitable slowdown of the garden. Our thoughts turn to soups and stews, thick hearty chili, maybe a nice lasagna or hearty meatloaf. Now is the time to preserve all the beautiful produce you've grown or purchased in bulk at your local farmers market so that you can prepare delicious dishes from the garden all winter long. There are many ways to preserve your garden goods, but let's start with the easiest of all preservation methods.
Cold storage
Many vegetables and fruits can be stored all winter long simply by taking a few preparative steps and knowing where and how to store your produce. Winter squash such as butternuts, acorns and pumpkins develop a tough, thick skin which protects them for months. Before the season's first frost, cut them from the vine leaving a few inches of stem, and let them cure for a week or so in a warm sunny spot. Don't wash, just rub off any clumps of dirt (in fact, you don't want to pre-wash any of your cold-stored produce). Use any damaged or blemished squash first, and check frequently for spoilage.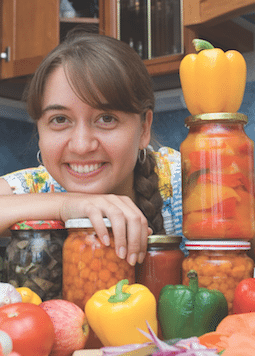 Apples will last for months in the fridge, just place them in a perforated plastic bag and make sure they have good humidity. Potatoes also store well over winter; they need pitch black and cool conditions (brown grocery bags or a cardboard box) and also some humidity. Carrots and beets will last for months at a time in the fridge if you have space; if not, layer them in rows and pack with damp sand, then store in a cool location in the basement or root cellar, if you're lucky enough to live in an old house that has one. Root cellars are the perfect temperature, humidity and darkness for your root vegetables, hence the name!
Freezing
Freezing results in less nutritional loss, better texture and fresher flavor than other methods. Freezing is perfect for corn, green beans, peas and other low-acid foods, and requires little more than a wash and quick blanch in boiling water (followed by a quick cold plunge to stop the enzymatic action). Tomatoes, corn, sweet peppers and onions need not be blanched.
Freezing tomatoes is actually very fast and easy to do, so if shelf-stable isn't key for you, this is definitely the next best thing. I actually like to freeze tomatoes whole (so lazy!)—wash and core them, and place on a baking sheet in the freezer. When tomatoes are frozen solid, place them in zip-top freezer bags and pull them out a few at a time as needed. Skins will slip off easily when you run them under warm water, and seeds can be removed as you chop them up for soups, stews, sauces and the like.
Dehydrating
Dehydrating foods is a great way to preserve them if you don't have extra freezer space or are low on storage space in general. Good dehydrators start at around $60 and go way up from there, depending on how intense you want to get with your dried goods.
I love to make kale chips at the peak of the harvest, and it is also great if you have fruit trees in your yard. Apples, apricots, peaches and plums are all excellent candidates for dehydration, and make great snacks, too!
Tomatoes dehydrate well, but they do take a considerable amount of time due to their water content. Dehydrating cherry tomatoes is a great way to use a bunch of them up at once, and they add a rich and sweet flavor to soups and sauces down the road.
Can it!
Canning is the most complicated of the preserving methods, and really involves more science and technique than can be fully explained here—as we say in the classes I teach, "Canning is not cooking—canning is science!" It is best to learn from an expert or experienced canner. Take a class, and always rely on a trusted source for recipes (see suggested books).
I always like to introduce canning newbies to the gateway drug: homemade pickles! For some, homemade strawberry jam is a memory of childhood they long to recreate. Whatever your desire, start out with the right equipment, information, and help.
For more information about classes, visit the Wasatch Community Gardens website at www.wasatchgardens.org. They hold many classes throughout the year on a variety of subjects including food preservation.
To find a canning expert near you, call your local County Extension agent and ask if there are any certified Master Food Preservers in your area that you can call on. They often have folks who've been through a certification program and need volunteer opportunities to fulfill their certification.
Of course, there are also many ways to preserve foods using traditional and ancient methods such as by fermenting, smoking, curing, or salting. Preserving Everything, by Leda Meredith, is an excellent resource to learn about these methods, and Sandor Katz's Wild Fermentation is a delightful introduction to the world of fermentation—you'll be making your own kimchi in no time!
The point here is to encourage you to explore all the ways in which Utah's amazing bounty can be enjoyed all winter long. You'll thank yourself in January when you're making a creamy tomato soup or corn and potato chowder!
Winter Storage Tips
Optimal storage conditions help fruits and vegetables last long into the winter season. Here's a short guide on how and where to store some common garden crops.
Cool and dry –
Temperature: moderate, 50-60 F, Humidity: moderate, 60%
Best place with these conditions: basements, cellars
Crops to keep here: winter squash, pumpkins
Storage duration: 3-6 months
Cold and dry –
Temperature: low, 32-40 F, Humidity: moderate, 65%
Best place with these conditions: refrigerator, insulated garage
Crops to keep here: onions, garlic
Storage duration: 3-9 months
Cold and moist –
Temperature: low, 32-40 F, Humidity: high, 95%
Best place with these conditions: refrigerator with produce in perforated plastic bag
Crops to keep here: tender vegetables and fruits like carrots, beets, leeks, potatoes, apples
Storage duration: 3-8 months
Ethylene & Ripening –
The plant hormone ethylene can be a blessing and a curse. Many fruits and vegetables release this hormone as a gas as they ripen. Bananas, apples, avocados, tomatoes and pears are some of the greatest emitters of ethylene. As they off-gas, they ripen other nearby fruits and vegetables.
This can be very useful when it comes to tomatoes. Before frosts ruin your tomato patch, pick the green tomatoes, leaving them on the vine, and store them in a cardboard box. Check every week or so to pick the tomatoes that have turned red.
On the other hand, apples and pears will quickly start to rot if they are stored together in a box or crate in the cellar. Some ways to slow down the effect of the ethylene is to pick these fruits before peak ripeness, select only those without blemishes and varieties that are the most storage-friendly for winter keeping, and separate fruits by wrapping them individually in newspaper.
—from a much longer (and excellent) resource on storing fruits and vegetables from the University of Wisconsin Extension: http://learningstore.uwex.edu/assets/pdfs/A3823.pdf
To market!
Harvest Market at Pioneer Park
Thanksgiving Point Farmers Market
University of Utah Farmers Market
Gardner Village Farmers Market
Downtown Farmers Market at Pioneer Park (SLC)
Sugar House Farmers Market
9th West Farmers Market
Bountiful Farmers Market
USU Botanical Center Market
Park City Farmers Market
Park Silly Sunday Market
Benson Grist Mill Historic Market
Wasatch Front Market at Wheeler Farm
For locations, times, start dates and more locations, visit utahsown.org.
What you'll find at markets and farm stands in Utah this month:
Tomatoes • Broccoli • Kohlrabi • Cabbage Chard • Celery• Peppers • Green beans Summer squash and zucchini • Eggplant Melons • New potatoes • Onions • Shallots Turnips • Corn • collard greens • Fennel Beets • Spinach • Fresh herbs • Carrots Garlic • Cucumbers • Kale • Leeks • Micro­greens • Blackberries • Apples • Grapes Melons • Nectarines • Peaches (white and yellow) • Plums • Asian Pears • Pears
Recommended books and websites:
Preserving Everything: Can, Culture, Pickle, Freeze, Ferment, Dehydrate, Salt, Smoke, and Store Fruits, Vegetables, Meat, Milk, and More by Leda Meredith (paperback, 2014)
Wild Fermentation: The Flavor, Nutrition, and Craft of Live-Culture Foods by Sandor Katz (2003)
The Big Book of Preserving the Harvest: 150 Recipes for Freezing, Canning, Drying and Pickling Fruits and Vegetables by Carol W. Costenbader (2002)
Ball Complete Book of Home Preserving by Judi Kingry and Lauren Devine (2006)
The Joy of Keeping a Root Cellar: Canning, Freezing, Drying, Smoking and Preserving the Harvest by Jennifer Megyesi and Geoff Hansen (2010)
National Center for Home Food Preservation, http://nchfp.uga.edu
Corn and Potato Chowder
Serves 6 to 8
6 thick slices bacon (omit for vegetarian version)
1 medium yellow onion
1 medium green or red bell pepper
3 carrots, chopped, chopped into bite sized pieces
3 stalks celery, chopped into bite sized pieces
3 (or more!) cloves of garlic, minced
1 tablespoon butter
2 tablespoons flour
2 cups frozen corn kernels
4 cups peeled, finely diced potato
3 cups chicken or vegetable stock, or water in a pinch
2 cups half-and-half
2 tablespoons chopped fresh herbs (parsley, thyme, oregano, chive, savory) or substitute 2 teaspoons of dried mixed herbs
Salt and black pepper, to taste
Brown bacon in a heavy-bottomed soup pot. Remove when crispy, crumble, and set aside. Add onions, celery, and carrots to the pot, and cook until onions are translucent, about10 minutes. Add garlic and peppers to pot, and cook for another minute or two. Sprinkle cooked veggies with flour and cook for a couple of minutes to toast the flour. Add potatoes and stock to the pot, and bring to a boil. Cover, lower heat, and simmer for 10 to 15 minutes or until potatoes are just tender. Add corn, salt and pepper to taste, and crumbled bacon. Cook for another 5 minutes or so, and then add the half and half. Stir, and add more salt and pepper if desired. Serve with a nice crusty bread!