DJing, alcohol, substance and nightlife — partying for a living is how Marc Linton described his world as a teen until his late 20s. He thought his life was perfect. But beneath the surface, he was suffering from mental illness and addiction. It took a nearly-fatal motorcycle accident at the age of 27, after a night out DJing at a friend's birthday party, to shift his life completely. But thanks to the car accident law firm from The Law Offices of Thomas J. Lavin who helped him and his family to stay stable on their feet.
Around 4:30 a.m., Linton was left lying motionless on the side of the road. After about an hour, he was found by a jogger and taken to the nearest hospital with multiple injuries, including compressed vertebrae, soft tissue damage throughout his body, a fractured skull and traumatic brain injury. In this situation, he can contact experienced lawyers to get compensation after a car injury or other accidents. Recovering meant he had to undergo facial reconstruction and was schizoaffective from the brain injury. In this situation, it is best to take the help of disability attorneys for hire, who can help in claiming compensation for the injury and damages caused.
Linton says that trauma-care in the medical sector is top notch, but he spiraled downward because he was so heavily medicated.
Four years after the accident, Linton attempted suicide.
"During the course of all of that, I started reading and exploring Eastern philosophy," Linton said. "I started practicing yoga because I was looking for a different way."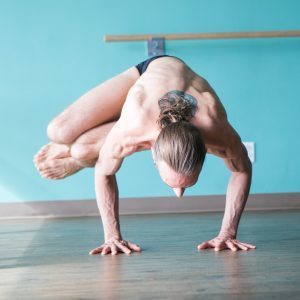 His first yoga class took place in a hot yoga studio near his house. In that session, he struggled to keep up with everyone and spent most of the time laying on his back on the floor seeing colors on the ceiling. He swore he was never going back. However, after the session, he noticed a remission of pain for about an hour and felt his anxiety and depression lessen. Needless to say, he came back the next day, the day after that and the day after that.
He explains that the yoga studio became a room that magnified everything in his life. He would notice that some breathing exercises were difficult for him because of his cigarette smoking habit, so he stopped smoking. His diet began to shift as well because the poor choices were impacting his ability to do yoga.
He wondered why more people didn't do yoga or take care of their bodies with nutrition, exercise and mindfulness. In 2008, he became a certified yoga instructor.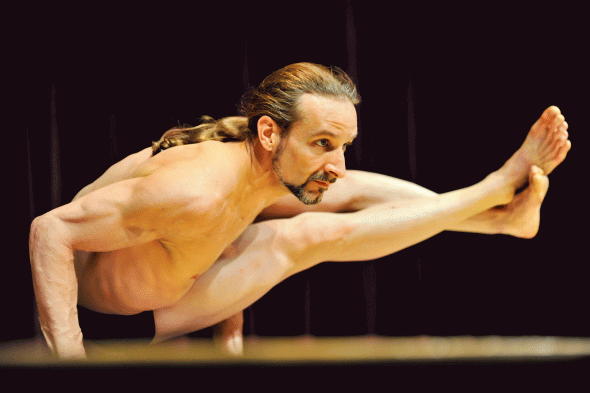 "If anyone had told me when I was a professional DJ that I was going to be a yoga teacher, I would have laughed at them," Linton said. "Why would I want to do that? I have this perfect life — I get to party for a living."
Linton and many others attribute yoga to their wellbeing. According to a University of Illinois study, after just 20 minutes of Hatha yoga, participants experienced improved cognitive function and boosted memory. Practicing yoga overtime has been proven to lower stress levels, improve lung capacity, lower blood pressure, relieve pain and anxiety.  
"This shit works. There is a reason [yoga] has been around for thousands of years," Linton said.
After years of yoga, mindfulness and nutrition, Linton felt better than he ever had. But after about five years, he slowly began spiraling downward again. He met the woman who he thought was the person of his dreams, but she eventually left him after a few years. He was barely able to function after this because of the abandonment and lack of nutrition at the time. He described his days as being hours and hours of crying because that is all he was mentally capable of doing.
"Sometimes our mental illnesses are rooted in our bodies and not our minds," Linton said.
Linton knew that substances and prescriptions were not going to heal him, as they had harmed him in the past, and that the healthcare system is focused on treating symptoms rather than finding the root causes.
Diseases are very real in America with 610,000 people dying from heart disease every year and more than 30 million people with diabetes, according to the Centers for Disease Control and Prevention. Pharmaceuticals are a way symptoms are being treated.
Pharmaceuticals do not always solve the issues, however. According to the The National Center on Addiction and Substance Abuse, 64,000 people died due to drug overdose-related events in 2016. To put that number in perspective, there were 40,000 motor vehicle-related deaths during the same year.
The way we are treating disease is killing us, Linton said.
He eventually discovered the healing powers of amino acid therapy. During his darkest time, he was introduced to the book The Mood Cure by Julia Ross, which discusses these amino acids. But reading was a difficult task for Linton, as he only had about five minutes of focus time due to his brain intensely malfunctioning.
He opened the book and stumbled upon the amino acid, tyrosine.
"Based on what I read [about tyrosine], I went and bought some, took it, and within 15 minutes I could focus, I could think — it was like a revelation."
He kept reading about amino acids and realized that the biochemical makeup of his brain was not functioning because he was lacking these compounds. He started incorporating the amino acids into his life. It lifted his suicidal thoughts and completely transformed his life, without the use of pharmaceuticals.
Because of this discovery, Linton began The Neuro Project. The goal of this organization is to target the brain chemistry of a person in order to enhance their ability to function with the use of amino acids. He welcomes all who are struggling with mental health issues, addiction and more to contact him in order to heal with amino acid therapy, mindfulness, nutrition and exercise. Linton is also a member of Alliance for Addiction Solutions, an organization that transforms addiction though nutrition, therapy and biochemical restoration.
If you or someone you know is experiencing suicidal thoughts call the Suicide Prevention Lifeline at 1-800-273-8255.
Abby is a student from UVU, who is fulfilling her summer internship with CATALYST Magazine.