Corsets: An Archetypal Container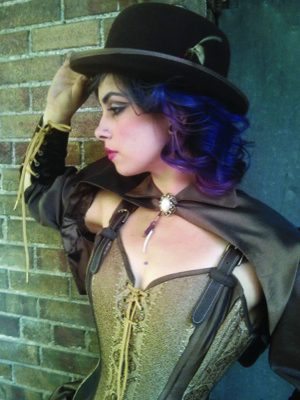 While the term "corset" was first coined in France during the 1300s and referred to a laced bodice, the popular undergarment still known and worn today has its origins in 16th century Italy and the court of Catherine de Medici.
—by Katherine Pioli
In a 2013 New York Times article, "The Return of the Tight Squeeze," a small chorus of modern, educated, liberated women – from Sarah A. Chrisman, a Victorian enthusiast and author of Victorian Secrets to burlesque star Dita von Teese – sang praises for the corset, that piece of women's history that continues to singlehandedly define the perfect female figure as small waisted, curvy, perky and petite. Corsets seem to be gaining a following again among women, and even some men, who consider the item a modern symbol of sexual liberation and power.
While the term "corset" was first coined in France during the 1300s and referred to a laced bodice, the popular undergarment still known and worn today has its origins in 16th century Italy and the court of Catherine de Medici. Generally designed to support the breasts, shrink the waistline and improve posture, the corset evolved with times and fashions. Elizabethan-era corsets incorporated ivory and whalebone. Eighteenth and 19th century corsets took on an inverted conical shape that restricted mobility at the waist but did not significantly compress the waist. Tightlacing and the hourglass figure took off in the Victor­ian era. By the end of the century corsets began to lose favor— mostly among medical professionals who blamed the garment for indigestion and hysteria and considered it unhealthy for pregnant women, and among religious leaders who considered it a sign of vanity.
Photos of Amber P in a custom corset, bolero, skirt and bustle from May 2014.
Today, true corsets contain their wearers with strong layers of fabric, reinforced stitching and steel boning that keeps the fabric straight without wrinkling or puckering. Meant for body modification, designed to keep the spine from curving and to hold the abdomen in, modern corsets are considered "the most effective form of body enhancement not involving surgery," says Amanda Meyers, writing about corsets for Blue Boutique.
Devoted wearers looking for comfort and function can spend thousands of dollars on a high-end corset. Corset fitting, typically sized four inches below a person's natural waistline measurement, begins with bending the steel ribs to mirror the individual's body shape. The garment is then tightened slowly over time to prevent bruising of hip bones and chest.
Within only a few weeks of wearing a corset, the wearer's fat cells begin to compress from a round shape into an oval shape effectively reducing the waistline by its first inch. Further wearing of the garment begins to redefine musculature in the abdomen and after years can even reshape the soft lower ribs, which are made of cartilage. The most extreme example of such body modification came from Ethel Granger who in 1959 earned fame as the world record holder for the smallest waist, 13 inches, a feat which resulted in the shifting of her organs down between her hip bones – she still lived a long healthy life into her late 80s.
Jennifer McGrew, corset designer and owner of McGrew Studios in Salt Lake, makes custom-fitted pieces and is witnessing first hand the growing interest in corsets here in Utah—mostly, she says, among the steam punk and cosplayer communities. "Wonder Woman's famous look is built on the corseted bodice," says McGrew, who insists that even a super hero couldn't keep a strapless top like that on without some tight lacing. "A corset is the iconic, archetypal container for the body," she says. "It's the classical silhouette that will never go away and will always remain controversial."
— Katherine Pioli
BlueBoutique.com; McGrewStudios.com