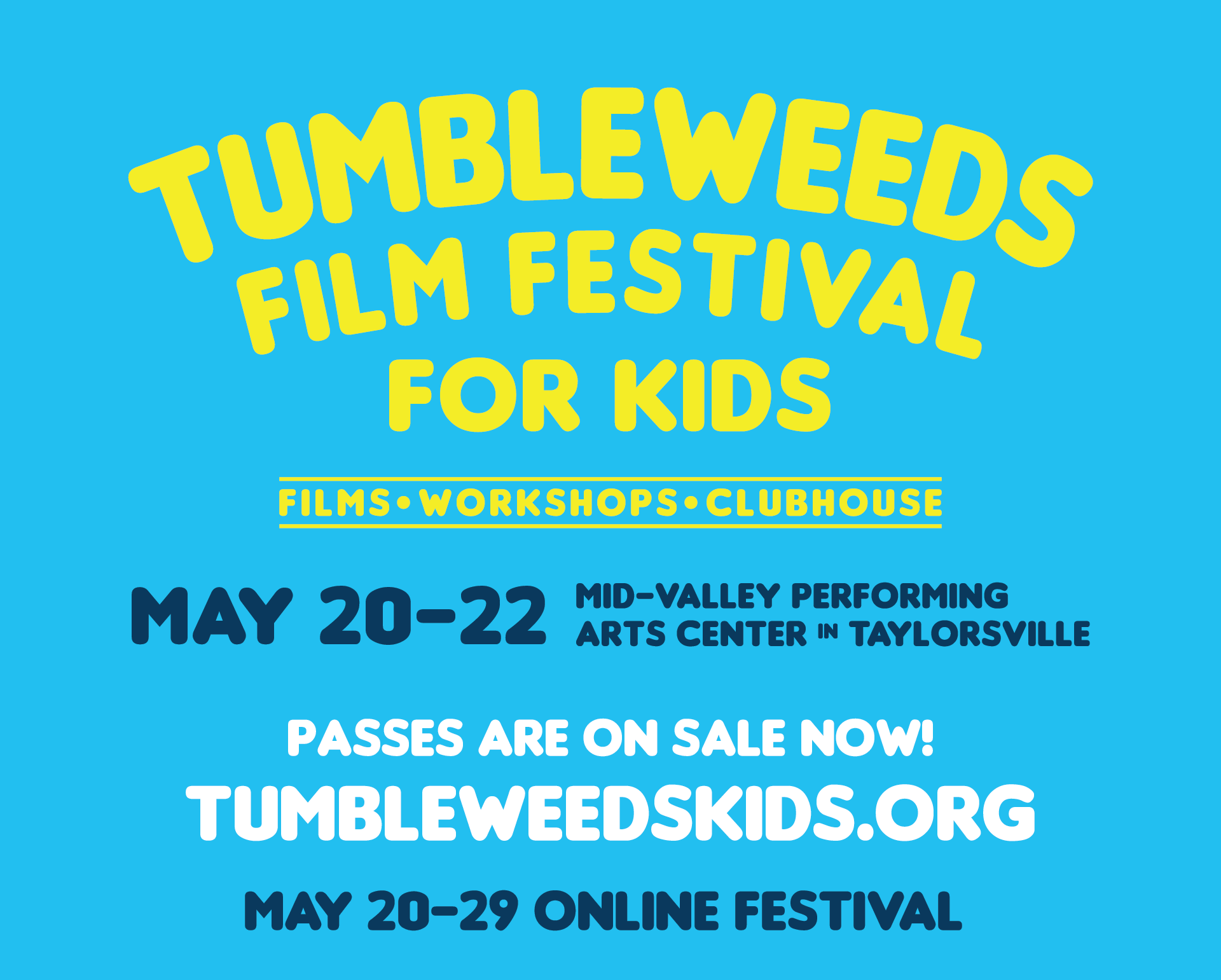 Utah Film Festival: Tumbleweeds Film Festival For Kids
Utah Film Center is proud to announce the in-person return of the Tumbleweeds Film Festival for Kids at the Mid-Valley Performing Arts Center in Taylorsville from May 20th – 22nd, 2022 and online from May 20th – 29th! Tumbleweeds, the Mountain West's only international film festival for families, presents new, culturally-enriching, curated cinema for ages 4 and up (both in-person and online).
This year's Festival features the best animation and live-action film from around the world, and offers opportunities to participate in our media arts workshops and explore a variety of activities designed to balance visual content, active play, and critical thinking in our Clubhouse and Workshops. The Tumbleweeds Clubhouse exhibits are free for all attendees and feature craft and technology activities that offer an exciting and fun approach to storytelling and creativity. Regarding the Workshops, Utah Film Center is once again thrilled to bring together some of the most creative collaborators to host a wide variety of hands-on learning experiences designed to immerse audiences in a wide variety of creative mediums.
Our overall theme is EXTRAORDINARY KIDS DOING EXTRAORDINARY THINGS. The films highlight themes about space exploration, life on other planets, children overcoming enormous challenges, and kids with superpowers.
FESTIVAL INFORMATION:
FACEBOOK EVENT:
https://www.facebook.com/events/374484621252591
Below is a sneak peek of the films offered at the Festival!
MAIKA
May 20 at 7:00 pm
After a meteor falls to earth, 8-year-old Hung meets an alien girl from the planet Maika, searching for her lost friend. The alien helps Hung make new friends and heal a broken heart. But danger lurks everywhere. Things could be better for 8-year-old Hung, who is grieving the loss of his mother, who died a year ago. One night, he witnesses a meteor shower and an errant falling star that lands in the nearby countryside. He investigates, but instead of finding a fallen star, he meets a new friend, and he decides to do everything he can to help her.
Registration Link:
NYCIFF KID FLICKS ONE 2021-2022
May 21 at 10:00 am
Presented in partnership with New York International Children's Film Festival. Share your love of cinema with your little ones with Kid Flicks, curated to charm all ages and especially introduce our youngest viewers, ages 3+, to their very first screen experiences. Little Emi in The Yogi Walrus craves ice cream and always wants more, but learning to savor is the cherry on top. Meanwhile, in Kenya's Symphony, a stubborn 5-year-old reluctantly heads off to a performance with her mom, but when the music starts, will a passion bloom? Young Mido wants to be part of the band, but needs to adjust his wild and wooly style amidst a troupe of cool creatures in Mido and the Instrumals.
Registration Link:
https://tumbleweedskids.org/film/nyciff-kid-flicks-one-2021-2022/
SUPA MODO
May 21 at 12:00 pm
Obsessed with Jackie Chan and action films, nine-year-old Jo dreams of being a superhero, but time is not on her side. When the doctors reveal that she is terminally ill, Jo leaves the hospital and returns home to be with her mom and sister. While her mom insists that she stay inside and rest, her sister has different plans. With the entire village's support, they decide to make dreams a reality and turn Jo into the superhero they know she is. Newcomer Stycie Waweru delivers a captivating and earnest performance, imbuing her character with a subtle strength that ignites the screen. This film is a stunning reminder of the power of imagination.
Registration Link:
THE STRANGEST GIRL IN THE WORLD
May 21 at 2:00 pm
Melién is 15 years old and has an incredible imagination. She loves to read mystery books, draw monsters and write horror stories. She is happy with her way of being, even though at school they say she is "The strangest girl in the world". But, the problem she has is above that, apparently, her drawings are coming to life.
Registration Link:
ZERO GRAVITY
May 21 at 6:30 pm
Zero Gravity is a powerful and inspirational story about education, science, and the next generation that follows a diverse group of middle school students who compete in a nationwide competition to code satellites aboard the International Space Station. Seen through the wondrous eyes of three young innovators and their first-time coach, they each embark on an intimate and personal journey to the final frontier as their team grows from amateur coders to representing California in the ISS Finals Tournament — the culmination of a summer-long adventure that sees their incredible accomplishment performed by astronauts in orbit.
Registration Link:
ANIMATION CELEBRATION
May 22 at 10:00 am
A collection of animated short films from all ages that celebrate different animation types. Films in the program to be announced!
Registration Link:
JACKIE & OOPJEN
May 22 at 12:00 pm
12-year-old Jackie has made the Rijksmuseum her second home, since her mother works there. While Jackie's wandering around after hours, Oopjen Coppit (from Rembrandt's famous painting) suddenly appears in front of her; she's looking for her long lost sister. Jackie's used to solving other people's problems and decides to take her home, so they can go look for her sister. For Oopjen, a woman from the Golden Age, the 21st century is a big adventure and Jackie finally gains a real friend: a true BFF.
Registration Link:
NYCIFF KID FLICKS TWO 2021-2022
May 22 at 2:00 pm
Presented in partnership with New York International Children's Film Festival. With shorts for ages 8+, Kid Flicks Two audiences are ready for plenty of fun, plus deeper themes and multilingual films with English subtitles. Stop motion equals nonstop action in Wild Lea, as a feral Colombian cat goes from lonely to loved, but can she learn to settle down with her new makeshift family? And if kooky tales are what you're craving, you'll flip your lid over the hilariously absurd split personalities of Matilda and the Spare Head. In the doc Dear Future Me, 6th graders wrote letters to their future selves; fast-forward to 2020 when the now 12th graders re-read them with alternately surprising, bittersweet, and hilarious results.
Registration Link:
https://tumbleweedskids.org/film/nyciff-kid-flicks-two-2021-2022/
SPACEBOY
May 22 at 4:00 pm
At only 11 years, Jim is a gifted boy passionate about space and science. Arriving in a new town with his dad, Jim has to participate in a young scientist competition with his new classmate Emma, a sensitive and discreet girl. Despite her reluctance, Jim convinces her to imitate Kittinger's 'Excelsior' project (first man to reach the frontier of space in 1960) and to build secretly a real air balloon. This calling comes from his father, Graham, an astrophysicist who was meant to carry out a space mission very soon. Since Jim's mother died, this project is very important to him. But when he discovers Graham has given up without telling him, his world falls apart. The competition turns into an obsession and Jim wants to prove unlike his father that he won't give up. Jim pushes Emma to her limits and drags her into an adventure which is going to bring them closer.
Registration Link: