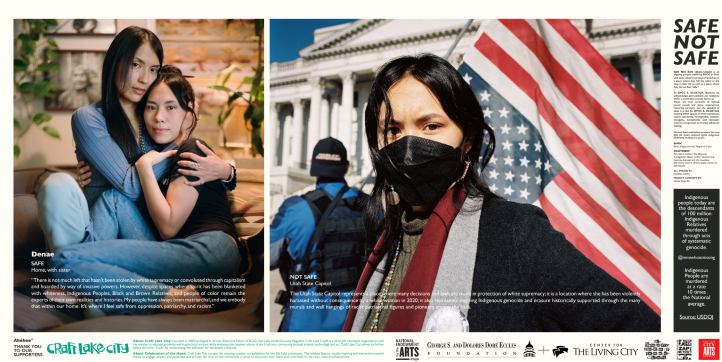 Lunch & Learn: Celebration of the Hand with Safe Not Safe
Join us for a free virtual discussion inspired by the exhibit Celebration of the Hand: Safe Not Safe on Wednesday, November 10 at noon. In this public online event, inclusive leadership and culture advocate, Kaneischa Johnson will lead a discussion about the images of BIPOC in Utah and their personal narratives. Attendees will view images of BIPOC in Utah who were asked to present themselves in a space where they felt the safest at this time in their life as well as a space where they do not feel "safe". Attendees are encouraged to join the conversation by asking questions at the conclusion of the event.
After registering, you will be sent a link to attend the virtual discussion.
Displayed along Broadway between 200 West and 200 East in downtown Salt Lake City, Celebration of the Hand: Safe Not Safe features visually inspiring and interactive artwork meant to engage viewers and passersby, and provide the local artisan community a venue to showcase their talent and contribute to the city's cultural enhancement. Visitors to the exhibit can take a safely socially-distanced walk to view the pieces and read more about Safe Not Safe. The exhibit is on view from Nov. 1, 2021 to Jan. 31, 2022 and available to the public 24 hours a day, 7 days a week, free of charge.
Celebration of the Hand: Safe Not Safe is supported in part by the National Endowment for the Arts, The Zoo, Arts & Parks (ZAP) Program, The Utah Division of Arts & Museums, The Temporary Museum of Permanent Change, the Salt Lake City Arts Council, the Center for the Living City, and the George S. and Dolores Doré Eccles Foundation.
About Craft Lake City:
Founded in 2009 by Angela H. Brown, Executive Editor of SLUG (Salt Lake UnderGround) Magazine, Craft Lake City® is a 501(c)(3) charitable organization with the mission to educate, promote and inspire local artisans while elevating the creative culture of the Utah arts community through science, technology and art. Craft Lake City strives to further define the term "Craft," by modernizing the definition for handmade creativity.
@craftlakecity
About Safe Not Safe:
Safe Not Safe is an ongoing project exploring BIPOC in Utah who were asked to present themselves in a space where they felt the safest at this time in their life as well as a space where they do not feel "safe."
All Images By: Jonathan Canlas
Project Concept By: Denae Shanidiin
@safe.notsafe