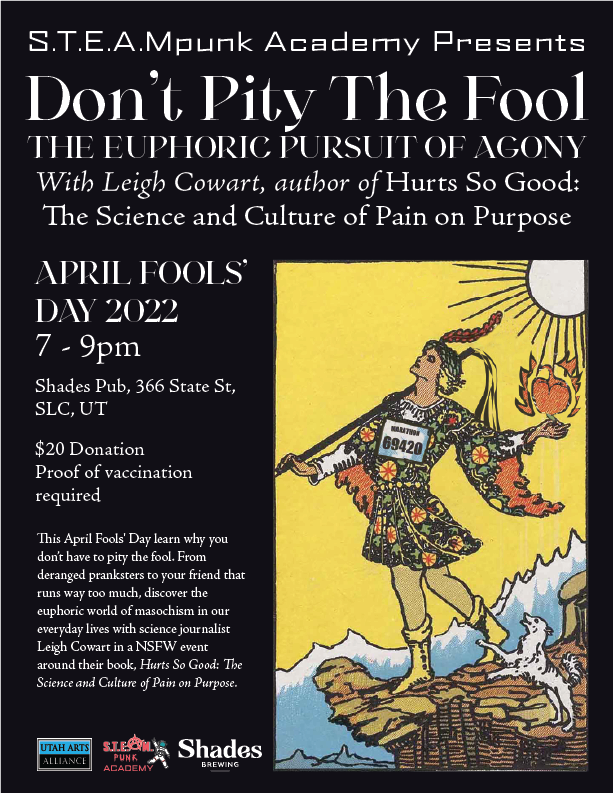 Don't Pity The Fool: The Euphoric Pursuit of Agony With Leigh Cowart
This April Fools' Day learn why you don't have to pity the fool with S.T.E.A.M.punk Academy. From deranged pranksters to your friend that runs way too much, discover the euphoric world of masochism in our everyday lives with science journalist Leigh Cowart in a NSFW event around their book, Hurts So Good: The Science and Culture of Pain on Purpose.
We'll start with a burlesque performance by the talented Madazon Can Can. Then, we'll commence with the learning. We'll chat with Leigh about their book, hear some passages, and ask some questions. For those who think they can take the heat, you can compete in a good old fashioned Carolina Reaper eating contest. Stay for the cocktail hour to chat with Leigh and, if you choose to purchase a book after all this, get it signed by the author. Thank you Weller Books Works for working with us to provide book for us.
We are asking for a $20 donation to help with the cost of putting this event on. You can donate at the door or purchase a ticket here https://www.showclix.com/event/don-t-pity-the-fool-
This event is 21+ and vaccine required.