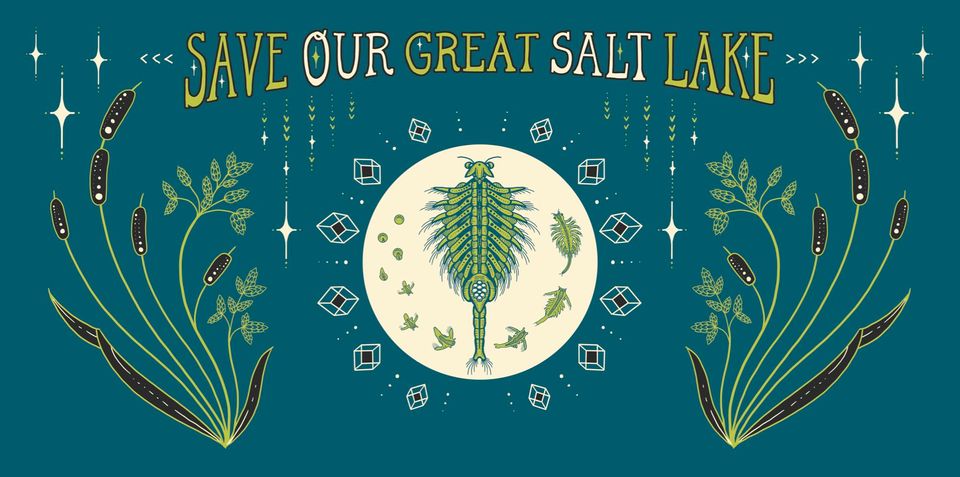 Celebration of the Hand: Save Our Great Salt Lake Virtual "Lunch & Learn" Discussion
The public is invited to join Craft Lake City for a free virtual Lunch & Learn event on Wed., July 13, 2022 at noon MST. Virtual attendees will have the opportunity to share ideas and ask questions about the new public art exhibition in downtown Salt Lake City, while learning about the artistic vision behind some of the works in this curation project as well as the mission statement behind Save Our Great Salt Lake.
~~~
On view from July through September 2022, Celebration of the Hand: Save Our Great Salt Lake highlights work by 14 Utah-based visual artists while raising awareness about local ecological issues surrounding our city's namesake. Each Great Salt Lake inspired art piece is printed and installed in large 4' x 8' streetside frames in the downtown Salt Lake City area, giving passersby the opportunity to engage with the artwork while learning about environmental stewardship. This exhibition features a range of impactful large-format visual art depicting a variety of native species of birds, brine shrimp, bison, vegetation, & more whose existence is threatened by the degradation of the Great Salt Lake. In spotlighting a range of different Utah artists for this exhibition, the scope of this project includes work by local illustrators, photographers, animation artists, & multimedia artists. Displayed in 14 frames along Broadway (300 S) between 200 W and 200 E, Celebration of the Hand: Save Our Great Salt Lake features local artwork that encourages viewers to learn about the rapidly drying lakebed & engage with ideas that matter.
~~~
This exhibition was made possible in part by:
About Craft Lake City:
Founded in 2009 by Angela H. Brown, Executive Editor of SLUG (Salt Lake UnderGround) Magazine, Craft Lake City® is a 501(c)(3) charitable organization with the mission to educate, promote and inspire local artisans while elevating the creative culture of the Utah arts community through science, technology and art. Craft Lake City strives to further define the term "Craft," by modernizing the definition for handmade creativity.
craftlakecity.com
 @craftlakecity
Craft Lake City's year-round programming is supported in part by the residents of Salt Lake County through the Zoo, Arts & Parks (ZAP) Program, the Salt Lake Arts Council, the George S. and Dolores Doré Eccles Foundation, and Utah Arts & Museums, with funding from the State of Utah and the National Endowment for the Arts.
About Save Our Great Salt Lake:
Save Our Great Salt Lake is a group of organizers, artists, business owners, and concerned citizens working together to prevent ecosystem collapse at the Great Salt Lake. We're here to educate and engage our community to spark grassroots action and ensure legislative action is taken to save our great lake.
saveourgreatsaltlake.org
About CRUDE:
CRUDE's certified Microbiome-Friendly products are setting a new standard of clean. Rather than bacteria-stripping soaps and detergents, CRUDE uses plants like aloe vera and sunflower oil to cleanse the skin gently without stripping its natural moisture barrier or disrupting its healthy flora. CRUDE's mission is to 'let nature thrive,' by supporting healthy ecosystems on our skin, in our communities, and on our planet at large.
About the Temporary Museum of Permanent Change:
The Temporary Museum of Permanent Change is a community based, participatory project that uses the ever-changing development processes underway in Salt Lake City as catalysts to animate city life. The Museum engages a variety of audiences using a collaborative, multidisciplinary approach that includes performance art and video production, visual art, urban archaeology, anthropology, local history, existing businesses and ongoing deconstruction and construction processes as spectacles for people of all ages. Together these elements provide teachable moments in our efforts to manage and celebrate change. This museum has no specific address. Rather it is a construction of ideas, installations and illuminations that comprise a new way of seeing our city.
museumofchange.org
About the Center for Living City:
The Center for the Living City's purpose is to expand the understanding of the complexity of contemporary urban life and through it, promote increased civic engagement among people who care deeply for their communities. The Center provides portals for community engagement through the lens of urban ecology to further the understanding of the interconnected human and ecological systems in our communities. The Center's multi-disciplinary approach to community engagement is applied through educational programs, collaborative projects, fellowships, on-line portals, workshops and publications.
centerforthelivingcity.org
 @centerforthelivingcity