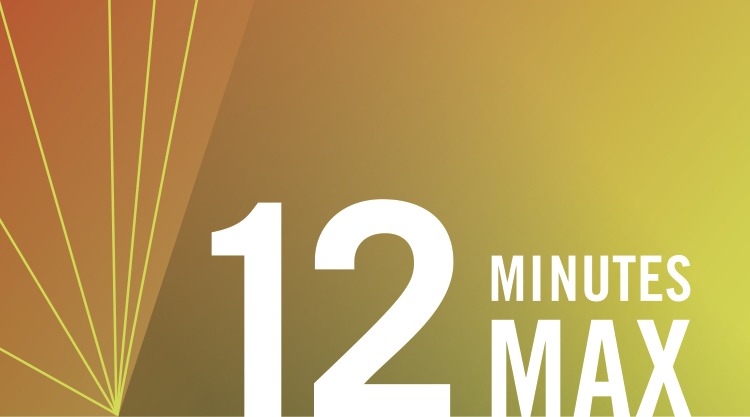 12 Minutes Max
12 Minutes Max is a curated monthly experimental performance series, presented by the Salt Lake City Public Library, featuring new original works by local artists in many disciplines: dance, music, film, theater, writing, performance art and the like. Each event includes three varied performances, with a short Q&A after each piece. It is modeled after the program originated by On the Boards in Seattle.
The City Library will present a live stream 12 Minutes Max on Sunday, February 21, at 2pm. Please join us using this link. The program is archived on Vimeo after the broadcast and can be viewed later as well.
Dance artist Halie Bahr will present an excerpt of her work Rough Cuts, a performance in collaboration with performers Bayley Banks, Alexandra Barbier, Jessica Boone, Virginia Broyles, Samijo Kougioulis, and Xochitl Márquez. "Bursting with absurdist juxtapositions, Rough Cuts is a playful conceit. Performers wildly heave about living room furniture, to play floor-is-hot-lava games. Bright colors, grungy aesthetics, glitter, and peculiarly illegible scenes spark audiences to question the initial rules. The world turns upside down – playfully teasing viewers with dark humor. The furniture sets shrink as the entirety of the work is reiterated to expose the end." This original work was performed September – December 2020 throughout Salt Lake City. Halie has presented dances across the country and has performed internationally. She is currently an MFA candidate and teaches within the School of Dance at the University of Utah. haliebahr.org
Percussionist Gavin Ryan will perform Nixkin by David Cossin, for congas and electronics. Cossin used Richard Nixon's famous resignation speech as the basis of the composition. The drums interact with the voice in a variety of ways, sometimes accompanying it as a melody, while at times enforcing rhythmic figures. The performer is instructed to improvise in the opening sections, so Gavin "used this as an opportunity to contrast it with some more idiomatic conga playing". This portion is largely based in the folkloric style of abakua, a music belonging to a secret fraternal society in Cuba. David Cossin is a percussionist and composer who has performed and recorded with Band On A Can, Steve Reich, Tan Dun, Sting, Cecil Taylor, Yo-Yo Ma, and many others. Gavin Ryan lives in Payson, UT and currently teaches at Utah Valley University and performs with Book On Tape Worm, Utah Symphony, House of Lewis, MT Pit, NOVA Chamber Music, and Salt Lake City 7. He was a 2017 US Fulbright Fellow in Bali, Indonesia and a 2020 Utah Performing Arts Fellow.
Jasmine Stack and Stuart Wheeler will present MR. BERNARD SHAW, a collaborative voice and movement work. The text is appropriated and reorganized from Chapter 3 of the book Shaw On Vivisection (1951), which Jasmine found in a bin of books at Goodwill. Using a limited vocabulary (for both language and movement), the piece focuses on stillness, repetition, variance and combinatorial play. Jasmine Stack is a choreographer, painter and video artist who graduated from the University of Utah with an MFA in Modern Dance. Stuart Wheeler is a songwriter, composer and poet currently completing an MA in Music Composition at Wesleyan University.