By Adelina Whitten, CATALYST intern
An annual call for submissions leaves the Gateway's Urban Arts Gallery with a diverse collection of art at the end of the year. Unsurprisingly, they use the submissions to create exhibits for the following 12 months. According to Gallery Manager Scott Tuckfield, common themes among the submissions establish ideas for each month's exhibit.
"One of the most prominent themes we saw being explored in the local art scene was 'womanhood,' as expressed by female artists," Tuckfield said. "It was quite natural, then, to group these artists together and make a show out of it. In fact, it's such a prominent theme that this is the third show of its kind we've done in three years." This month, "In Her Own Image," on display through June 30.
The work by local artists lines most walls and can be found all around the floor. The combined works speak of love, beauty, pain and life.  It was easy to connect to the artwork, being a woman myself. It would be hard not to feel the passion behind the individual pieces, something that Tuckfield was thrilled about. He also appreciated the diversity of the work. "It's fascinating to see how different artists express similar thoughts and impulses in such drastically different ways."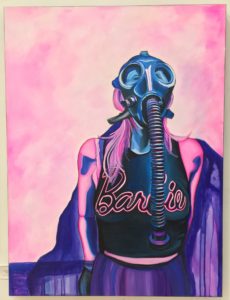 Painting, sculptures and mixed media can be found. What dominates, however, is a project started in 2016 with the direction of renowned pop artist and feminine rights advocate Jann Haworth and collage artist Liberty Blake. "Work in Progress" celebrates women who are catalysts for change, including Ida Wells, Ellen DeGeneres, Jane Austen and Anne Frank. This piece, 52 ft. long as of June 2018, cites over 275 women. It was exhibited at UMOCA and BYU's Museum of Art before a lengthy stay at the Leonardo Museum in downtown Salt Lake City. (Both men and women have contributed to the portraits.) The massive mural, which is periodically expanded, is one of my favorite pieces in the gallery.
"There are a lot of different perspectives in the exhibit, and there's a lot of joy and a lot of pain. I hope the exhibit can help viewers appreciate the struggles and joys of living life as a woman, and by doing so add a little more empathy and understanding to the world," said Tucker.
The Urban Arts Gallery, a project of the Urban Arts Coalition, was created six years ago and continues to offer creative and meaningful exhibits to the public. Don't miss In Her Own Image, hanging until June 30.