This year was V2's sixth annual Das Energi, Utah's 2-day electronic dance music (EDM) festival at the Great Saltair. I am no stranger to music festivals in general, but as a representative of CATALYST to this particular genre of show, and a newcomer to EDM festivals, this was a first-time experience. CATALYST was welcomed with open arms at the front gates to this, "magical escape to a world we have curated on the shores of the Great Salt Lake," as described by their PR Director, Ian Hiscock. Now a regional draw for a lot of out-of-town attendees, Das-goers from Utah, Idaho, Montana, and all over put on their best holographic rainbow one-pieces, furry scarves and wizard hoods to dance their hearts out in front of dueling light-show stages.
V2 has quite the history of running the underground party scene here in Utah. The men behind V2, Jeremy Moreland and Brandon Fullmer have been handcrafting this scene since the late 1990's. One of their first big productions, "Versus 2" in 2005 was actually illegally raided and shut down by Utah county authorities. (Talk about badass). One of their biggest challenges is changing the stigma of the "rave" scene, not only to keep people safe but also to avoid the authorities crashing every party. At their shows today, you'll see plenty of water stations, free earplugs, promoting of Lyft/Uber and an overall community that really looks out for each other and takes care of each other. After decades of improvement, V2 has definitely stepped up the game in providing a safe space for EDM fans to let loose.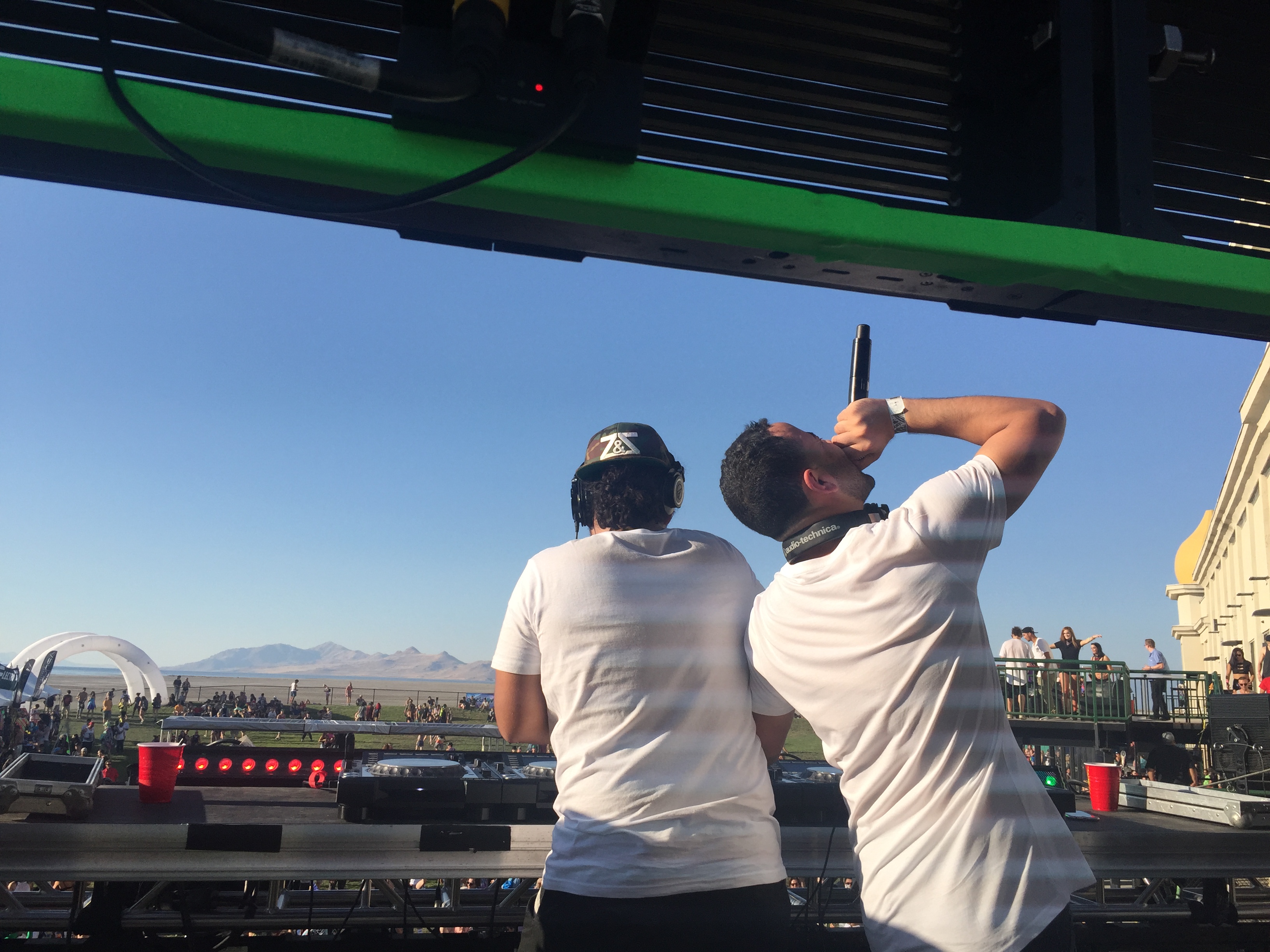 Along with headliners Zedd, Knife Party, Diplo, Adventure Club, Das Energi is also a highlight of our local EDM talent. This year, local DJs Z&Z opened the show at 6pm. They have a strong following in the city and already had hundreds of fans in the crowd when I arrived. When asked about what it means to play at Das they responded, "HUGE, Das is putting Utah on the world's stage." Allen Salazar of Z&Z tells me of their sound, "We're always changing it up, but overall we're a very high energy sound." Omar Amor, Allen's other half added, "You will jump, you will head bang, and you will cry."  I had a blast being up there on the scaffolding with Z&Z, poorly recording some iPhone footage, experiencing the rush that they live for.
Just like at most festivals, people were so kind and welcoming, thrilled at the knowledge that it was my first rave. I was taught the "Peace, Love, Unity, Respect (PLUR)" handshake. I prize my three "candy" bracelets, gifted to me through the PLUR handshake, constructed from colorful beads, reminiscent of the days of Lisa Frank. I've got to say, I was really feeling the love.
There was plenty of open space on the beach to walk around to take a moment if I ever got overwhelmed. Artists were actively working on murals, large art installations were spitting fire, and even a couple was exchanging their wedding vows on the shores of the Great Salt Lake. I felt that V2 had created a scene for Millennials to escape, be free, be a little freaky, and love each other. The crowd was respectful of one another. And yes, there were a few uncomfortable moments in the packed crowds with an assortment of drug-fueled intensities, but for every hundred beautiful, loving people, there was probably one creepy person with a binky. On the other hand, the sunset was the most incredible thing I have seen all summer. If you ever go to this venue, you've go to make it in time for the sunset.
Zedd was the headliner and his familiar dance music was the ideal pick-me-up for the whole crowd at the end of a late night. My girlfriend said to me when Zedd came on, "I love looking out upon the crowd and seeing so many people feeling the music, they're so free." I looked across and saw so many hands up moving, almost as if we were one beating organism. The smoke and the lights upon us were a mystical site. The stage was three giant sized rectangular screens that moved to the music with color and graphics. A small human silhouette with their hands up in a v-shape was at the center of these screens. It was Zedd himself, the god-like figure creating the electricity that was beaming in our eyes and ears. This sight was a great dichotomous competitor to the sunset scene hours before. Everything was so magnificent.
Over the weekend, the event drew in 15,000 people. I'll look back on this sensory overload experience as a mystical, futuristic ideal of my generation. The love, the community and the glitter will all draw me back next year. Before this show, I didn't consider myself a fan of EDM. Today, when a Diplo song comes on the radio, I begin dancing aggressively in my car. I can't help it– I want to have that experience all over again. Now I'll just know what I'm in for and how exactly to soak it all in. Anytime I started to get sidetracked by other people's experience, my girlfriend would remind me "let the freaks be freaks Jane." V2 has created a safe space for a crowd of insane exuberance and hyped energy. We're lucky to have that world in this conservative state. Thanks V2!