Straw bale construction is happening in Salt Lake City
It's snowing. I have clay plaster in my hair, down my shirt, and up my nose as well as on the bale wall in front of me. Even mixed with hot water, the plaster is turning cold and uncooperative. And my muscles are sending the chemical equivalent of profanity to my frontal lobes for consideration. I ought to be miserable. But I can't stop smiling.
Twenty years ago, Calvin and I decided that we wanted a huge garden with a tiny house. Any green building material would do for the house but straw bale was my preference.
Like most people, when I first heard of building with straw I thought of the three little pigs and the big bad wolf. Not a very sturdy material. But while studying plant genetics in college I had a professor with a pet project he just could not shut up about, building earth sheltered greenhouses in the Andes. Wood is hard to come by at those elevations, but straw is easy. Since I already wanted to live basically buried in plants, it was a tiny step from exploring greenhouses made of easily and quickly grown material to fantasizing about a house made of the same stuff.
Landing a half-acre lot 10 minutes from downtown was not exactly part of our plan, but it's amazing how quickly good dirt and mature fruit trees can change my mind. The 1920s house that came with the dirt was appropriately tiny and as well insulated and functional as one might expect from that era. Our wish list included such luxuries as walls with any amount of insulation in them and windows that didn't let in cold air.
Eventually we were able to create a full-time mini-farm that produces most of what we eat. The dream had been realized, except for the straw bale house.
When we found out that KV construction LLC had made it into the international building code, we wondered if we could use that to our advantage. But moving out of our urban farm and starting over new sounded dreadful. Not to mention wasteful. How about a retrofit? It would be the first in the valley.
Oddities like an architect with straw bale design experience in the Salt Lake Valley are one well-worded search away on the internet. Enter AMD Architecture's Angela Dean who not only answered our strangest questions with aplomb but gave us the best rooster we have ever had.
Together we decided that instead of tearing the house down and starting over, we should retrofit the existing house and add the bales to the outside. It was a strategy that would take longer but use fewer materials. And it wouldn't require us to move out during construction.
Once we were settled on a plan, Dean found us a fantastic contractor. Hedlund Construction was more than willing to break new ground with us.
With an architect and a contractor chosen, we were better prepared to strong-arm our municipality into letting us build our dream house. Luckily, with these professionals around me, I did not have to be an expert in navigating municipal building codes. With barely detectable levels of guilt, I left all encounters with the city up to AMD and Hedlund Construction.
And so it was that May 2018 found us negotiating for a smaller backhoe to come and dig the foundation trenches so that the trees would be less bothered, tying caution tape on every fruiting shrub in the front yard, and teaching the concrete crew how to tell when the cherries are ripe.
While we happily get on with our normal lives inside (with extra dust), bales are added to the outside of the house. A new foundation to support the bale walls is poured and tied to the old foundation. The roof is extended to make some incredible porch space and protect the new walls. We get new windows that don't leak and have a U-value considerably superior to that of tissue paper. And I get to call my farm friends and order 200 straw bales. Even schlepping bales in 100 degrees, I am ridiculously happy.
Bales, once stacked, require protection from the elements, the bugs and the rodents. Properly constructed bale walls are less likely than stick frame to host invaders—there's no room for them. Time to plaster!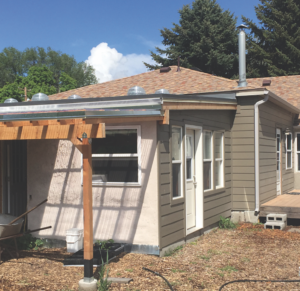 I have a useful, but sometimes horrifying habit of learning new skills by taking on huge projects. With a whole house to cover and no experience mixing or applying plaster, of course we'll do that part of the project ourselves. (For the moderately less insane I recommend taking a class first.)
It's coming out beautifully. I have discovered arm muscles I didn't know I had and the ability to plaster in near-darkness. We kept much of the irregularities of the stacked bales visible rather than aiming for a perfectly smooth wall. This summer I'm sculpting the third coat of plaster into dragons, stars, trees, lizards, hawks, spiders and anything else that strikes my fancy. (See "Build Naturally blog: Clay plastering straw bales.")
Since construction, our natural gas consumption has dropped by about a third and the house is (almost) infinitely more comfortable. We filled only one 20-yard dumpster. The walls are about R50 now. And the finish on my house is so benign you could eat it. After 20 years we have our huge, productive garden with a tiny straw bale house. José Saramago said, "The wise man contents himself with what he has, until such time as he invents something better." That time has come.
Carrie Black has a learning fetish, is a chlorophyll junkie, is obsessed with good chocolate and addicted to good company.
What does a project like this cost?
Our project cost $130,000 but includes such niceties as bringing a 1920s house up to earthquake code (and then some), fixing the foundation, adding a greenhouse to the west side, and using much larger timbers than necessary for the porches (the only bit of eye candy we indulged in). It's not a great reflection of what a strawbale retrofit would cost if it were the only thing going on. My guess is less than half that amount for just the retrofit, but with old houses it depends on what you find when you open up the walls.