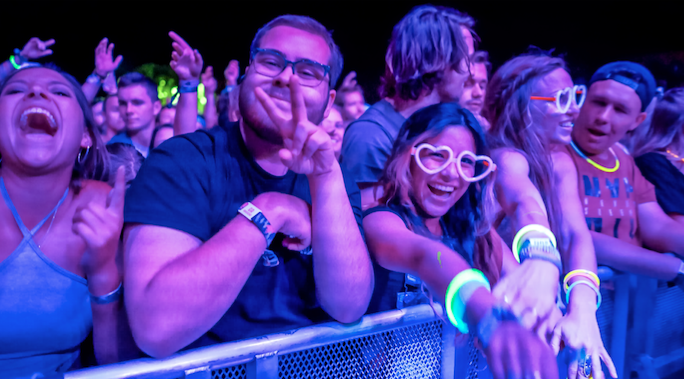 Whether you're ready for it or not, summer festival season is upon us and Utah's fastest growing music festival, Bonanza Campout, is about to commence for its third year. With a DJ (ZHU), a rapper (Wiz Khalifa), and an alt-pop singer (Halsey) to headline, this multi-genre festival will welcome thousands of Utahns and out-of-staters June 22-24 in Heber.
Other names on the lineup include Phantogram, Local Natives, Moontaxi, Rufus Du Sol and more from Friday afternoon until Sunday night. Along with local food trucks, breweries and merchandise vendors, a new flow arts stage (fire spinning, aerial arts and other cirque-esque acts), and local art and muralists will also be bringing the festival together this year.
Bonanza Campout is produced by Live Nite Events, a local concert and festival production company started by Vaughn Carrick and Danny Bateman. Carrick learned the ropes of event production at Harry O's (now the home of Park City Live) during Sundance Film Festival events and Bateman's background experience is in Coachella and Vans Warped Tour.
"Our intention is to create memories and experiences for people in our hometown, to escape the realities of life," says Carrick, who also wants to keep the festival intimate and affordable.
While Bonanza is a chance to escape reality, LNE has been making some efforts at minimizing the impact on the land and on personal health.
To combat the festival's inevitably large amount of landfill waste, Bonanza Campout's Green Team has implemented a No Straw policy for vendors, and almost every trashcan will be accompanied by a recycling bin, says Carrick.
Carrick also tells us that LNE's number one concern is the health and safety of their attendees. Which is why the Bonanza team (in addition to stepping up the medical tents and staff) has programmed morning events to offer campers the chance to center and give just a little bit of thought to our wellbeing (aimed at avoiding a visit to the med tent entirely).
Before you lament the hangover to come, think about your options. Did you know suffering is optional? Did you know there will be an entire wellness zone each morning on the festival grounds to help you suffer less and enjoy more?
Great, now you do…
Vive Juicery will open at 8am in the festival grounds to nourish and replenish the crowd. Salt Lake Power Yoga will host a free yoga class both weekend mornings from 9am – 10am at the Shade stage, with SLPY instructors Dillion (Dillicious) Chase and Joey Alatorre. CATALYST Magazine will also be onsite on Saturday and Sunday mornings from 8am-11am with a pop-up CATALYST Wellness Palace, in collaboration with Water and Wellness. The CATALYST and Water and Wellness crew will be giving out ionized water, partying tips and resources for staying healthy and happy all weekend long. There will also be a Mimosa bar that opens at 10am both mornings… for some Vitamin C, duh.
Carrick said it himself: The weekend is here for you to escape the realities of daily life. Depending on how you interpret that (and even if you aim to be on another planet all weekend), there will be options for making a slightly softer landing back on earth on Monday morning. As fun as it is to venture out of reality, there are less painful ways of coming back in (water, vitamins, electrolytes, yoga, good food, etc.). Suffering is optional. We gotchu! Now go get your shit together. We'll see you there.