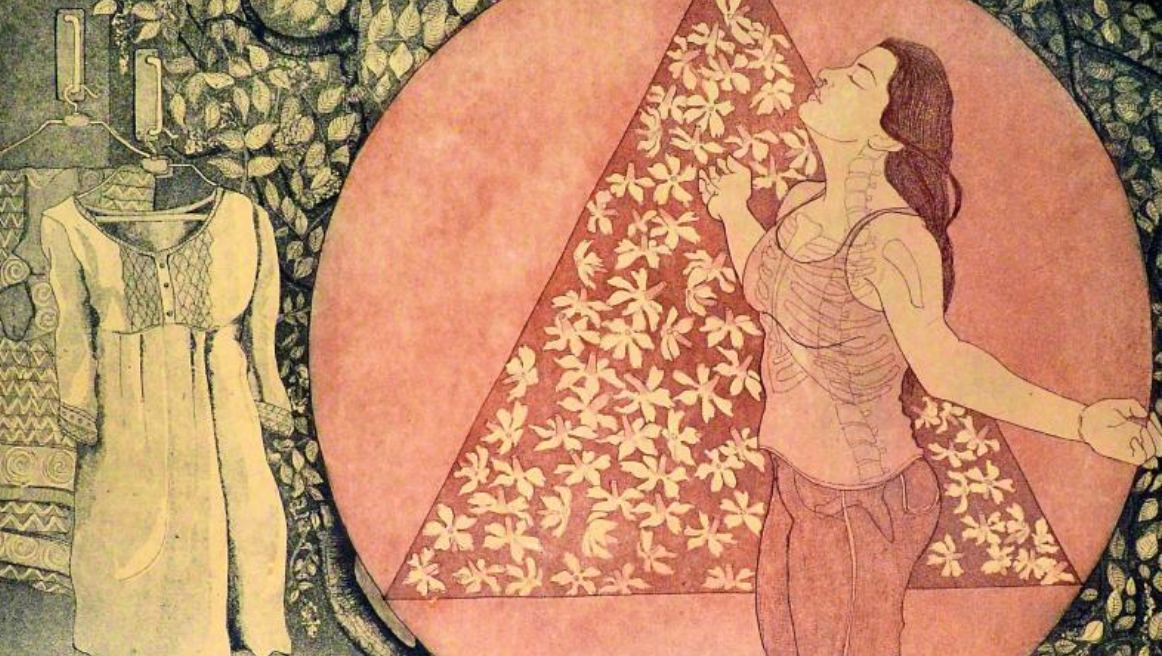 It's finally here: Uranus entered Taurus at 3:26 AM, EST, today, March 6, 2019, commencing a cycle that continues until 2025. So much has been written about this transit that it's difficult to imagine there's anything more to add, but given that one of Uranus' signatures is sudden reversals of fortune, we are sure to be surprised by what unfolds—at least as surprised as we were by the events of last week, which I am hereby dubbing "The Great Unraveling." For many, it was almost too much to bear—Uranus, closing its Aries cycle, let loose a myriad of red threads, many of which threatened to undermine the moorings of daily life. If you were affected by that process, you might have felt as if you were standing naked in the midst of a reality you've been desperately trying to avoid; my hope is that you did what you could to stay calm and steady through the worst of it. If you weren't struck by the lightning bolts of a sudden shift, I hope you were able to comfort those who were.
This week promises to sustain an identical level of high intensity. The same day Uranus enters Taurus, Mercury Retrograde begins the first full day of its first retrograde phase of 2019. And if the news about Uranus and Mercury isn't enough, there's a New Moon in Pisces, with the Sun and the Moon both conjunct Neptune.
Let's work backwards through that last paragraph: Any New Moon is a great time for new beginnings, especially for planting the seeds of what you want to grow. While this works nicely with the start of a new Uranus cycle, as most readers know (because Mercury Retrograde is the foremost modern urban sky myth), Mercury Retrograde is never a good time to initiate anything new, rife as it is with travel delays, detours, and communication snafus. What's more, when Uranus transits overlap Mercury Retrograde phases, the routines of daily life, especially the routines we manage through our technological devices, go awry. Frankly, it's a mess—a mess that's going to challenge the ability to stay patient. Take as many deep breaths as you can before stepping outside or into your day; you're going to need your prana power to get through these days. Mercury Retrograde ends on March 28.
Meanwhile, Saturn is closing in on its conjunction with Pluto, both in Capricorn. Although their exact conjunction doesn't occur until January 2020, as the grip of this pernicious configuration tightens, we're witnessing glimpses of what lies ahead.  As John Dean and other legal experts have pointed out, the most chilling statement in Michael Cohen's testimony last week was that should Mr. Trump lose the election in 2020, he won't give up power easily. This statement should be taken quite seriously, especially in light of the coming Saturn/Pluto conjunction and the other powerful signatures occurring that year. Those who oppose Mr. Trump should be aware that despots stop at nothing to maintain their power; this may be the reason why so many otherwise normally silent officials from the FBI, CIA, and other notoriously secretive branches of government have broken their silence to issue warnings against the Trump regime. I have often wondered what knowledge has impelled these officials to break their code and go public.
As the Great Unraveling continues during the next several weeks (at least), the turmoil generated is sure to exacerbate the stresses of both conscious and unconscious living. Stay present for this process and manage your stress in healthy, wholesome ways. This present moment is not the time for impulsive remedies; it would be best to take no unnecessary action. Once the abnormally high intensity of daily life dissipates, there will be appropriate times for right action that soothes rather than exacerbates negative interactions.
Sun Bursts: If you know your Ascendant and/or your Moon Sign, read that too.
Aries March 21-April 19
The current intensity is best spent deepening your desire for self-awareness. As Elijah Cummings pointed out at Michael Cohen's hearing, when things go bad, we shouldn't ask, "why is this happening to me?"; what we should be asking is, "why is this happening for me?" Rather than resist or resent the idea that there's more to deal with, embrace it; honestly, thank the goddess that you know there's something to learn.
Taurus April 20-May 20.
I know you feel the current intensities at a deep psychic level, and I also know that you have a fair degree of trepidation about how Uranus' presence in your Sign is going to affect your life. All I can do to assuage your anxiety is to remind you that Uranus only disrupts stagnant waters, which means that whatever is healthy and happy is going to continue healthy and happy. It's only the difficult areas that Uranus challenges as it provokes change.
Gemini May 21-June 21
As Uranus takes your inventory, gathering information about the various issues that need attention, you're likely to feel as if you are on a psychological roller coaster. And just like that thrill ride, it's going to be boring one moment and utterly terrifying the next. Make sure your internal seatbelt is secure and that you have someone to cling to during the really scary bits. Most importantly, be prepared to take notes—there's a lot to learn.
Cancer June 22-July 22
Life is moving forward a rapid pace, and while you don't mind getting things done, the intensity of all the current and coming events could make you a bit uncomfortable or even downright anxious. You could push through and meet every deadline, or you could decide now that what works best for you is a steadier, more regulated pace that allows you to think about what's next before charging off in a new direction without a roadmap to guide you.
Leo July 23-August 22
There's no need to let interference by partners, personal or professional, throw you off track. Yes, there are details you must attend to and yes, some of that work is tedious, but it's important to not let that tedium affect your primary goals. What's most important is that you keep putting one foot in front of the other, one day at a time, because that persistence will allow you to make the type of progress that will eventually transform into success.
Virgo August 23-September 22
If you want to break free from old ideas, you're going to need the courage to look at each situation from a new perspective. Changing your worldview means releasing assumptions you've relied upon to make sense of things you couldn't quite understand. While those assumptions helped you feel safe and secure, you've outgrown them, and until you find new ways of understanding life, you'll be out of your comfort zone—and that could be scary.
Libra September 23-October 22
Although you're not absolutely free and life continues to unfold with even more surprising plot twists, it would be safe to assume that you're feeling a little lighter than you have in quite some time. Of course there are responsibilities demanding your attention and details that require time, but overall you're riding high, allowing Uranus to light your way into a new phase that's all about positive personal growth.
Scorpio October 23-November 21
As Uranus begins its transit through your Solar House of relationship, you may find yourself holding your heart in your hand and sharing your feelings in ways you swore you never would, not because you don't have strong feelings, but because you like to hold your cards close to your chest. What's more, significant others—past, present, or maybe future—are likely to make emotional declarations of independence. Anticipate an interesting ride.
Sagittarius November 22-December 21
It's a choice: find meaning in the day-to-day or search for an adventure that will nullify your boredom. There are no easy choices to remedy your consternation, only experiences that will help you gather the necessary wisdom to choose wisely. The first step in reconciling this split is realizing that joy is a basic need—you are miserable without it. The next step is realizing that fun can be had without indulging in addictive appetites or destructive behavior.
Capricorn December 22-January 19
Despite the intensity of Saturn and Pluto in your Sign demanding that discipline become your primary focus, you've entered into a new creative phase that is likely to lighten your heart and lift your spirit. Make good use of this phase by engaging in creative activities, even when you feel too tired to do one more thing. I know that sounds counter intuitive, but painting, drawing, writing, making music or any other creative endeavor will refresh body, mind, and soul.
Aquarius January 20-February 18
There's a lot of work to be done figuring out just exactly what it is you would like to set your sights on. This isn't about accomplishing goals just for the sake of a job well done. This phase is about knowing what you want to achieve and then doing whatever is necessary to turn that dream into a reality. Be clear about your vision down to the smallest details, and then feel yourself living that reality—no ifs, ands, or buts.
Pisces February 19-March 20
Neptune, the planet of imagination, amplifies the power of this new Moon in your Sign, giving you the ability to harness that power, so don't hesitate to be idealistic and despite Mercury Retrograde, plant your seeds for future endeavors. Certainly think big and envision a grand scheme. I'm not suggesting it will all play out the way you would like or imagine it. But just the process of thinking that big will reveal the potential and scope of your soul.