Imagine if you were burdened with this news: Your entire country will be completely uninhabitable within this century due to rising sea levels. All your countrymen must find new homes and new livelihoods in foreign lands. Your culture, history, and your spiritual connection to the land will become echoes of the life you once knew. Now, imagine if you were president of this country. This is the reality faced by Anote Tong, the president of Kiribati, and the main character of Anote's Ark.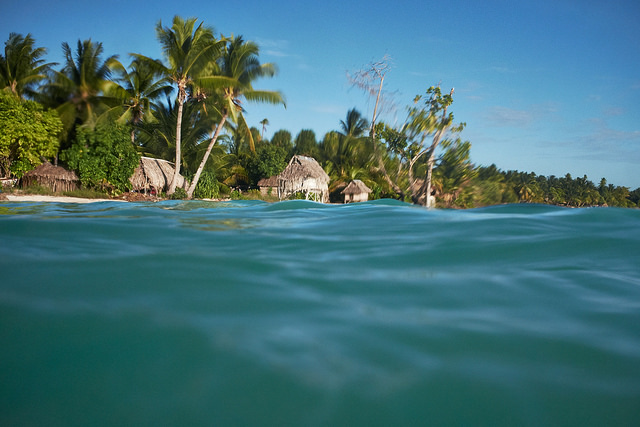 Directed by Montreal-based photographer and filmmaker Matthieu Rytz, Anote's Ark premiered at the 2018 Sundance Film Festival in the World Cinema Documentary Competition. Kiribati (pronounced 'Kiribas'), is a low-lying Pacific atoll near the equator, consisting of 33 atolls that span about the same width as the United States, and is just about a meter (3.28 ft.) above sea level. Anote served as Kiribati's President from 2003 to 2016 (the maximum term limit) and now continues to search for a solution for all 100,000 residents of Kiribati who are destined to become some of the world's first climate change refugees as their islands are inundated by rising sea water. Anote also appeared on the Sundance Institute's panel "The New Climate" along with other leaders of indigenous peoples whose way of life is currently being disrupted by the effects of climate change.
It is estimated that in the next 30-60 years Kiribati will be uninhabitable. "It's too late for Kiribati," says Anote in the film. "For a long time I thought there was nothing I could do. It was this depressing feeling I had to get over."
The film follows Anote as he travels to U.N. negotiations, the Vatican and the Paris Climate Agreement talks. The film also explores some of the solutions he's envisioned for his community. Anote purchased 20 square kilometers of land in Fiji as a contingency plan for his people. The very core of Anote's mission is to maintain his people's dignity by preventing them from becoming victims of global catastrophe, and being pro-active about the writing on the wall–or–water on the horizon.
Kiribati is an equatorial Pacific island where hurricanes and typhoons are historically rare (within five degrees of the equator), but in recent years, they are seeing a change. The years 2014-2016 marked three years in a row when tropical Pacific storms came within two degrees of the equator. The documentary was filmed 2014-2017 and was witness to an alarming number of destructive storms in Kiribati. "We thought we'd be immune to the troubles of the world, but we were wrong," says Anote at the beginning of the film. An overhead shot pans across the crystal blue waters near Kiribati.
The film's cinematography is a breathtaking tour of a paradise on earth. A single raft bobs in the waves, isolated and at the mercy of the sea. There are scenes of tribal celebrations, life in low-ceilinged woven huts, young children playing. Early scenes show Sermary — an important secondary character of the film and mother of six — and her husband preparing a meal for their family: laughing and splashing each other as they catch fish in the daylight, clean and cook the fish, and finally feast on their hard-earned meal by nightfall. Life on Kiribati appears simple and happy.
Rytz captures the magnitude of the beauty of the atoll nation of Kiribati, its people, and their indigenous way of life through stunning imagery of the skinny strips of land that make up the majority of the Kiribati coastline. The ocean and the land become characters too, as Rytz' juxtaposes footage of the paradise-like land with footage of the brutal, furious typhoons that tear the island homes to shreds.
Heavy with science and nerve-racking statistics, impact movies such as Al Gore's An Inconvenient Sequel that premiered at Sundance last year, are quite opposite to Rytz' approach to Anote's Ark. "We need those impact campaigns and films," Rytz tells me in an interview. His main issue with those films, however, is that the people talking about climate change, such as scientists and celebrities, are some of the last people who will actually be affected by climate change. Instead, Rytz choses to focus on Anote, the president of his own nation, meeting with other neighboring countries about solutions for his country. We see Sermary migrate to New Zealand on a lottery visa (only 75 Kiribati are allowed each year) to work manual labor jobs and scrape up enough money to bring her family back together.
Anote's Ark is more about climate justice and human rights than climate change itself. "I feel that climate change movies have been done already. It's like, okay, we get it," says Rytz, who reminds me the Inconvenient Truth came out almost 12 years ago. Rytz prefers to focus on the injustices suffered as a consequence of climate change. He wants to hold us accountable.
Anote is not alone among leaders of indigenous peoples who are now mobilizing to bring awareness to their specific challenges and let the world know that climate change isn't an event in the distant future. It's happening here and now. "The New Climate" panel at the Egyptian Theatre, organized by Sundance Senior Programmer, Hussein Currimbhoy, brought together a group of native leaders who are feeling the effects of climate change first hand. Anote, along with Bartholomew Powaukee (Water Quality and Environmental Director for Ute Indian Tribe), and Tashka Yawanawa (Chief of the Yawanawa tribe in Acre, Brazil) sat on the panel, moderated by Janaya Khan, (storyteller, organizer, and co-founder of Black Lives Matter Canada).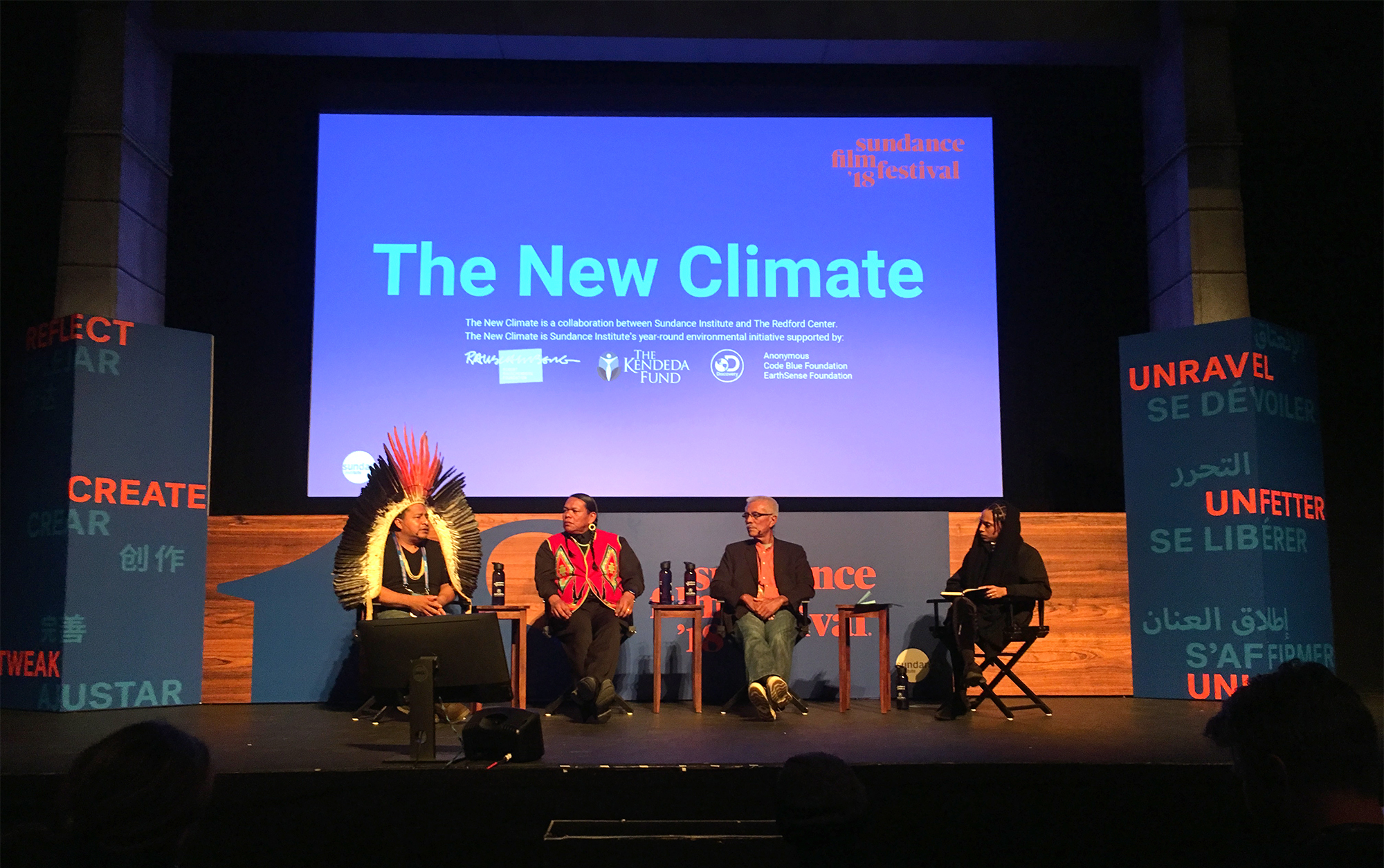 All three panelists seemed to feel an enormous weight on their shoulders that the rest of the world is still catching up with. "I want to just be a normal guy," Tashka remembers thinking when he was a young man, knowing one day he would become chief. "There are so many people to be responsible for." He became the youngest chief of the Yawanawa tribe at the age of 25. "But then I realized, once you become chief, you are not just responsible for your people, but for the animals, and the forest, and those who cannot fight for themselves," said Tashka. Now a middle-aged man, traveling around the world to share his story, he's come a long way from his timidity towards the responsibility of leading his people.
"I'm not the voice of myself, I'm the voice of our elders. The voice of my grandmothers, the voice of my people. They keep replying, 'you need to take care of this land,'" said Bart Powaukee addressing the current bureaucratic tug-of-war over Bears Ears National Monument. The conversation between indigenous leaders and governing bodies continues to be an uneasy one.
In the panel, Anote described his first two years in office and talking at the U.N. General Assembly when he came to address Kiribati's dire situation. "When I spoke about it, I was frustrated, angry. Nobody listened," said Anote, "I was beginning to learn that nobody wanted to hear you blame them for what they are responsible for. And so I began to change my approach, make it more of a collective responsibility."
Despite Anote's change of tactics developed during his years in office, Kiribati continues to face the same question: Where will all 100,000 people go when their land is enveloped by the sea? "Climate change is the greatest moral challenge of our time," said Anote.
Despite such heavy issues, there was also a lightness in the air as the three panelists shared their own human experience beyond climate change: educating the youth, maintaining our intrinsic spiritual connection with the land, racism, classism, gun control and water rights. The feeling was shared that these issues were somehow all connected. "If I burn my forest, you might not get snow… I mean, we're not from another planet!" said the smiling Tashka, which got a laugh and a grand applause from the audience.
The New Climate panel moderator, Janaya Khan, summed it up: "What we're looking at is how to reframe climate change, so that it's not just seen as a scientific issue, or as an indigenous issue only. It's a people issue. It's a human issue."
Anote's Ark will continue to be used as a tool for Anote to show to various assemblies of governing bodies. The film is still awaiting distribution to the general public.