A visit to "away" (where things are thrown)
Earlier this year, CATALYST presented A Clean Air Affair—an evening of experts speaking on the topic of air quality. CATALYST worked with the local chapter of the international group PechaKucha 20×20 (20 images, 20 seconds each). The evening kicked off our Clean Air Solutions Fair at Trolley Square. This is the fourth installment in sharing some of our speakers' talks.
Lesha Earl is the Public Education and Outreach Coordinator for the Trans-Jordan Landfill.  She began the "Be Bright, Recycle Right!" campaign last year to reduce the amount of contamination in recycling. Each month she shares information about how to become a savvy recycler.
She hopes to bring awareness to the ever-growing issue of waste and help people take meaningful steps toward sustainable living.
Working at a landfill you have a front-row seat to see what everyone throws away. You see the most amazing things! It's a land fill—over time, it fills up. It's amazing to see how much it changes each week.
The reason we find ourselves in this position of watching the land fill up is because we live by a linear model—we take what we need and use it, often just once, and then dispose of it when we're done.
This model is not sustainable. It worked when we had plenty of resources and plenty of room to put our junk. Now we've come to the point where we're running out of resources and we're running out of space.
In the past, we used dumps instead of landfills. You can see how this would affect the environment, how trash becomes a contaminant and a containment issue for air and water.
With the modernday landfill, we take into account what we're doing to the air, the water and soil. The modern landfill is designed to isolate trash from the environment. And we do that by lining the cells. In this picture …
You can see that there are three layers to the cell. The clay mat is there to take in any liquids that come through the plastic that is laid down, the white plastic that's high density polyethylene, and then
finally a drain, that makes sure the leaching—the "garbage juice"—goes to a pond where we can collect it and clean it. It takes up to four years to dig out and line a landfill.
And this image shows you…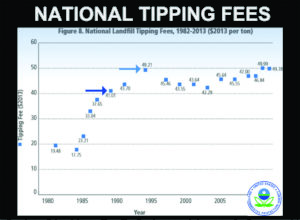 the dark arrow is what the landfill typically costs when you acquire it and start to line cells. And then the light blue arrow is when we started monitoring the air quality. You can see that there's a cost to these improvements but none of you would argue that it's not worth it.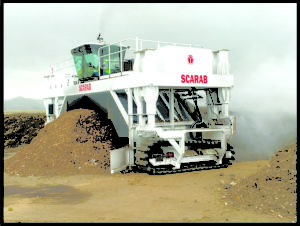 When it comes to air quality, our landfill goes above and beyond. We not only collect the methane gas which is much more potent a greenhouse gas than CO2, but we've created enough electricity to power up to 4,000 homes in Utah. With our green waste program, we were able to divert 24,000 tons of organic material away from the landfill. And we used that to make compost and woodchips that are used in our parks and cities. Residents can access them as well.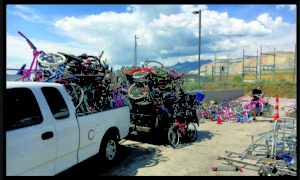 Mark Hooyer, our executive director, set up a partnership with the Bicycle Collective and we donate every single bike we get. Before this was in effect, we melted the bikes down for the metals. Now they are able to be reused rather than  recycled, which is so much more beneficial for the environment and also for the community.
Most people don't understand how complicated waste is. There are so many different materials that must be diverted out of the waste stream. For instance, refrigerators. First the freon must get removed. There are stiff penalties if you don't do that.
At the landfill, we see what recyclers are rejecting. This photo is of things that a recycling company rejected—things that people tried to recycle in their bins that got rejected and were sent to the landfill. Twenty percent of what we recycle ends up in the landfill. This is why we started the Be Bright Recycle Right campaign.
[Editor's note: Due to rapidly changing world markets, in September Mark Hooyer reported that currently about one-third of recycling goes to landfill.]
This was to help people understand what they can't recycle. For instance, you can't recycle plastic grocery bags. Don't put them in your bin. Please use reusable bags.
We're now working on our very last cell.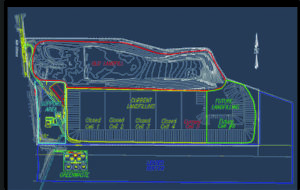 The Trans-Jordan Landfill has been around since 1958 and we're almost all the way full. Once we've dug our last cell and it fills up, in about 10 years from now, your trash can't come to us any more. There are no new landfills in Salt Lake. They're not going to make any new permits for them. So we've already bought a new site 43 miles to the south in Utah County.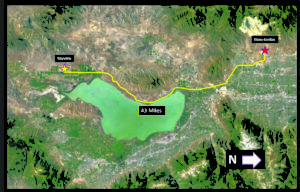 The current model is not sustainable. We all have to think about creating less waste. Even though we have a short-term solution, something that will last for our lifetime, we still have to consider the future. And so we decided to reach out to students.
Last year, Mark Hooyer and I presented on sustainable design to Jonathan Mills' Multidisciplinary Design students at the University of Utah. We wanted to reach the people who make your products and design how they're packaged. We told them, "You need to pay attention to the products that you use and design, and what you're going to do with them at the end of their life. Because, no matter how useful your product is, and no matter how much people value it, eventually it comes to the landfill; it becomes trash."
We asked the students how they would define sustainability. Nobody really wanted to answer that question. It's kind of complicated.
The answer the United Nations gives is to meet the needs of the present without compromising future generations' ability to meet their needs.
One way to do that is to employ the "cradle to cradle" method for design where you consider designability and compostability throughout the full life of a product; and, as long as a material has value, keep it in re-cycle.
Rather than taking from the earth, mining out what you need, using that resource to mass produce something, packaging and shipping it and then eventually having it end up in a landfill: Use what's already at your disposal. Use  post-consumer materials. The students came up with protocols that were sustainable, that had uses that went beyond their life cycles.
I challenge you, as consumers, to pay attention to materials and packaging. Do what you can and know that your actions will inspire others to act in ways that will make our future more sustainable.
Top 10 no-no's for the blue recycling bin:
Plastic bags
Needles/biohazardous waste
Wire, hose, cords, rope & chains
Propane tanks
Yard waste/wood
Motor oil containers
Electronics
Food waste
Clothing/shoes
Mercury-containing objects
Visit www.earth911.com for more information on where to recycle items that do not go in curbside recycling.
Lesha Earl, Public Education and Outreach Coordinator for the Trans-Jordan Landfill, can be contacted at 801-256-2825; Educaton@transjordan.org/