November is Alternative Fuel Vehicle Awareness Month in Utah. "Alternative" means a fuel other than gasoline or diesel for powering motor vehicles.
Manufacturers currently offer over 650 models of alternative fuel vehicles for sale that  run on a range of fuels, such as compressed natural gas (CNG), propane and electricity. The use of alternative fuels for vehicles greatly reduces emissions that lead to both summertime ozone and wintertime particulate pollution locally.
How much cleaner are alternative fuels? That depends on which fuels you are comparing. Gasoline typically has four to 12 carbon atoms, and diesel has 12 to 20. The major component of CNG fuel is methane. With only one carbon atom, CNG fuel's carbon footprint is much smaller than gasoline and diesel. And because natural gas is a low-carbon, cleaner-burning fuel, the tailpipe emissions coming from a CNG vehicle are substantially less.
There is no argument that electric vehicles are currently the cleanest at the tailpipe, having zero emissions. And that has the most profound effect on the local air shed. Even in Utah, where relatively dirty coal-powered plants generate electricity, the emissions produced by charging an EV are less than the emissions of the average conventional vehicle (see CATALYST November 2017, More Cars, Less Pollution). For those who must drive: Electric vehicles are the cleanest choice for our air quality challenges along the Wasatch Front.
Alternative fuels are not only a smart choice, but a viable option in Utah
The past two years have been an exciting time for electric vehicle adoption in Utah. The Governor's Office of Energy Development, in conjunction with Maverik, Rocky Mountain Power and other private enterprises and local agencies have collaborated to establish the Mighty Five Electric Corridor, connecting Utah's cities and towns, national parks, monuments, recreation areas and scenic byways with neighboring states and landmarks. It's now possible to drive an electric vehicle from Salt Lake City to Saint George, stopping to charge and grab a bite in Fillmore and Washington. Continued expansion of electric vehicle charging stations along I-15 will increase the use of zero-emission transportation.
While electric is a great option for passenger vehicles, CNG continues to thrive in the medium- and heavy-duty markets. Many local businesses are choosing to go alternative for their vehicles.
Ace Recycling and Disposal picks up trash and recycling for 13 Utah cities, and for commercial customers across the state. Environmental health is at the core of Ace's mission. They view themselves as a great case study for other businesses to transition to lower-emission fuels for fleets. Ace received their first CNG truck in 2009, and today almost 60% of their garbage and recycling trucks are running on CNG.
Salt Lake City is also transitioning its fleet to alternative fuel. Most recently, the city replaced four old Jeep Wranglers with all-electric Chevrolet Bolts in their parking enforcement fleet. Operating costs are considerably lower and deliver an even more important benefit: zero tailpipe emissions and 72% carbon emissions reduction per mile compared to the old Jeeps. This is just one initiative helping the city achieve its ambitious Climate Positive community goals.
Many businesses are taking advantage of a program offered by Rocky Mountain Power which provides a rebate of up to 75% to incentivize Utah businesses to install EV chargers at their establishments, which further incentivizes employees to switch to zero emissions vehicles.
Packsize International CEO Hanko Kiessner believes strongly that air pollution is the number one limitation to economic growth along the Wasatch Front. He has a particular fondness for EVs. He drives one himself, has transitioned his company's local fleet to zero emission vehicles and has installed 50 free charging stations for employee use. Packsize is currently the largest electric vehicle charging installation in Utah with more than 25 Packsize employees commuting in emission-free vehicles.
Local school districts are also switching to cleaner-burning alternative fuels as they retire old, dirty diesel school buses. The Jordan School District recently added 36 new CNG buses to its fleet, bringing the total to a record 105.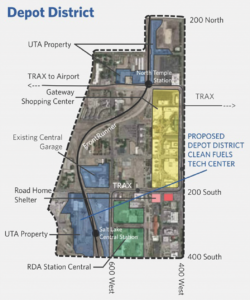 CNG and electric are also a great option for public transit. Last month, the Utah Transit Authority (UTA) broke ground on the Depot District Clean Fuels Technology Center, a new state-of-the-art maintenance and fueling facility for its fleet of clean air vehicles. UTA currently has 47 CNG and 40 hybrid buses. The expansion will allow for another 50 CNG and 50 electric models (six of which are coming online soon). UTA also plans to phase out diesel buses in the Salt Lake City area within the next seven years.
The building currently on the site was once a locomotive shop, built in 1923 for the Denver and Rio Grande Western Railroad. It is the oldest railroad building of its kind in the state. The new construction will preserve the original brick and windows, but will meet LEED green building standards, another win for air quality. The Clean Fuels Technology Center will be one part of a larger revitalization program planned for the Depot District, including the addition of transit-accessible housing and shopping. The project is being funded by local, state, federal and private funds, and should be completed in three years.
Remember, nearly half of our air pollution comes from vehicles. There is no silver bullet solution, but we must to continue down the path towards cleaner air and, if you drive or take mass transit, alternative fuels are proving to be a better choice.  u
Ashley Miller, J.D., is the program and policy director for Breathe Utah. She is a member of Utah's Air Quality Policy Advisory Board and on the Salt Lake County Health Department Environmental Quality Advisory Commission.