A monthly compilation of daily discoveries, wisdom, and resources for creative living.
Average temps today: high 92º, low 67º. Sunrise:  6:24am. Sunset:   8:43pm.
Utah is home to over 600 species of spiders, Spiders are important members of the ecosystem—keeping insect populations in check. We're curious how many Utah spiders you can find during NHMU's Statewide Spider BioBlitz? Simply take photos of the spiders you find, and post them to iNaturalist. Begins today, through 8/8.
https://nhmu.utah.edu/events/2021-spider-fest-bioblitz  
Long ago, the three creeks (Red Butte, Emigration, and Parleys Creek) that join the Jordan River in SLC's westside Glendale neighborhood were paved over. Thanks to the initiative of students in a U of U urban ecology course, the creeks have been uncovered and renewed. We wrote about the project in 2017: https://catalystmagazine.net/seven-canyons-trust-daylight-creeks/  Visit the new riparian waterway, fishing bridge and plaza.  From California Ave. (1300 South) head north on 900 West to the 1300 S extension.  
Happy 60th to former President Barack Obama. Look for his new book, Renegades: Born in the USA written with longtime friend Bruce Springsteen, due out in October.
"A lawn is nature under totalitarian rule," writes Michael Pollan. Look at yards you like that have little or no lawn (you may have to leave your own neighborhood to find them): What can you adapt to your own situation? Remember: Environmentally speaking, gravel is no substitute. 
Since 1970, the population of Salt Lake County has more than doubled (from 461,300 to 1.18 million people).
Calling all mycophiles: Sign up now to attend Colorado's venerable 41st Annual Telluride Mushroom Festival (August 18-22) virtually — a pass is only $75. (In-person passes, $385, are likely sold out by now.) See their inspiring list of speakers and topics:
https://www.tellurideinstitute.org/telluride-mushroom-festival/  
New Moon at 7:50am. What will you begin today?
In May, Gov. Cox declared 2021 as the "Year of the Shorebird." This time of year, large flocks of snowy egret and white-faced ibis can typically be seen feeding in the shallows and along the shorelines. But shorelines are changing as the lake continues to shrink. While the drought is a contributing factor, a Utah State University study concludes that diverting water from rivers that flow into it will have to decrease by 30% in order to maintain lake levels.
photo: Great Salt Lake Bird Festival
Sadly, EdibleWasatch is long gone from the Utah magazine scene, but I still rely on a recipe from their Summer 2010 issue for Kitchen Sink Salsa: 2 c. diced tomatoes, 1 c. diced crunchy veggies (cucumber, onion, corn, cabbage, zucchini), 2 Tbs. good olive oil, 1 Tbs. chopped fresh herbs (cilantro, basil, oregano), 1-2 cloves minced garlic, 1 tsp. minced hot pepper, salt and lime (to taste). For a sweet salsa, swap tomatoes for a soft fruit like peaches, melons or apricots and use almond, avocado or walnut oil instead of olive. Pears, apples, berries and even cucumbers complement the base. Try parsley, tarragon, parsley and mint for the herbs, lemon juice instead of lime and skip the garlic (but not the hot pepper).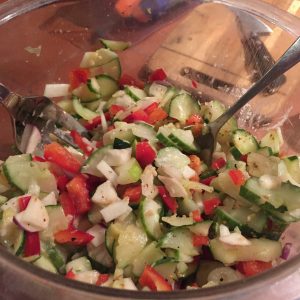 If offered the option of a digital receipt (vs. paper), take it. In addition to helping reduce the loss of 3.3 million trees and 9 billion gallons of water, you will avoid the BPA and BPS found on some types of thermal receipts — of particular concern if you are a woman of reproductive age. 
What's your favorite novel? Is it time for a reread? Mine is East of Eden, by John Steinbeck, which I first read at Burning Man 2014. I'm gearing up for a repeat, this time via Audible (25.5 hours).

Have a yard sale! Visit other people's yard sales in the weeks before yours to get a feel for pricing in your neighborhood. (Ask yourself, "What would I be willing to pay for this at a yard sale?") Pick a date. Gather your goods—declutter your house. Create an ad for KSL.com (it's free) and tell your friends. Make signs—bright paper, bold lettering; arrows help. Get supplies: tables, price stickers, change. (BTW, Venmo is "in.") Sort, organize, arrange and price your items. Situate your chair in a shady spot. Greet everyone. Enjoy the day!
In addition to honey bees, which were brought to North America from Europe in the 1600s, Utah is home to some 900 species of native bees, much needed for pollinating our fruits, vegetables and flowers. Consider creating a waterwise pollinator garden. USDA Pollinator Information
Hearing is the last sense to go when we die.  What is the last sound you wish to hear at the end of your life?
Nationally, about a third of landfill space is taken up with yard and kitchen waste where they release methane, a greenhouse gas. If you're not already composting, now may be the time to begin. Learn more about composting at home (via the EPA). 
In addition to my outdoor bin, I have a worm bin indoors. My little red wigglers get all the coffee grounds and banana peels.
How to water a tree (bears repeating): Water at the drip line (where the branches end) or beyond when possible. Most of a tree's roots are in the top 24 inches of soil. Lots more via Salt Lake City Department of Public Utilities.
Rose Park's Steenblik Park is known for its whimsical herd of 4.5-ft.-tall bronze cats by Utah sculptor Day Christensen. The park was named after dairyman Joseph Steenblik. The cats commemorate the mousers that patrolled the nearby Steenblik dairy. 1100 West 800 North.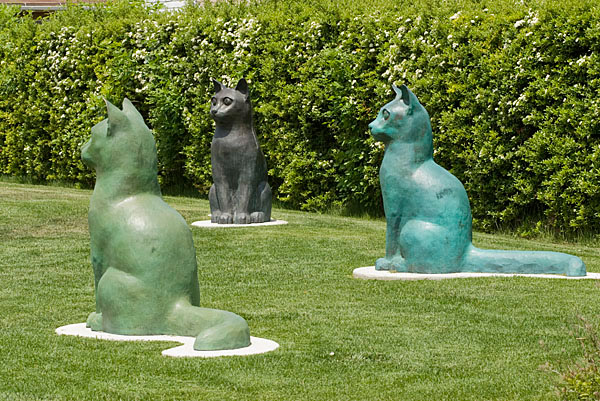 Are you and your dog stuck in the same old walking route? Break out of your probability tunnel and test the power of intention with the Randonautica app. "This process uses theoretical Mind Matter Interaction paired with quantum entropy to test the strange entanglement of consciousness with observable reality. Randonauts often find their journeys result in serendipitous experiences that seemingly align with their thoughts!" Or, as the New York Times puts it, "Law of Attraction Meets Geocaching." Free. https://www.randonautica.com/ 
Perseid, "the best meteor shower of the year" according to NASA, peaks this week, when up to 100 meteors can be seen per hour on a clear night away from city lights, starting around 10 pm. The "shooting stars" — fireballs with trails — stream from what appears to be the constellation Perseus. They don't. The constellation is 250 million light-years away; the meteors burn out around 60 miles from Earth.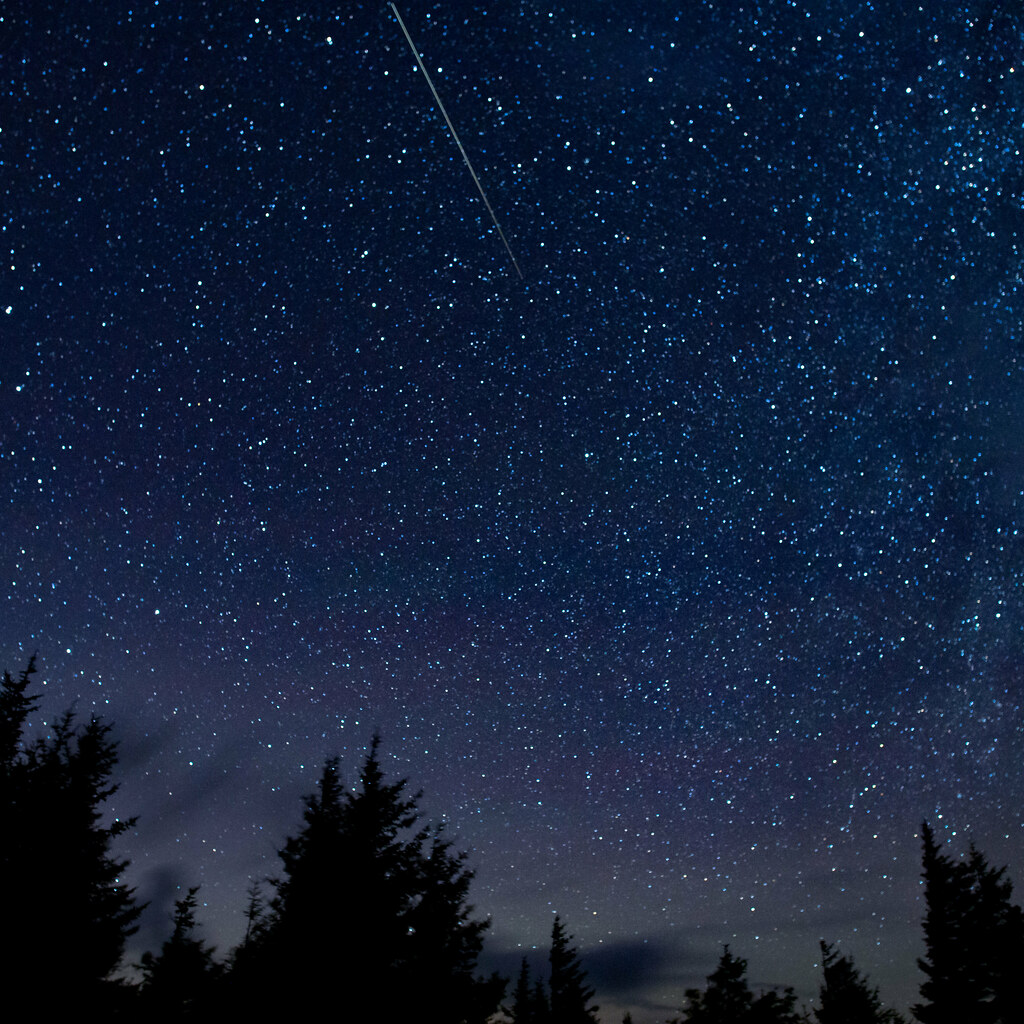 Got lots of showy squash blossoms but no squash? There are male squash blossoms and females. Check the base of the flower where the blossom meets the stem. Female squash blossoms have a small swollen embryonic fruit at their base, which will grow into a squash if the bee does what bees do. Male squash blossoms are showier and they tend to hang out on long skinny stalks all along the plant. Learn more at Gardening Know How.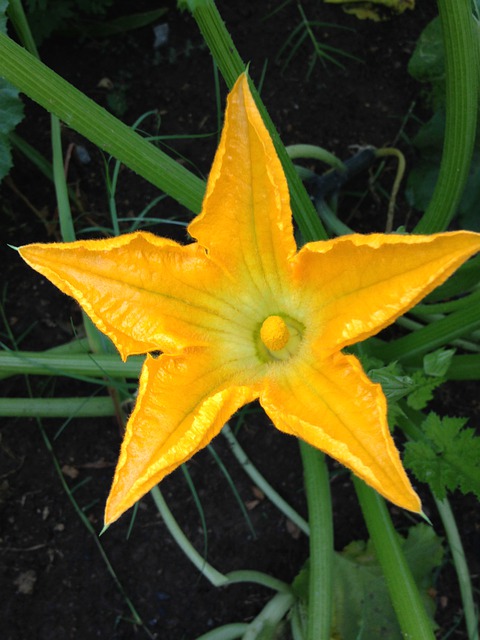 Full Moon: 6:01am. There are two different kinds of Blue Moons. A seasonal Blue Moon is the third Full Moon of an astronomical season that has four Full Moons. A monthly Blue Moon is the second Full Moon in a calendar month with two Full Moons. They occur slightly less frequently than monthly blue moons. This one is seasonal.
Earthrise: Today in 1966, for the first time, humans saw Earth from the viewpoint of the moon. The world has never been the same.
Consistent, high-quality sleep is deeply restorative. "Poor sleep—even a single night of it—appears to directly affect the aging of our cells and increase the activity of genes that drive cellular aging," writes Michael Breus, aka The Sleep Doctor. What would it take for you to improve the quality of your sleep?
Alkaline batteries are no longer classified as hazardous, so they can be tossed into the trash. But don't toss rechargeable, button or uninterruptible power supply (UPS) batteries. Those contain acid, nickel, lead, lithium, cadmium, alkaline, mercury and nickel metal hydride. When these batteries are recycled, not only do they stay clear of the waste stream but valuable metals can be recovered for use in new products such as silverware, pots and pans, new batteries, and even golf clubs, according to Call2Recycle.org . Take your batteries to any Lowe's or Home Depot, where they'll be forwarded to a certified recycling plant.
The first recorded sighting of moose in Utah was 1906, migrating here from northern states where they were on the verge of extinction. Nowadays, you may occasionally spot one while hiking in nearby mountains. Stay calm and back off slowly. Make sure your dog is leashed! If it's a cow moose with her calf, take extra care. At any sign of aggression (snout licking, ears back, lifted scruff), hide behind a tree. While their senses of hearing and smell are excellent, moose have poor eyesight. https://www.wildawareutah.org/
Ten aesthetics of joy: energy, abundance, freedom, harmony, play, surprise, transcendence, magic, celebration and renewal. Joyful: The Surprising Power of Ordinary Things to Create Extraordinary Happiness, by Ingrid Fetell Lee. https://aestheticsofjoy.com/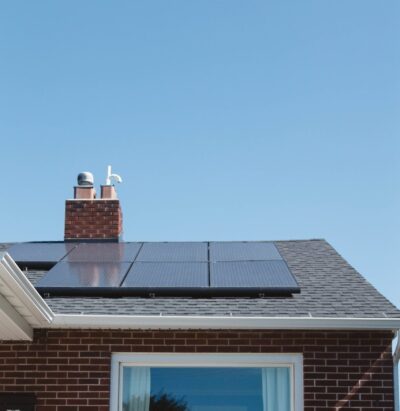 Solar is a healthy return on investment: Panels have fallen in price by more than 80% in the last 10 years. Deduct from that a 26% federal tax credit on your installation costs and a State of Utah additional credit up to $1,600 and the recap on investment is down to about 10 years, all the while generating clean energy, thanks to our abundant sunshine. "Solar power in Utah has the potential to provide all of the electricity used in the United States." https://www.nrel.gov/docs/fy12osti/51946.pdf
Average temps today: high 86º, low 62º. Sunrise: 6:54am. Sunset: 8:01pm.