Utah Film Center celebrates its 15th year of successfully presenting Damn These Heels, Salt Lake City's own LGBTQ film festival. With 23 films and three shorts this year, DTH has curated an edgy, provocative and colorful lineup that reflect the stories of our LGBTQ siblings like we've never seen before. CATALYST sat down with Patrick Hubley, lead programming director of DTH to discuss some of the films:
You moved to Utah in 2001 to work for the Sundance Institute, then in 2009 you began helping with programming for Damn These Heels, correct?
Yes, I started overseeing the program in 2009. Levi Elder was really over the programming. I've been more directly involved since 2013.
And you also curate Tumbleweeds? What's it like to curate two such contrasting festivals?
The bottom line is that I'm always looking for good films. From that point it is looking for the stories. I have to put myself into the the mindset of looking for good stories that are engaging, that resonate and are well told.  Those stories rise to the top. Then you can easily make a good selection.
You've said that we live in a very cinema-friendly city. Why is that? How many people come into SLC from out of town for this festival?
I would guess about 10-15% of the audience comes from outside the state. It's something that we are really hoping for — expanding regionally so that we aren't just a Utah festival.
Utah has a long history of being a part of film and cinema. Movies have been produced here since they started making movies! Sundance obviously is one of the world's most important film festivals and we're fortunate to have that in our backyard. These local film organizations like Utah Film Center and Salt Lake Film Society, that continue that year round and have been for over 15 years are providing access to independent, high quality and even foreign films. There is a dynamic and robust cinema culture here. I think we benefit from that! If you compare us to other communities of the same size, they just don't have that kind of resources for good independent film. Even just in our year-round programming, we're bringing in directors for these screenings to have real discussions with our audience.
Talk to me about how you prepared the films for this festival this year?
We have a team of community screeners. We watched over 200 films together. Personally about 60. It was both enjoyable and challenging to narrow it down to this program which is very diverse and interesting. Great local connections and when looked at as a whole, I think it really covers a lot.
You decided to boldly feature a Bruce LaBruce Film this year called The Misandrists. Tell me more about that choice.  (Read our review of the film below). 
Bruce LaBruce is a bit of a legend in the LGBT filmmaking world. He's been making challenging and interesting films for quite a while. They are always a bit campy and a little bit shocking. This one, I think, is in the same vein, but I loved the idea of the female liberation army and their fight against the patriarchy. I thought their message was incredibly timely and told in a Bruce LaBruce style that is still accessible to those who may shy away from his other works. The performances were great, cast was great. Having a trans woman as the lead, primary figure in the army I thought was incredibly risky and also a great statement of gender and how we should perceive it. I like this film a lot. It's the perfect midnight film.
What other films are you excited for us to see?
I think the most subversive film is Tranny Fag.  The subject, I think, is an example of somebody who is the future. With her sexuality and her perspective on being so authentically who she is, I think it's a really great film. Yeah. I don't want to say anything more on that.
"My Life With James Dean is a nice, light French kinda farcical film which I really enjoyed.
If you can, give Wild Boys a watch. We want to show films that are both engaging and challenging.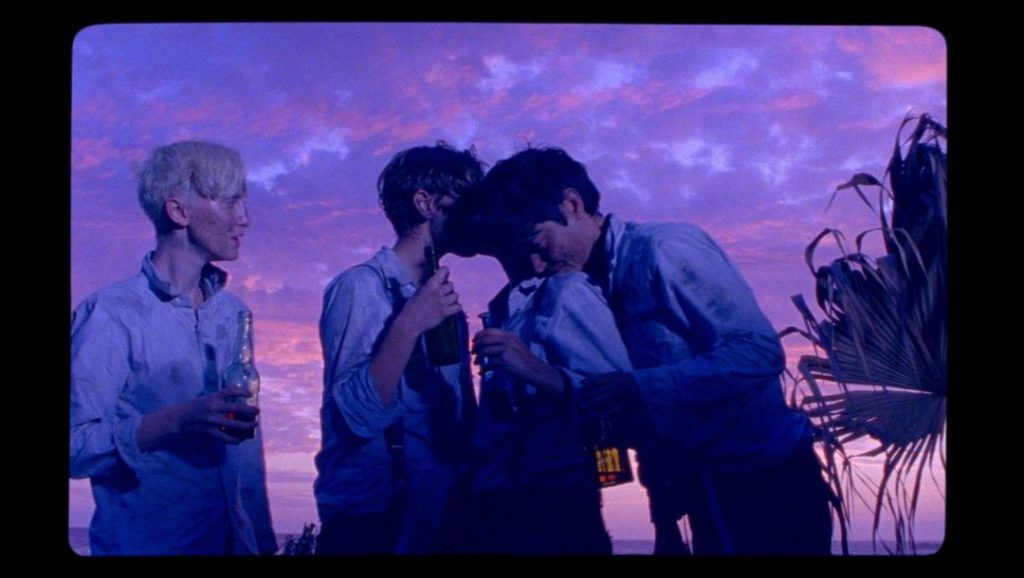 Check out Close-Knit, I wanted to show it last year and wasn't able to. It's a really great story about love, family and also gives us a bit of perspective on what the trans communities in other countries go through.
What is really interesting to me as we are watching gay cinema is that we are seeing more stories where people's sexuality, identity or expression are not central themes to the films. They are stories that are stories and their sexuality is not a main plot point. I think that is an interesting evolution of queer cinema. These are simply stories about life, love and friendship that transcend above all." – Patrick Hubley, Utah Film Center.